Posted by Contact Sales on Mar 01, 2020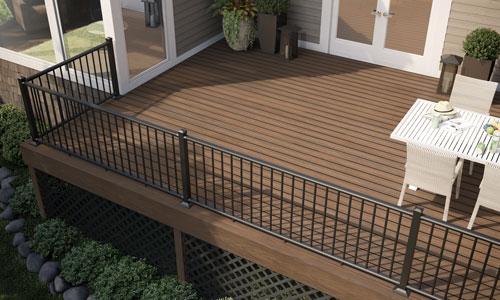 Ideas for 2020
Create an outdoor space that your family and friends will rave about in 2020! The best way to boost outdoor appeal is to keep an eye out for up-and-coming outdoor design trends. Start planning your future deck build or renovations by keeping in mind these five deck trends you'll see in 2020.
Natural Wood Elements
In recent years, cool gray tones were the popular choice for decking. While outdoor spaces are still leaning toward neutral colors and earthy tones, we're seeing an uptick in the use of wood-like elements with composite deck boards. This means natural tones like brown will be making their way into the outdoor living scene in full force come 2020.
Craft Your Design
Picture framing, breaker boards, custom inlays and unique skirting are different ways you can craft an original deck design. The deck configurations are endless for that one-of-a-kind look you may be striving for.
Whether you're planning on adding a large multi-width board for a bold picture frame border or using smaller width boards for an inlay design, let your creativity show. If you're looking for a modern alternative to traditional lattice as deck skirting, a great option would be to install deck boards in a horizontal manner.