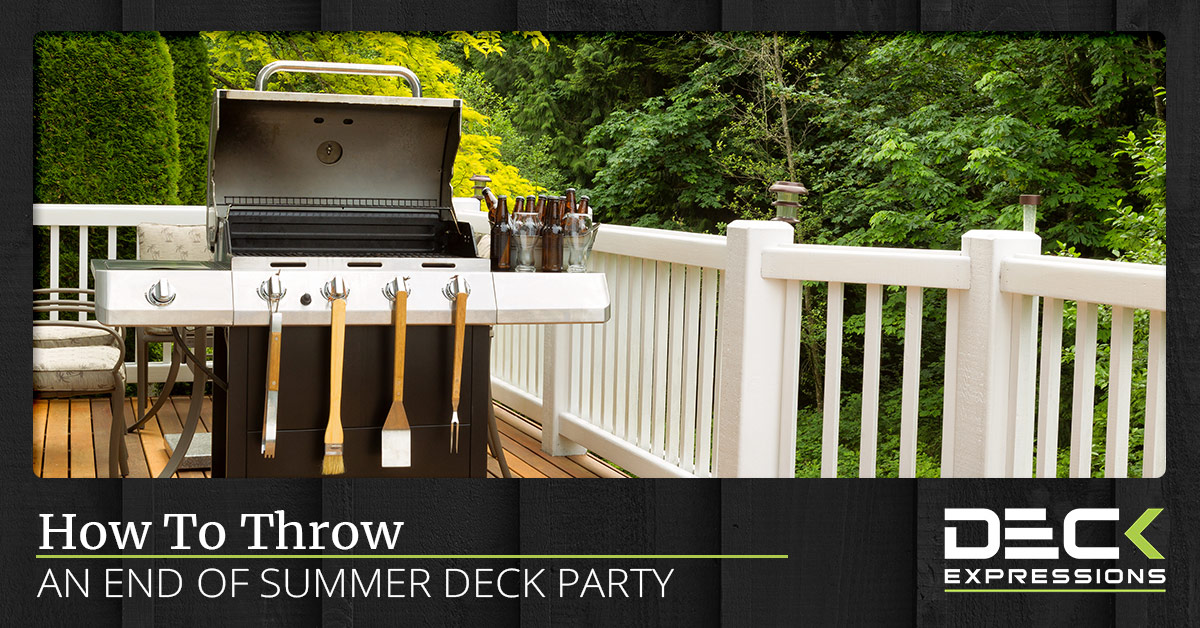 Before we know it, summer will be winding down and coming to an end. What better way to celebrate than with a big end-of-summer bash on your deck? Here at Deck Expressions, we can't teach you how to grill up a killer tri-tip or which neighbors might bring a little too much drama to the party, but we can tell you how to make sure your deck is ready for the guests to arrive! Keep reading to learn what you need to have a great deck event!
Be Sure Your Deck Railing Is Safe And Secure
The last thing you want is your neighbor to go toppling over the railing because it's not up to code or for a little one to slip between the balusters. Thankfully, safe deck railing isn't hard to install. When you choose a pre-assembled or partially-assembled deck railing system from Deck Expressions, you'll notice that the options we have are up to code requirements for most residential and commercial buildings. This includes having balusters that are spaced no more than four inches apart and railing that is at least 36 inches high (some local areas have different regulations, so be sure to check these before building your deck).
Get A Good Grill
Every good deck has a good grill, but the type of grill you choose is up to you. You can opt for the classic charcoal grill that gives you a classic barbecue flavor, though, heating it up will take some time. You could also choose a propane grill that is hot and ready in minutes but doesn't have the same distinct flavor that charcoal grills offer. Whichever grill you choose, your guests will love the food you cook up on it. Just make sure you keep the grill away from the walls of your house and do not place it under a tree. If you use charcoal, make sure the flame is completely out before leaving the grill unattended.
Don't Let It Get Too Cold
Depending on where you live, it might be getting a little cold by the end of the summer. This calls for a good heating system on your deck so the guests don't head home early. You can choose a couple of small electric space heaters placed around the deck - though don't forget to bring these inside at the end of the night. For a more permanent deck heating options, choose a free-standing propane heater like you see on restaurant patios, or an infrared heater powered by electricity.
Have Good Deck Lighting
One of the best parts about a deck party is hanging out with close friends and having good conversations. This can be hard to do, though, when it is too dark to see right in front of you. Before you invite everyone over, be sure to have your deck lighting in order. When lighting a deck, it is best to choose deck-specific lighting. This is because a typical floor lamp or floodlight might be either too bright or too dim to get the job done. At Deck Expressions, we offer deck lighting that ranges from solar post caps that automatically turn on when the sun sets and do not require electricity to low-voltage post lights to LED deck lighting. Regardless of which type of light you want, where you want to place it, and how much electricity you want it to use, we've got something that will work with your style.
Is Your Deck Ready?
Before you text your friends and invite them over for your end-of-the-summer deck party, be sure you have everything you need. At Deck Expressions, we offer fast shipping to the United States, and can ship most of our items to Canada as well. Shop our deck supplies website to find what you need to make your deck party-ready!