Posted by Deck Expressions on Jul 23, 2018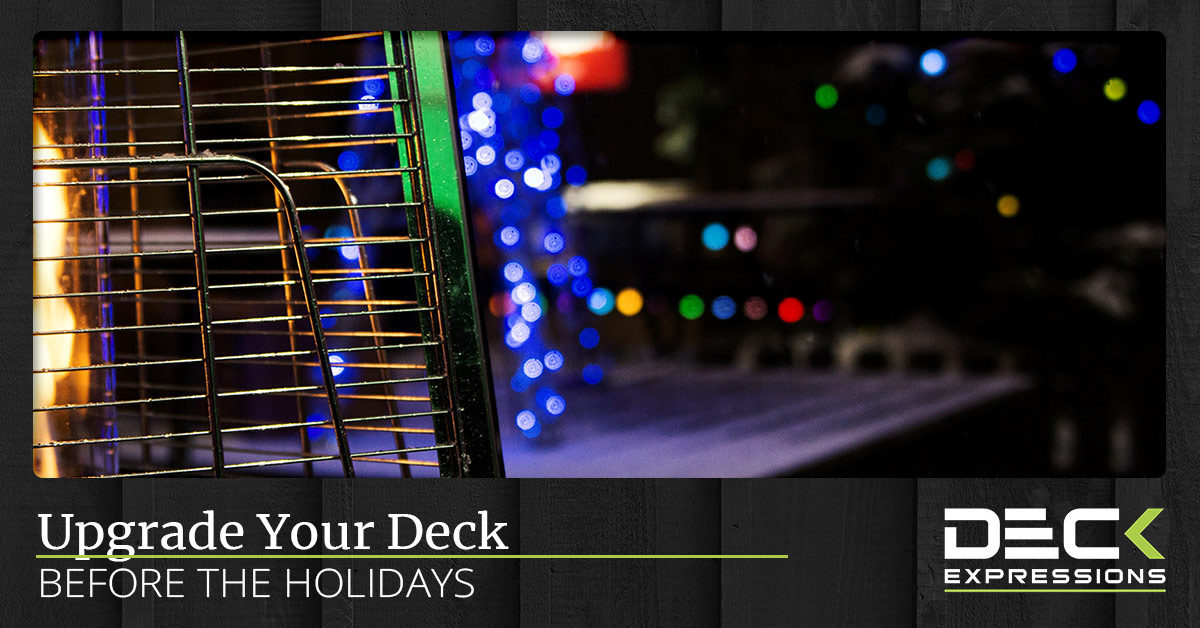 We don't mean to alarm you, but the holidays will be here before you know it. Hey, we're just the messenger! That means in a few short months, family members will be gathering at your house to enjoy good food and even better company. In a world where people spend a majority of their time staring at a screen, people naturally gravitate toward backyard decks so they can finally spend some time outside. In today's blog, Deck Expressions is offering up a few ways you can upgrade your deck in time for the holidays to create an impressive and safe area for family and friends to hang out.
Update Your Railing
If your deck is looking a little outdated, don't just tear down the whole thing and start over. If your deck is still structurally sound, you might just need to update your deck railing to create an entirely new feel. If your home is surrounded by gorgeous scenery, choose glass deck railing so you have uninterrupted views. If you want something modern and sleek, opt for some cable railing that you can install yourself. Or, for a no-fuss option, try one of our pre-assembled railing kits. At Deck Expressions, we offer a wide variety of code-meeting deck rails that are easy to install and come with amazing warranties.
Make Sure Your Grill And Furniture Are Up To Date
Having a nice deck is important, but making sure people can actually spend time together on it is vital, too. Make sure you have enough deck furniture for everyone to have a seat, and if you don't have a nice grill already, consider adding one so the chef of the evening can spend time with the guests as well instead of being confined to the kitchen.
Get A Deck Heater
No one is going to care about your brand new glass railing system if it's too cold to be outside anyways. Consider investing in a deck heater that will warm the area and make people want to spend time on the deck year round. Just be sure to choose a safe option that won't pose any fire danger!
Add an ADA-Compliant Handrail
While not necessary on most residential decks and stairways, an ADA-compliant handrail is a good option to have on your stairs or deck ramp if you have one. They make going up and down stairs and ramps easier and safer for people with limited mobility and small children as well. If you will have older relatives or family members with mobility issues paying you a visit this holiday season, being prepared with a secondary handrail can take away any worry. While you're at it, be sure to add a gate to any stairs to avoid an accident!
Choose A Good Lighting Option
Of course, if you want everyone to keep hanging out after the sun goes down, it is important to ensure they won't be in the dark. Deck Expressions offers a number of deck lighting options that don't require fussing with cords or connecting to a power outlet, like our solar post caps and battery-powered post caps. If you choose to accent your deck with glass railing, we also offer lighting options for glass balusters that hide away any cords and cables. Be sure to check out all of our deck lighting options to find one that matches your style!
Shop Deck Expressions For Easy Upgrades
Updating your deck doesn't have to be difficult. At Deck Expressions, we offer deck building materials online that ship right to your door, meaning no stressful trips to the hardware store. We also offer free, fast shipping on orders over $99 and always have some great sales going on. Shop our deck supplies today!