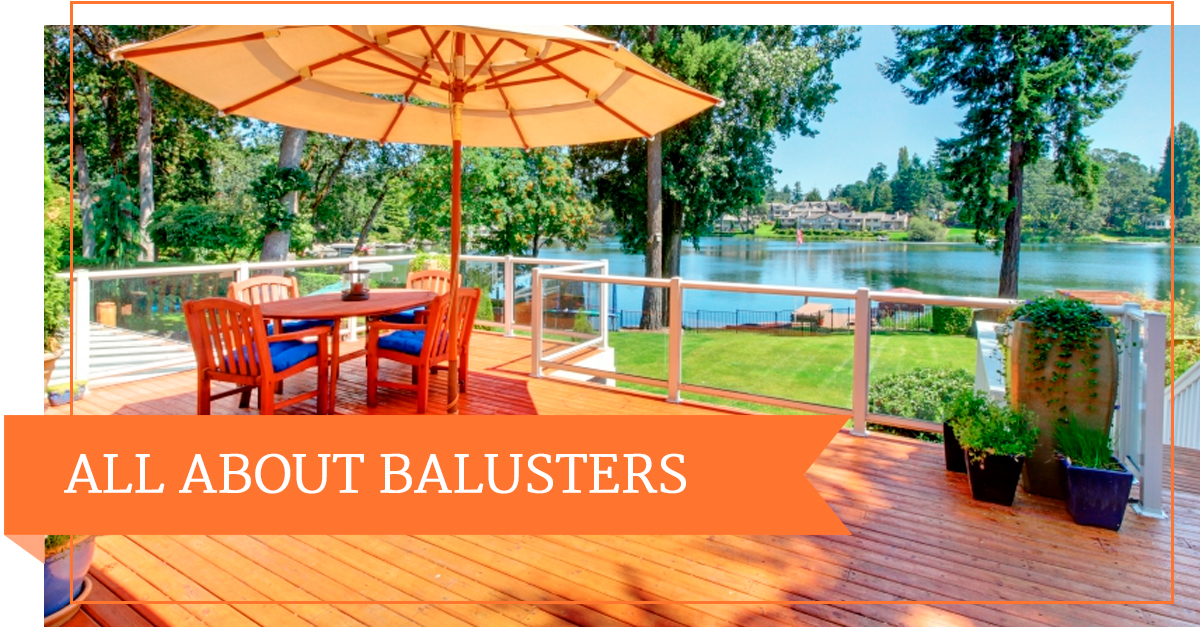 Deck Expressions is your online source for deck building materials including deck railing and deck lighting. As deck builders ourselves, we are familiar with just about every deck supply brand out there. That means we are able to pick and choose only the best and most trusted brands of deck railing and supplies to give our customers. When you combine that with our great prices and personalized service, you can count on coming out of this process with a beautiful, safe deck that fits your personality, needs, budget, and style.
One of the most important aspects of a deck are the balusters. Deck balusters are what make each deck unique and, more importantly, safe. With plenty of baluster options offered at Deck Expressions that meet the highest safety codes as well as free, fast shipping straight to your house on orders over $99, you can start creating the deck of your dreams this weekend!
What Are Deck Balusters?
This is a good question. We often throw around the term "baluster" even though most people don't use this word in their daily lives. A baluster is a vital component of deck railing. Technically speaking, a 'balustrade' is what you often think of as complete deck railing — a horizontal top and bottom rail with vertical bars in between that prevents people from falling off of a platform. The components of a balustrade include the railing (horizontal components) and the balusters (vertical components).
What's In A Name?
So, why are they called 'balusters' and not 'bars' or 'columns'? The word baluster comes from the Italian word balaustra, meaning 'pomegranate flower.' This is because traditional balusters swell out significantly in the middle, resembling the shape of a pomegranate fruit. While bars and columns can be found just about anywhere, balusters are always sandwiched between a top and bottom rail.
Types And Styles Of Balusters
Deck balusters can be made out of a number of materials including wood, vinyl, glass, and metal. The material used will greatly impact the amount of maintenance needed, if any.
For example, while wood deck railings look beautiful, they require a lot of maintenance and can rot, crack, warp, and splinter over time, especially if that aforementioned maintenance is not performed regularly. If you do decide to install wood railing, be aware of the maintenance involved, including regular power washing, staining, and sealing. For an easy-to-install wood rail with gorgeous aluminum balusters, check out our cedar railing kit! Otherwise, consider a rail a little less maintenance like a composite rail that has the look of wood with little-to-no maintenance required and multiple baluster options.
At Deck Expressions, our inventory is always growing as we add new products, but currently, we offer three main categories of low-maintenance baluster materials: aluminum balusters, steel balusters, and glass balusters. We will go in depth into each of these materials further down on this page.
As far as styles go, you have a lot of options. If you are looking for something modern and contemporary, glass balusters make a great option (especially when you choose an all-glass railing like popular InvisiRail system). A more traditional balustrade might feature a wood or composite upper and lower rail with metal balusters. Of course, for those looking for easy DIY rail options, we offer deck railing kits in multiple styles and materials that include everything you need to create a beautiful balustrade from start to finish, so be sure to take a look at those.

Aluminum Balusters
When it comes to style and class that fits within just about any deck budget, aluminum balusters are the best option. At Deck Expressions, we offer aluminum balusters in bulk so you can complete your project without spending an arm and a leg. Our Round Aluminum Balusters 100 Pack from Deckorators is currently our most economical option, with each baluster coming in at less than two bucks a pop — and that includes the limited lifetime warranty! For a more unique and timeless look, we love the 60-pack of Baroque Face Mount Balusters and the round or square Solutions Aluminum Balusters 100 Pack.
Aluminum balusters are generally less expensive than steel balusters, yet have the all of the strength and security that you need from your balusters. They are the perfect alternative if you are looking for a more affordable metal baluster with the look of hand-forged wrought iron.
Many of the aluminum balusters we offer here at Deck Expressions are powder coated for extra strength, durability, and rust- and corrosion-resistance. If you choose a high-quality aluminum baluster for your deck, you can expect it to be practically maintenance-free for decades to come.

Steel Balusters
Steel balusters are incredibly strong and typically come in more intricate designs, like our beautiful steel basket balusters. However, they are also a little more expensive than aluminum balusters. While steel is often susceptible to rust, we don't want to sell you steel balusters that will look hideous in a few years. Currently, we offer a wide selection of Fortress steel balusters. This deck supply brand's balusters are 100 percent pre-galvanized and come with multiple powder-coat finish options. Their steel balusters are specially engineered to resist the effects of weathering and extreme temperatures. They are also coated with UV inhibitors to add even more protection and backed by a stellar warranty. If you want the look and feel of steel without worrying about rust and weathering, Fortress balusters are a great option.
Glass Balusters
For those looking for something sleek and modern, or for an unobstructed view, glass balusters are the way to go. While once reserved for only the most high-budget decks, brands like Deckorators and RDI have made it easy for homeowners to install their own glass balusters, eliminating the costs of installation and custom-cut glass.
Glass is also an incredibly versatile baluster with plenty of options for customization. For example, those looking to add a classic spin to a modern baluster will like our frosted glass balusters with frosted designs within each baluster. These can be used around the entire deck or spaced out as accent balusters. To take this look even further, use the glass baluster lighting kit which illuminates the entire baluster. This kit includes top baluster connectors with internal low-voltage LED lights and bottom connectors to anchor the baluster in place. The light disperses throughout the baluster, creating a soft glow for those nights hanging out on the deck. The best part is that all wires and lights are hidden within the connectors for seemingly magical deck lighting.
Personally, we love this idea and think that you'll be seeing it around a lot more, meaning it's a great idea to get in on this trend early. One reviewer on our site said of our lighting kit:
"Simply AWESOME! We used them indoors around our basement stairwell, creating not only a beautiful railing but needed night time lighting in a very dark hallway. We could not be more pleased with how they look and the ease of installation. A great product!"
We have to agree! While the finished product looks elegant, expensive, and complicated, most homeowners will be able to install this themselves and the price of the glass balusters is very reasonable when you look at what you get out of it.
This reviewer also brings up a great point: Just because you are purchasing your railing and balusters from Deck Expressions doesn't mean you have to put them outside. Our rail systems are designed to be outdoors in the sense that they can withstand dramatic temperature shifts and weathering — something you usually do not need to worry about for your internal lofts and staircases. However, choosing our rail systems for the interior of your home is a great way to add a modern feel to your home as opposed to using the typical wooden balusters that you find in most homes.
Are Glass Balusters Safe?
If you've ever accidentally thrown a baseball through a neighbor's window or dropped a water glass on the kitchen floor, you might be thinking, "Is glass really a smart choice for a deck?" From rambunctious barbecues to kids running around, it seems like decks and glass balusters wouldn't be a good match. But don't worry, you're not the first person to have this thought and overall, you don't have much to worry about. Almost all glass balusters you'll find are made of tempered safety glass, just like the windows in your car. This glass is much more difficult to break than ordinary glass and can withstand more dramatic temperature shifts without cracking. If it does break, it is designed to shatter into granular chunks rather than sharp, jagged edges, reducing the risk of injury if broken.

Glass Baluster Maintenance
Because these deck balusters are meant to provide an unobstructed view, they do require some maintenance. If you are looking for a deck railing system that you'll never have to clean, then glass balusters might not be the best choice for you. Just like windows, they are prone to water spots, fingerprints, and bird droppings. However, for many this is just a minor inconvenience and having a beautiful, unobstructed view is worth the occasional wipe-down with Windex and a paper towel.

Face Mount Balusters Or Non-Face Mount
When choosing which balusters are right for your deck, one thing to look at is if you want face mount balusters, also called surface mount deck balusters. These are pretty much what they sound like, as they are balusters that screw right onto the face of your top and bottom deck railing.
Many of our steel and aluminum balusters are face mount balusters, whereas our glass balusters are not. Face mount balusters add a little more dimension to your deck and create a unique view whether you are looking at the balustrade from on the deck or from outside of it. If you have an existing wood railing system that you need to add balusters to, then surface mount balusters are the way to go. While many of our deck rail kits come with pre-drilled holes or pre-installed connectors to ensure safe spacing of balusters, you will need to space your own face mount balusters in most cases. Be sure you are complying with proper safety codes and regulations, usually requiring less than 4-inches of space between balusters in most states.
Need To Replace A Broken Deck Baluster?
One of the best reasons to choose Deck Expressions as your source for online deck building supplies is because we offer a wide range of deck balusters in both small and large quantities. That means if you ever break a baluster in a way that voids the warranty, it is easy to hope on our website and order a few replacement balusters without spending a fortune. We can also walk you through replacing a deck baluster if you're having trouble.
Contractor Program
Contractors, if your clients are asking for beautiful decks that don't cost a fortune, we'd like to partner with you. Deck Expressions offers a rebate and rewards program for professional contractors to help them build long-term success. We offer contractors industry-leading training programs, as well as sales, marketing, and business-building tools. We make it easy for homeowners to find skilled and trustworthy professionals.
When you partner with us, you will automatically receive a 5 percent discount on all of the products we offer, as well as free shipping on all orders, product samples, and marketing materials. Additionally, you will gain access to the RDI Pro Partnership and the Deckorators Certified Pro Program.
Choose Deck Expressions For All Of Your Deck Baluster Needs
We are committed to offering our customers personalized service and high-quality deck materials. If you have any questions about what type of balusters will work with your existing rail system, how many balusters you will need, or what railing system will work for your home or business, we are more than happy to help. As deck builders ourselves, we have a wealth of knowledge and experience and we love sharing that with others. We want to empower homeowners who are up for the task of installing their own decks with the tools they need to do so and provide contractors with low-cost deck supplies that their clients will be wowed by. Get in touch today to learn more!