Posted by Deck Expressions on Jul 01, 2018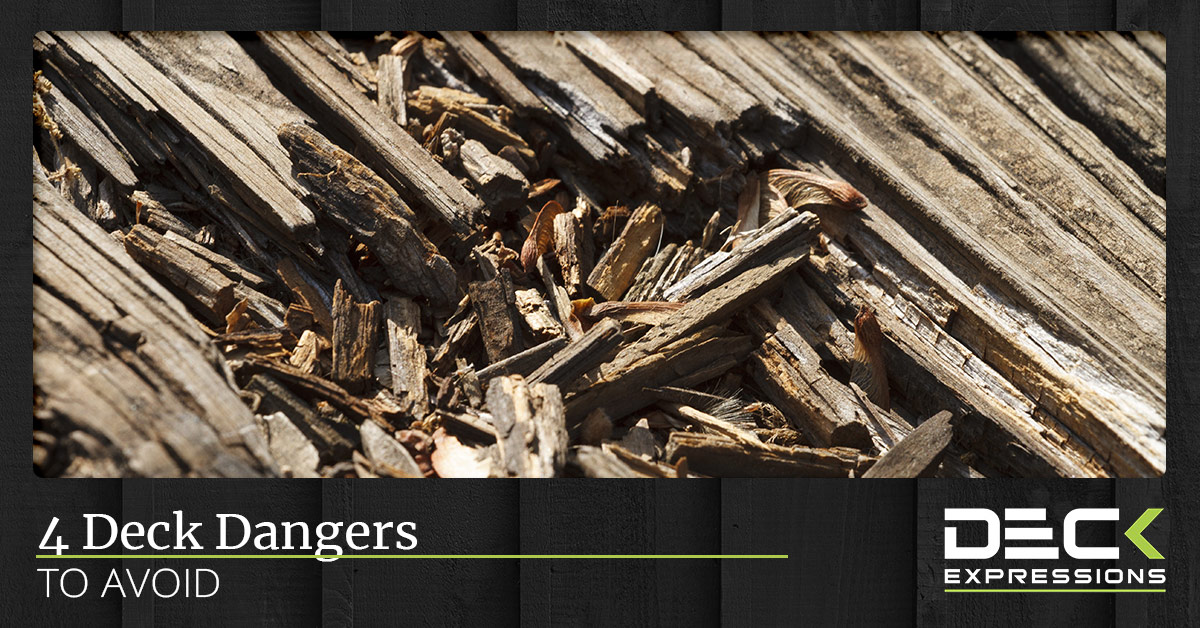 When decks are installed correctly and up to code they are a safe space for people to gather together, as long as nobody is acting foolishly, of course. However, sometimes decks are not properly assembled or maintained, making them a potential hazard to those who use them. As your online deck materials supplier, we're taking some time today to present four major safety red flags commonly found on decks, and giving you some easy ways to fix them. Keep reading to learn more!
4 Deck Red Flags
Poor Baluster Spacing
Building codes across the US require that there be no more than four inches of space between deck balusters at the widest part. This is to prevent babies and small children from slipping through the bars. When you purchase a railing kit like the Avalon Aluminum Rail Kit from RDI or the ALX Aluminum Railing from Deckorators, you know that your baluster spacing will be even and compliant with safety standards, as these kits either come with pre-determined baluster spacing or pre-assembled entirely. However, if you are building your own deck, it can be easy to cut corners and think, "I don't have young children, so I can save money by installing fewer balusters further apart without consequences." However, getting cited for a safety violation, having to rebuild your deck, or having a guest's child get hurt isn't worth the risk.
Rotting Wood
Perhaps the most common reason that serious deck disasters occur is because deck owners are unaware of rotting wood posts supporting their decks, rotting handrails, and rotting joists. Have a professional take a look at your wood deck every couple years to ensure there is no rot present, that could otherwise lead to the deck collapsing to the handrail snapping as guests lean on it. For more security, choose a rot-resistant deck railing like we offer at Deck Expressions.
No Lighting
A dark deck is a dangerous deck, especially if that deck has stairs leading off of it. While you could hang up a floodlight and call it a day, we know that you take pride in your deck. At Deck Expressions, we have two goals: For your deck to be safe, and for your deck to be beautiful. Because of that, we offer a huge variety of deck lighting options, from solar post caps that automatically light up as the sun sets to illuminated glass balusters that cast a soft glow around the deck. Not only will deck lighting make your deck safer, but it will also make it a place where people still want to gather even after the sun goes down.
Dangerous Gates
It's a good idea to have a deck gate at the top of any stairway leading off of the deck. This helps to avoid accidental falls, and is especially imperative if you have kids or grandkids spending time on the deck. Gates should be as tall as the deck railing and gate baluster spacing should not exceed 4 inches. We offer a number of easy-to-install deck gates, as well as replacement latches and child-proof safety latches.
Need Quality Deck Building Supplies?
At Deck Expressions, we only offer the brands and materials that we would trust on our own decks in order to keep you and your family safe. With our sturdy, code-compliant deck railing, long-lasting deck lighting, and secure gates, you can trust that when properly installed, these items will continue to do their job for years or even decades to come. Take a look at your deck to see what's missing or could be improved, and shop our deck supplies store to bring your own deck up to snuff today! We offer free, fast shipping on orders over $99 so you can get your deck materials delivered right to your door.