Posted by Deck Expressions on Jun 11, 2019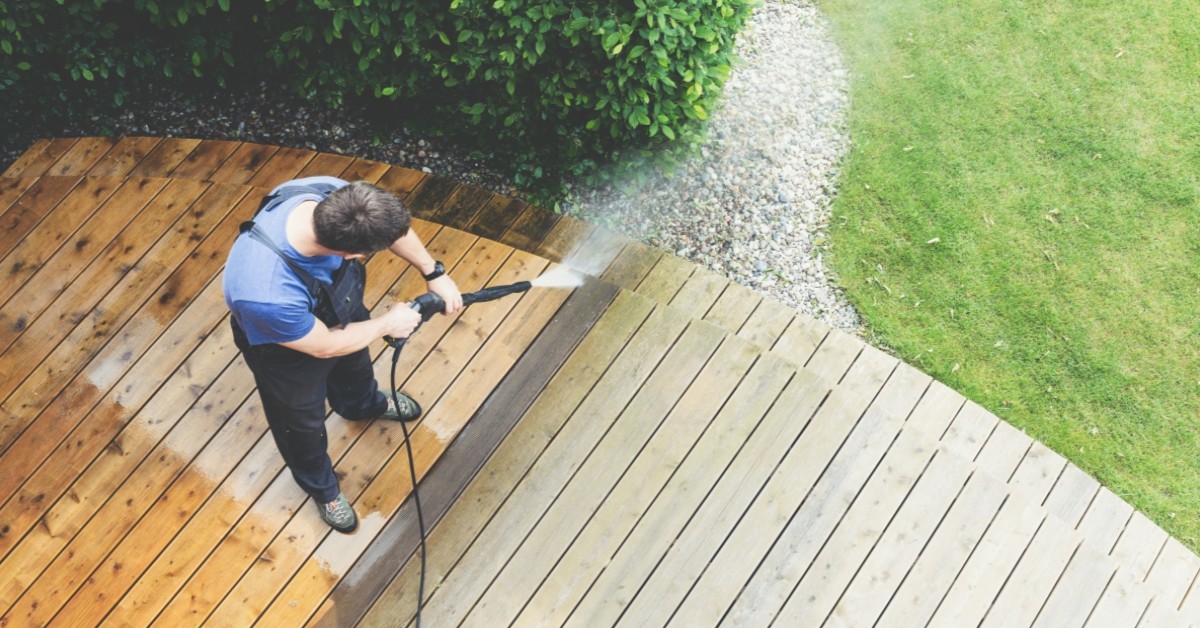 When it comes to the question of how to finish your deck, there are probably about as many opinions out there as there are decks. Should you use an oil-based finish or a water-based one? Which lasts longer? Which looks better? Do you go with a name brand or mix up your own finish?
Indeed, there are a number of questions to ask yourself, but at Deck Expressions, your source for deck building materials, we want to set you up for success. That's why we offer a wide range of post sleeves, deck railing, deck balusters, post caps, gates and gate hardware, deck lighting, hidden deck fasteners, and more. So when it comes down to it, how often do you need to refinish your deck? We'll be breaking it down in today's post, so keep reading to learn more.
A Few Things to Keep in Mind
First things first — how often you should refinish your deck depends on a number of different factors. Is it exposed to a lot of sun? How often does it rain or snow in your area?
Whatever method you use to refinish your deck, it's important to follow the manufacturer's instructions for the product you choose. Many will recommend that you properly clean and prepare the surface of your deck before applying a finish, and that's something that we highly suggest doing as well. This will ensure that you get the maximum amount of use out of your stain or sealer, ensuring that you're not just out there again next summer doing the same thing and expecting different results.
Pressure washing is often a wise choice for preparing a deck's surface as well, but it's important to be gentle in order to best preserve your deck. At the end of the day, there's a lot to consider, but it pays to do your research for your specific deck material and the products you choose to use on it. It may even be worth it to search for a company locally that specializes in deck refinishing and asking for a consultation and some pointers.
Other Options to Consider
Perhaps you've just purchased a new home and you're considering installing a deck. Maybe you've lived in your house for years and your current deck is in need of replacing. If that's the case, the sky is the limit! At Deck Expressions, we offer deck tiles like the Bison Ipe 2x2 plank, which weather naturally over time to develop a beautiful gray patina. Because ipe is naturally strong and weather-resistant thanks to its incredible density, it makes a great option for an easy DIY outdoor deck. Of course, if you prefer to keep the natural color of the wood, you can clean and seal these deck tiles when needed.
SpaceMaker Waterproof Decking is another great option and it's one that we always love using. The end result is a beautiful deck with water-shedding technology that helps to keep things dry, reducing wear and tear on your deck due to the elements. Particularly useful if you plan to store things underneath your deck, SpaceMaker Waterproof Decking is sure to please. Give us a call at 844-772-2362 to discuss your options or place an order for this product.
Everything You Need for the Deck of Your Dreams
At Deck Expressions, we've used a number of products over the years. This has allowed us to discover the ones that work the best, and that's what you'll find here on our website. With options including aluminum deck railing from RDI as well as privacy railing, deck connectors, post caps, and more, you're sure to find everything you need to build a deck that you will enjoy for decades to come.
There's nothing in the world quite like heading out to your deck to relax after a long day at the office. No matter what your vision for your deck is, we'd love to help you make it a reality. Have a question about any of our products? Want to discuss your options with a pro? We're here to help, so don't hesitate to contact us. Ready to get started? Take a look around our website and place your order today.