Posted by Deck Expressions on Nov 14, 2018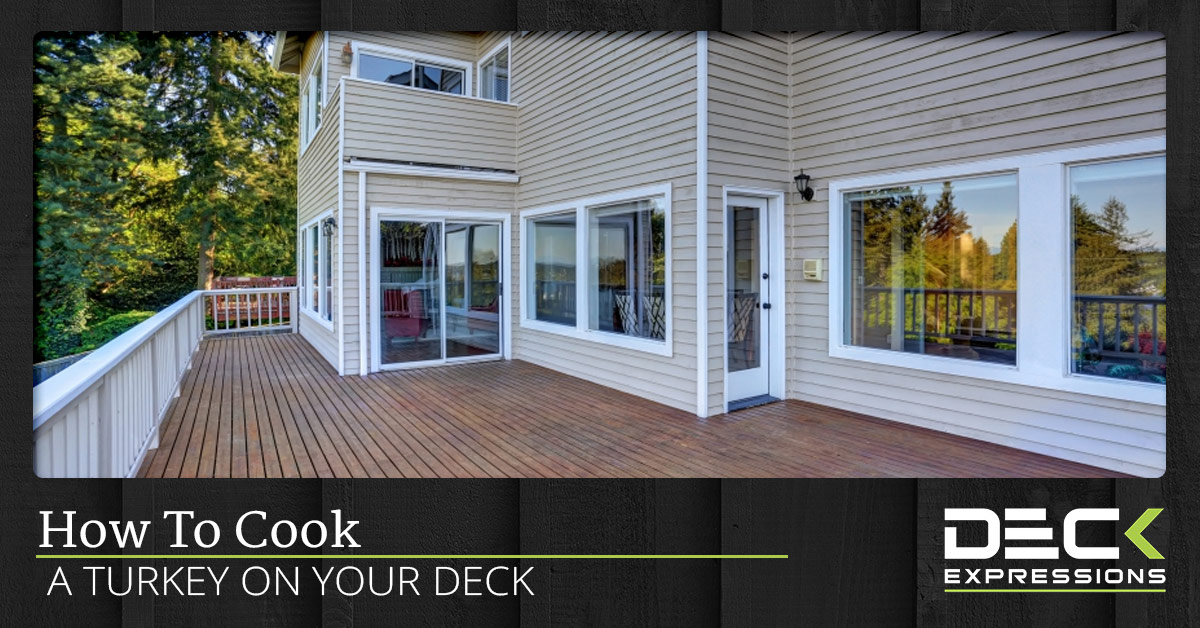 If you have a deck in your backyard, there's a pretty good chance you also have a grill on that deck. Whether it's gas, charcoal, or wood that is fueling your grill, you can take Thanksgiving to the next level by cooking your turkey outside this year. This will also free up the oven for side dishes, making it a win-win for everyone involved.
Even better, if the weather permits, enjoy your entire Thanksgiving meal al fresco! We spend so much time inside, that enjoying some fresh air while indulging in a feast can make us even more thankful for the world we live in. Even though we're not professional chefs, we'll do our best to provide you with some turkey grilling tips, as well as provide you with something we are experts in: how to spend time on a nice deck. Keep reading to learn how to grill a turkey, as well as how Deck Expressions can provide you with the deck building materials you need to make your deck a place that the whole family will want to spend time
How To Grill A Turkey On Your Deck
First, prepare your deck and your grill. This means ensuring you have plenty of deck lighting so you can see what you're doing, even if the sun sets at 4:30! Also ensure that your deck railing is sturdy and up to code. The last thing you want is for a young family member to be injured while you're focusing on the turkey! If you have a propane grill, make sure you have a full tank. If you're using wood or charcoal, make sure you have everything you need to light your grill and keep it burning. Now, for the fun part. Grilling the giant bird.
Like we said, we're not professional chefs (even if we do fancy ourselves grill masters), so we're turning to the real turkey experts for tips on how to grill a turkey: Butterball. Read below to see their tips for how to grill a turkey on a charcoal or gas grill.
Start by warming up your grill. If using a gas grill, set the grill to indirect high heat and place a drip pan directly onto the flavorizer bars. If using charcoal, place a drip pan into the charcoal pit and position briquettes on either side of the drip pan, then replace the grill grate. After you prepare your turkey by ensuring it is completely thawed, drained, and free of giblets and neck, pat the entire thing dry with paper towels. Brush the entire bird with vegetable or olive oil and season to your liking with salt, pepper, and other seasonings.
Then, place the bird over the drip pan and close the lid. If using gas, turn heat down to about 350 degrees after you place the turkey in. A 10-16 pound turkey can take 2-3 hours to cook, so make sure to plan accordingly. Cook your turkey until it reaches an internal temperature of 180 degrees.
Not ready to grill a turkey? Try grilling some side dishes! Corn on the cob is always best when it is hot off the grill, and you can also use your grill to cook up some foil-wrapped baked potatoes or use it to keep a casserole or rolls warm until supper time.
Getting Your Deck Ready For The Holidays With The Right Deck Supplies
Thanksgiving and the winter holidays are right around the corner. If your deck won't be covered in snow, make sure to still get some good use out of it with. Whether you need to update your deck railing, replace deck balusters, or install post covers for an instant upgrade, Deck Expressions has you covered. Shop our deck building materials today!
At Deck Expressions, we offer free shipping on all orders over $99 so you can save yourself a trip to the store and save some money on our already low prices. If you're a contractor who already has homeowners looking for decks to be built for spring, we have an amazing contractor rewards program that helps you provide homeowners and commercial building owners with high-quality deck building supplies that will have them praising your craftsmanship.