Posted by Rick R. on Oct 19, 2021
The team here at Deck Expressions was blown away by the images we received from customer Michael W. of Hot Springs, Virginia and that makes his deck the October Deck of the Month.
Michael had a contractor rebuild his deck after deciding to tear down an existing deck structure. The new deck was a complete redesign and basically built from scratch.
Wanting something that would be long-lasting and light in maintenance, Michael decided to go with Trex decking and rails and the saddle color he chose gave the perfect compliment to the rustic style of his home. The result is a combination of luxury with a classic and timeless feel.
Now Michael needed to complete his deck with the perfect post covers and lighting to complete the desired look and that's where Deck Expressions came in!
First Michael decided to cover his deck posts with the beige Deckorators Decorative Stone Post Covers in the stacked stone style! Deckorators pioneered the first decorative cover for deck posts and this design shows why they have been leaders in the industry ever since. These Deckorators stone post covers transformed Michael's deck posts and corners into striking, bold pillars. They have the look and feel of real masonry stone, yet are made of glass-fiber reinforced concrete for increased strength and exceptional protection against harsh environmental elements. The result is posts that look natural and created stately pillars that coordinate perfectly with Michael's chosen Trex deck!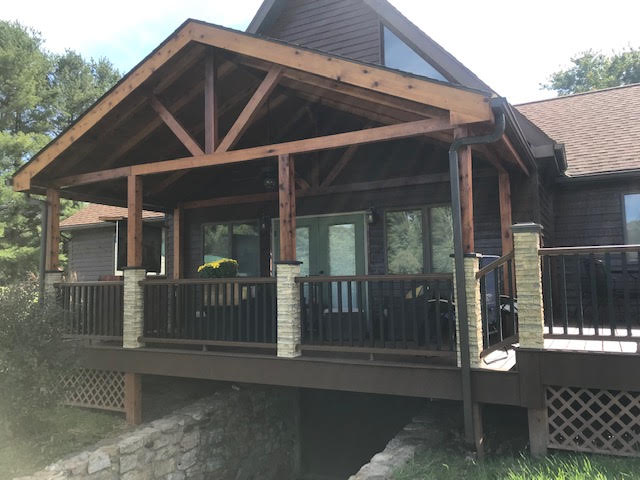 Next, Michael was looking for the perfect post caps to provide a complete look while also giving off that coveted evening illumination. We were able to provide the Solar Stone Post Cap for Deckorators Stone Post Covers. This Woodland Gray~colored post cover cap complements Michael's chosen post cover by highlighting their nighttime beauty. Twelve, warm, white LED lights shine down from around the perimeter of each cap, illuminating the darkness and accenting the bold styling of the covers. These low~profile, traditionally-designed caps include a rechargeable battery.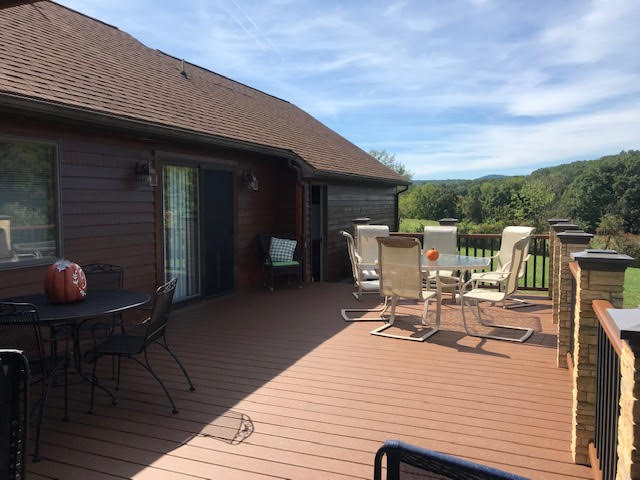 Some of Michael's posts did not require the lighting and extended beyond the stone, so for these he went with the Deckorators Stone Post Cover 2-Piece Post Caps. The two-piece post cover cap works well to top off a stone post cover with a wooden post extending beyond the stone.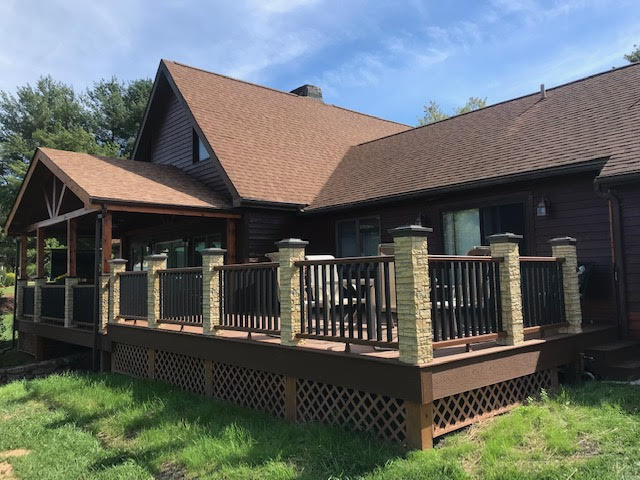 All in all, Michael and his building team created the perfect extension to this magnificent home with the creation of an outdoor deck that creates a warm, inviting and beautiful outdoor living space to be enjoyed year round, day and night! Thank you Michael for allowing Deck Expressions to help make your dream deck a reality!