Installation of inline round or square balusters using hidden baluster connectors:
An easy way to install balusters using baluster connectors.
Cut your top and bottom rail
Hold rails together or clamp side by side
Measure propper distance for baluster connectors (check local codes)
Use a square and mark a line through both top and bottom rails
install your connectors (screw into rail) click HERE for railing connector options.
Mount bottom rail to post
insert balusters into bottom rail baluster connectors. Click HERE for baluster options.
Place top rail on top of balusters working from right to left or vise versa
Gently tap top rail down onto baluster connectors
Install top rail to post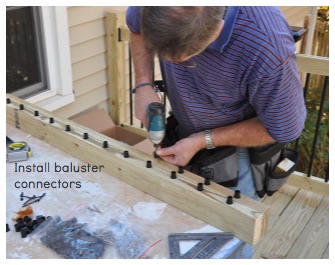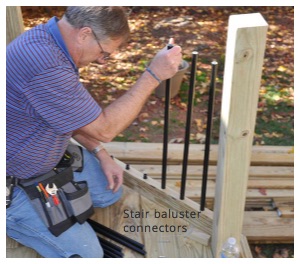 Face Mount Baluster Installation:
(NOTE - Check local building codes for rail installation dimensions)
In - Line Baluster Installation:
(NOTE - Check local building codes for propper rail installation dimensions)
Step1.Plumb 4x4 or 6x6 posts - Measure distance between posts.
Step 2. Use this application when using Railing Connectors ( recommended - click HERE for railing connectors)
Measure top and bottom rail - deduct 1/2" to accomodate railing connector. (if not using railing connector - do not deduct 1/2") Cut top and bottom rails to size.
Step 3. Lay top and bottom rail beside each other long end up. Find center of rails and mark. This is your starting point. Measure out 4-1/2" from center on both sides until you reach the end of the rail. End spacing will vary. Use a square and lightly mark through each line. This is where your baluster connectors will mount.
Step 4. Insert screw through baluster connector (click HERE for baluster connectors) Screw down each connector where top and bottom rails are marked.
Step 5. Mount bottom railing to posts with attached railing connector. Rest bottom rail on 2 temporary spacer blocks. Insert balusters on to bottom baluster connctors and firmly push down by hand.
Step 6. Start the top rail at an angle and insert connectors into balusters. make sure balusters are fully connected. Push down firmly by hand. Install top railing connectors to posts. You can now install a handrail if desired.