Posted by Deck Expressions on Oct 05, 2018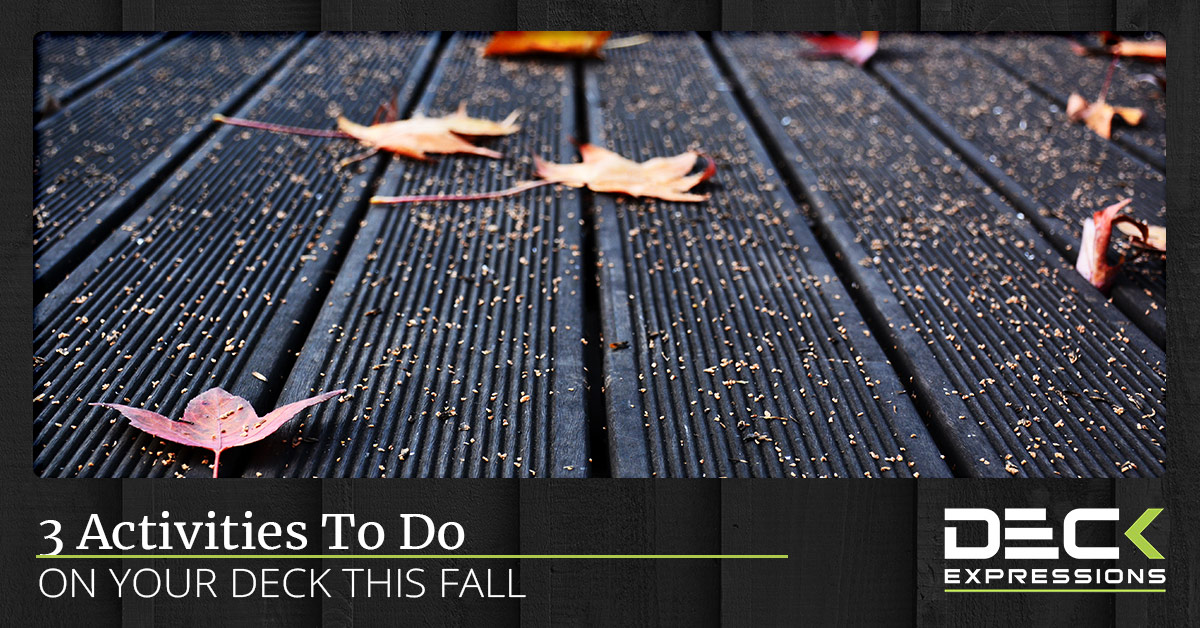 You've heard of deck the halls, now get ready for deck the deck. That's right, in today's blog, we're talking about how to spend time on your deck this autumn, whether you're doing some deck decorating or eating a deck-adent slice of pumpkin pie. Okay, that last pun was a little much, we can admit that. We're just really excited to sit on our deck and spend time with our family and friends, and we want you to get excited too!
But before you can spend quality time on your deck, you'll need a quality deck. At Deck Expressions, we specialize in providing the best deck building materials, deck railing, and deck lighting options to make your backyard deck the place to be. We offer the brands you trust at affordable prices and ship them right to your door. Shop our deck supplies website, and keep reading for some ways to spend time on your deck this fall!
Carve Pumpkins
Pumpkin carving is fun for any age. Head over to your local pumpkin patch with your kids, your spouse, or your best friend and pick out the perfect pumpkins. Then, head out to the deck. If you have a hose that can reach your deck, you can carve right on the deck's surface. Otherwise, you might want to lay down some newspaper to make cleanup easier. While you can buy a cheap carving set, your kitchen knives will work just fine. Cut off the top, scoop out the guts, and carve a spooky face into your pumpkin. Then place a small candle in your deck, and light up your new jack o'lantern. Keep them lit on your deck so you can look out at night and feel the Halloween spirit!
Roast Pumpkin Seeds
You're probably thinking, "How will I roast pumpkin seeds on my deck if my oven is in the kitchen?" Thankfully, you can roast pumpkin seeds on a BBQ grill and make them just as tasty. First collect and rinse all of the pumpkin seeds from the pumpkins you carved this year. Pat the seeds dry and toss them in a bowl with a little olive oil and salt. Then spread them out flat on a baking sheet or in a disposable baking dish, and place them on a hot grill for about 45 minutes, turning halfway through.
Thanksgiving On The Deck
If your deck is big enough and the weather permits, why not have Thanksgiving outside this year? You can BBQ the turkey on the grill, use a deep fryer to bring it to a golden crisp (be careful with this one!), or cook it in the oven per usual and just bring it outside when it's time to eat. If your grill is free, then it's the perfect place to grill some corn on the cob. If you don't have enough patio furniture for everyone, you can buy or rent a couple cheap folding chairs and tables. And of course, make sure your deck lighting is working so everyone can see the delicious meal you've prepared.
How Will You Spend Time On Your Deck This Fall?
For many of us, this is the time when the air gets crisp and cold and the days get shorter, making us want to run inside. But this fall, we challenge you to continue to spend time outdoors with your family and friends, and a deck is the perfect place to do that. With the right deck building materials, you can make your deck the place to be this autumn. Shop our deck supplies store for deck railing, lighting, and other materials that ship straight to your door and make sure your deck is ready for fall!