Posted by Deck Expressions on Nov 27, 2018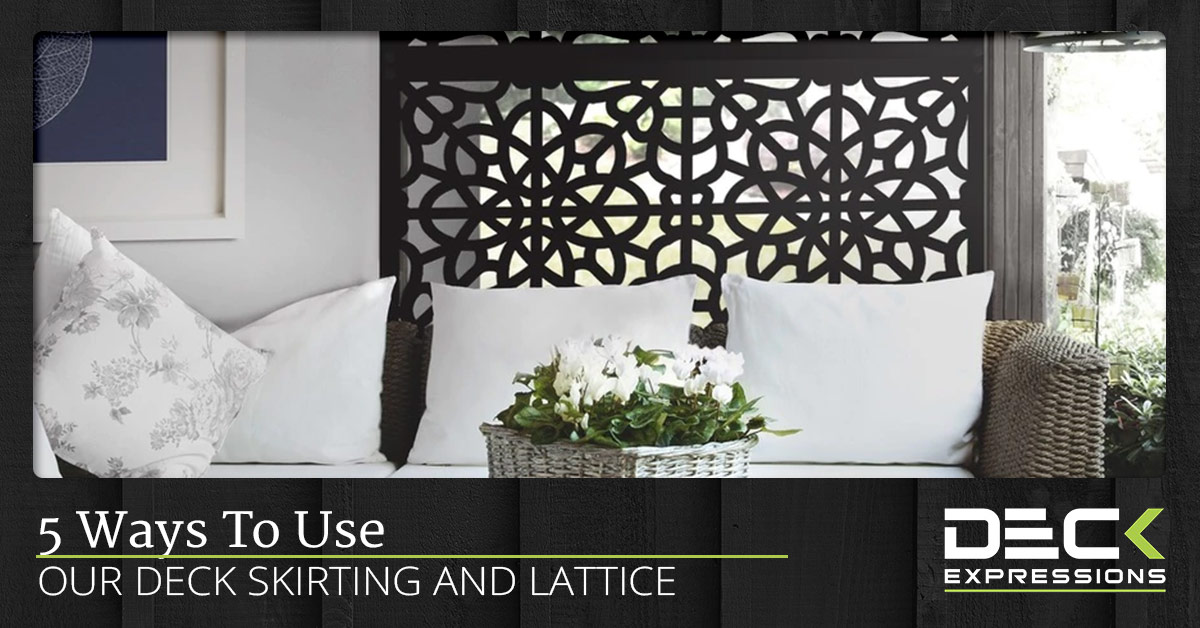 Deck skirting, or deck lattice as it is sometimes traditionally called, is an essential part of a deck, especially those that are low to the ground. It not only hides an unsightly under-deck, but it also helps keep out pests and keep curious kids safe around decks, but we'll discuss that in depth below!
Deck Expressions is your source for online deck supplies and deck building materials. We are thrilled to bring homeowners and contractors the best products at the lowest prices, and our RDI deck skirting and deck lattice is no exception. This low-maintenance skirting comes in four modern patterns and is incredibly durable so it is unlikely to break or bend. Best of all, the panels are designed to withstand extreme climates and resist warping, rotting, twisting, and splitting like you sometimes see with traditional lattices. They should also not discolor in the sun or show scratches. Essentially, with the limited lifetime warranty offered by RDI, it's the last deck skirting you should need.
While you may think deck skirting only has one use, there are actually a handful of ways you can use this product — and there are probably a lot more that we haven't even thought of! Keep reading to learn some ways to use the RDI deck skirting.
5 Ways To Use RDI Deck Skirting
Skirt Your Deck
Skirting your deck is the most obvious, and intentional, use for deck skirting. Deck skirting not only hides ugly beams and woodwork, it also prevents children and pets from playing under a low deck where there might by spiders, rodents, or other creepy crawlies hanging out. It does this while still providing plenty of air flow and allowing the woodwork under your deck to breathe, helping to avoid rot. Deck skirting also helps hide trash and other debris that gets blown into this hard-to-clean area. While skirting might be something that makes you think, "If I have to put up skirting, I will, but I don't want to," then you likely haven't seen skirting that is this attractive. Check out the Celtic pattern and the Morse pattern to see for yourself.
Dress Up A Pergola
If you have a pergola in your backyard, you may be wondering how to make it look a little more exciting. Spanning lattice skirting across the top beams of your pergola not only provides some shade, but also creates beautiful shadows that scatter across the ground and add a unique touch to a traditional wood pergola. Take a look at how the finished product might look with the Sprig pattern of our RDI lattice.
Use Them As Deck Fencing
Some people want a little more privacy on their deck than others, but they don't want a full wooden fence that blocks the sun on their deck. If that sounds like you, then using these lattices in place of deck railing can give you some extra privacy. To do this yourself, start by building a framework of vertical deck posts and horizontal beams spaced in a way that will allow you to attach the panels onto the beams and posts using out skirting and lattice mounting hardware. Our 2' x 4' deck lattices can be cut to your desired size or left at full size and installed vertically or horizontally.
Secure Crawl Spaces
If you have a crawl space under your home, you will want to secure it from large pests like raccoons and prevent children or pets from crawling under there. The lattices we sell here at Deck Expressions can be used to cover openings in a crawl space while still allowing plenty of air flow which can prevent moisture build up.
Use Them As Artwork
No one said these durable deck skirts had to remain outside. Bring a little bit of texture into your home and place these deck skirt panels with on-trend designs on your walls. You can see a great example of how to do this with the Sprig RDI Deck Lattice. This example shows three panels hung vertically side-by-side, but you could also hang the panels horizontally.
Get Your Deck Skirting Today!
Our online deck supplies store has the deck building materials you need to make your deck look amazing. From deck railing to deck skirting, we've got your deck needs covered from top to bottom. Try the affordable RDI deck skirting for your next deck project and see how beautiful the finished product looks!