Posted by Deck Expressions on Sep 24, 2018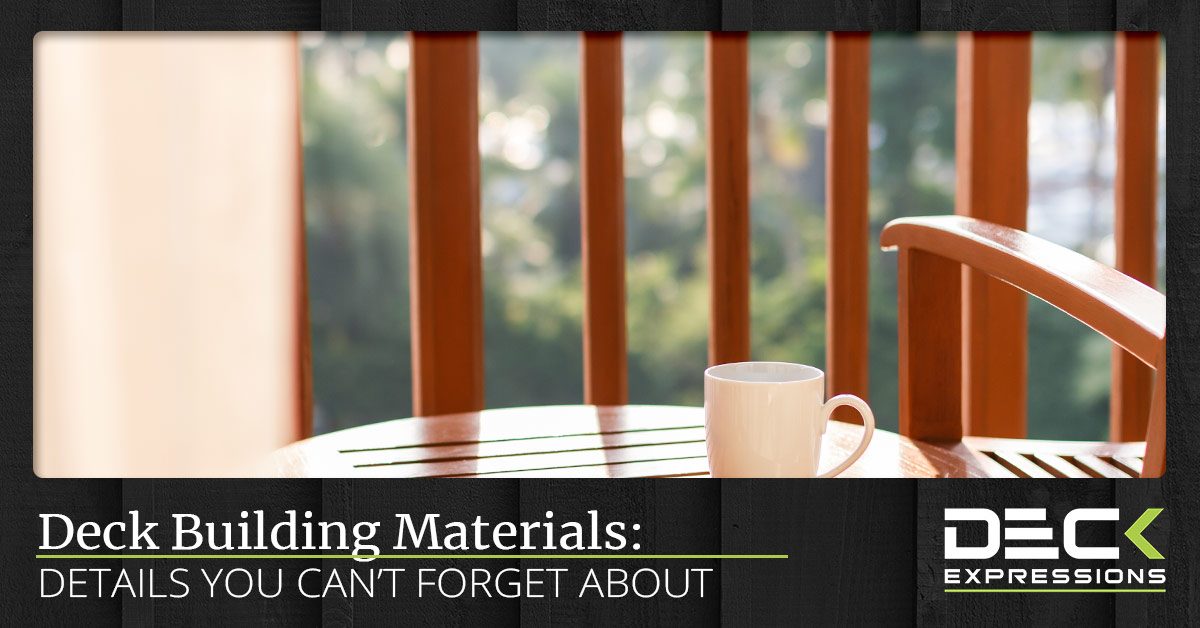 Building a deck isn't all about deck railing and fancy balusters. Sometimes the most important part of a deck is what you don't see. There are certain details that make your deck smaller and safer, and knowing exactly what you'll need before you start building is the key to ensuring a finished product that looks as good as it functions.
Here at Deck Expressions, we are proud to offer all of the best deck building materials that make your deck look great, like RDI railing systems and Bison wood tiles. But we also offer a lot of 'behind the scenes' deck details that many people forget about. After all, a deck is more than a floor and some railing. In today's blog, we're going to discuss a few of the small details people often forget when DIY-ing their own decks.
Deck To Wall Spacers
Deck to wall with boughs of holly, fa la la la… Sorry. We couldn't resist. Deck to wall spacers are more than just similar-sounding to the start of a Christmas song. They are a vital part of deck building that help to protect both your deck and the structure it's up against, either your home or commercial building. These deck ledger spacers allow for airflow between the deck and the adjacent structure, preventing rot and decay.
Joist Hanger Tool
If your deck is raised and using joists, you'll need joist hangers to securely keep the joists in place. You can do this the old fashion way where you painstakingly measure and place each joist hanger, or you can save yourself the time and hassle by using a joist hanger tool.
Baluster Spacing Template
Getting your balusters spaced evenly is every deck-builders kryptonite. Thankfully, there are tools that make it super easy so you never have to pull out the measuring tape. These deck baluster spacing jigs ensure your rails are code compliant (in most places - check your local regulations) and have beautiful, evenly spaced balusters.
Baluster Connectors
Of course, even if you space your balusters perfectly, you will still need connectors to attach them to the deck railing. We've got you covered! With a huge selection of name-brand deck baluster connectors, you have everything you need to finish your railing system. We have glass baluster connectors, round baluster connectors, square baluster connectors, and hidden connector systems!
Deck Screws
Deck Expressions offers a wide range of heavy-duty deck screws that match the color of your deck. These structural screws have colored heads so they blend in seamlessly with your deck. We offer popular brands like Headcote and TopLoc screws, as well as stainless steel deck screws and screws for composite decks, we've got everything you need to a sturdy, secure structure.
We Have The Deck Building Supplies You Need
The above are just a handful of deck supplies you might find yourself needing. When you order deck building materials from Deck Expressions, we'll ship everything right to your door so there's no need to haul everything in and out of your truck. From quality railing systems to screws and fasteners, we've got it all. Shop our site for anything you need, and feel free to get in touch if you have any questions. We have plenty of experience building decks ourselves and can point you in the right direction.

If you are a deck building contractor who is constantly buying fasteners, screws, balusters, and more, we'd like you to know about our contractor rewards program. This program gives you rebates and rewards for shopping with us, discounts on all orders, and gives you a way to build long-term success by gaining access to training programs and marketing tools. Get in touch to learn more about this program!