Posted by Deck Expressions on Sep 10, 2018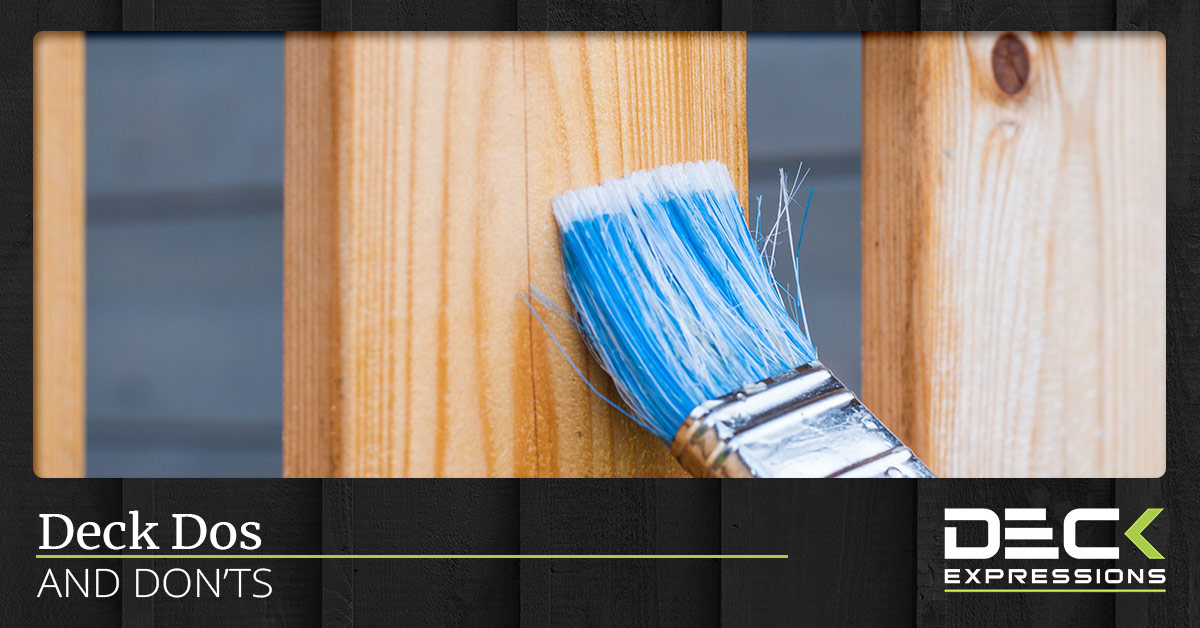 When it comes to building and owning a deck, there are a couple things you should do, and some you should never do. While deck owning isn't necessarily rocket science, it does help to have a few tips on hand to keep your deck looking and working great. In today's blog, your online deck supply store, Deck Expressions, is offering up some 'Dos and Don'ts' of decks! Keep reading to learn more!
Do: Know Where To Get The Best Deck Building Materials
Okay, this one you should already know! Deck Expressions has all of the best deck supplies, from deck railing and balusters to deck lighting and more. Just browse around our site and you're bound to find exactly what you're looking for.
Don't: Be Lazy And Ignore Safety Codes
Most building codes require balusters to be no more than four inches apart. This is mainly to prevent babies and toddlers from slipping through and injuring themselves. While you may think, "I can finish this deck quicker and cheaper if I install balusters six inches apart instead of four," just don't. It's not going to be worth it when your baby, grandchild, or a friend's kid gets seriously injured.
Do: Find A Good Lighting System For Your Deck
Deck lighting is an important step of deck building that is often overlooked. Make sure you get a great lighting system for your deck so you can actually enjoy it after the sun goes down. It also makes it a safer place to be.
Don't: Build a Deck That Requires More Maintenance Than You're Willing To Put In
Getting a deck is kind of like getting a dog. If you are okay taking it for walks a couple times a day and putting in the effort to train it, then get yourself a dog. If you want a dog but you don't want to do any hard work, get a cat. The same goes for decks. If you want a beautiful wood deck and have the time and money to keep it maintained, go for it! If you prefer a deck that you never have to seal, stain, or sand, you might have more luck with a vinyl deck.
Do: Learn How To Clean And Maintain Your Deck
Different decking materials require a different level of maintenance. Be sure you know the best way to clean your deck. For example, most vinyl and composite decks require zero maintenance other than an occasional hose-down, whereas wooden decks will need to be sealed every couple of years. Follow the manufacturer's advice on the best way to clean your specific deck.
Don't: Pressure Wash Your Deck (At Least Not All The Time)
Pressure washing should be done very carefully and only by people who know what they're doing. Otherwise you might end up ruining your deck. If your deck is feeling a little dirty, you can hose it down and give it a little scrub with a push broom, but don't use any harsh chemicals. If you are going to be re-sealing your deck, hire a pro to come pressure wash it rather than doing it yourself.
Do: Sweep Your Deck Regularly
Dirt, leaves, and other debris will get on your deck, that's a given. However, sweeping it regularly will make your deck a nicer place to be. Leaves can become slippery when wet and compacted, and you don't want to spend time on a deck covered in dirt. Make sure to sweep your deck once or twice a week to keep it pleasant.
Don't: Ignore Your Deck During Fall And Winter
Don't let cold weather keep you off of your deck. Many homeowners tend to only use their decks during the summer and spring, but your deck should be a year-round feature of your home. If it gets a little cold in your neck of the woods, add some sort of heating system to your deck. Whether this means you plug in a portable space heater when you go outside or have propane heat lamps, as long as you have something to keep you warm, you can use your deck in any season.
Do: Invest In Some Good Deck Furniture
What's the point of investing in a bunch of deck building materials if you have no way to enjoy your new deck? If you have a deck, be sure to get some quality deck furniture that is comfortable yet can stand up to the outdoors.
Don't: Ignore Problems
A broken board, a loose baluster, and a rusty handrail are all things that should be fixed as soon as you notice them. Not only will it keep your deck looking amazing, it will also make it safer.
Do: Put A Gate At The Top Of Stairs
When it comes to keeping your deck safe, ensuring that all areas at the top of stairs have a gate is a good way to prevent accidental falls. We offer a variety of deck gates and gate hardware that will perfectly match your existing railing if you use one of the rail systems we sell here.
Want To Learn More About Decks? We Can Help!
If you are looking for the best deck building materials online, you've come to the right place. But we do more than just sell rails and deck lighting! We are happy to answer any of your questions about our products or about deck building in general — just ask!