Posted by Deck Expressions on Dec 05, 2018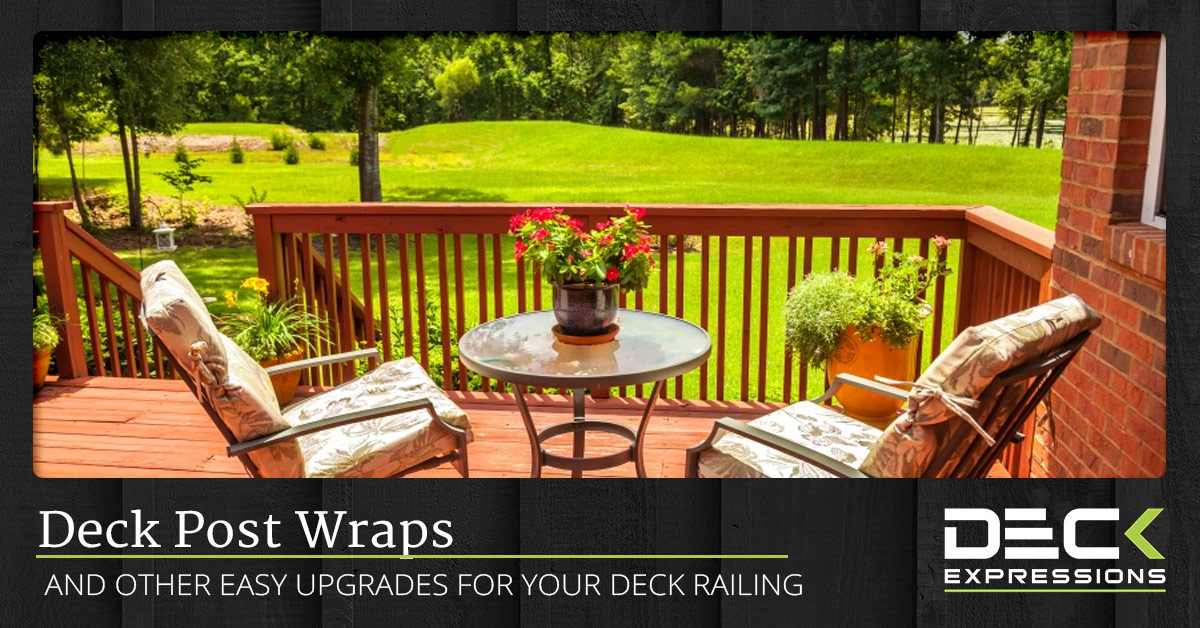 Replacing a deck is an expensive undertaking. However, many homeowners find themselves looking out at a boring or dull deck and wondering if it's time to rip the whole thing out and build a new one from scratch. If your deck is structurally sound, there's thankfully no need to be that extreme! Sometimes, all your deck needs is a little upgrade.
At Deck Expressions, we provide high-quality and affordable deck building materials online that you can use to give your deck a much-needed facelift. The average homeowner can usually install our products themselves so there is no need to hire a contractor.
In today's blog, Deck Expressions is offering up some useful tips on easy ways to give your deck a DIY upgrade without breaking the bank. The following deck upgrades can be completed in an afternoon and will make an old deck look brand new!
Add Post Trim
Post trim wraps around the base of your deck posts and gives an instant upgrade, turning a plain structural post into something that is pleasant to look at. Think of it as crown moulding for your deck. Deck Expressions offers a number of styles, colors, and sizes of base post trim so you can find a trim that integrates seamlessly with your existing deck whether you have wood, metal, or vinyl posts.
Add Post Caps
Anyone who wears nice shoes needs a nice hat to go with it, and that includes your deck posts! We offer hundreds of post cap options from solar post caps to simple plastic post caps. You can choose a post cap that matches your base trim, or you can go with something completely different. The choice is yours for how simple or ornate you want your post caps to be. Follow the links below to find a post cap you love:
Add Post Wraps
Are you seeing a trend? If the majority of your railing and balusters are in good shape, sometimes just updating the end posts is enough to create a beautiful spectacle. Deck expressions offers various styles and finishes of post wraps to update your deck railing with minimal effort. From decorative stone post wraps to low-maintenance vinyl post wraps, we've got you (and your deck posts!) covered.
Stain Your Deck
Wooden decks should be stained every two to three years to keep them in tip-top shape and a fresh stain can make a deck look like new. Start by giving your deck a thorough cleaning. Don't forget to scrape out all of the gunk that has built up between the planks. Either pressure wash your deck or use a deck cleaner that you can pick up at any hardware store. Once your deck is completely dry, sand it and sweep it, and then apply a coat of deck stain and sealer according to the instructions.
Add Deck Lighting
Deck lighting can make a deck seem more modern and make it a place you want to be — even during the cold winter months. Give your deck a quick upgrade by installing deck lighting. Deck Expressions has deck lighting options that include cordless solar lights, spotlights, and lights that illuminate your balusters.
Replace The Railing
This task might take more than a few hours, but you can likely complete it in a weekend if you're handy with tools. Deck Expressions specializes in providing homeowners and contractors with high-quality and affordable deck railing solutions. Many of our deck railing systems come pre-assembled or simply snap into place so you don't have to worry about measuring out the spaces between the deck balusters. Browse our website to find our entire selection of deck railing options.
Ready To Upgrade Your Deck? We Can Help!
Not all deck upgrades have to be complicated. Sometimes something as simple as slipping some deck post wraps over dull wooden end posts and topping them with post caps is all your need to take your deck from boring to exciting!
Deck Expressions has everything you need to make your deck a place you and your family love to be. Browse our site for more deck post wraps and other deck upgrade items from the brands you know and trust.