Posted by Deck Expressions on Feb 14, 2018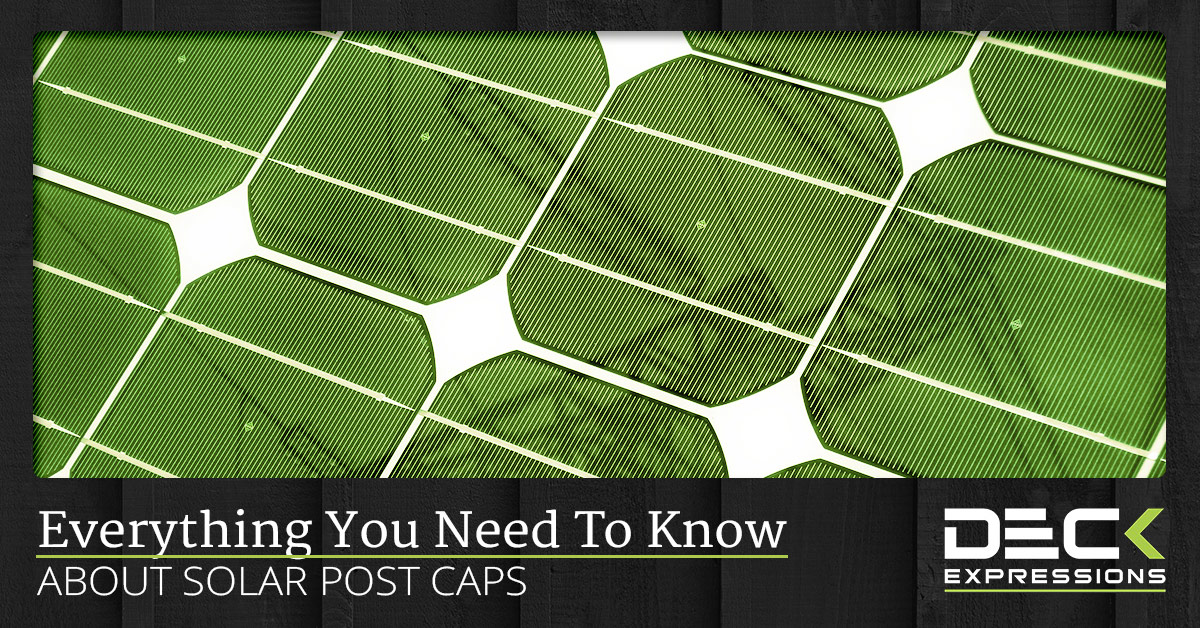 Many people find choosing lighting for a deck to be nearly as complicated as building the deck in the first place. You want lights that can withstand being outside but that still match the overall aesthetic of your deck. Thankfully, you can add lights to your deck that don't require any complicated wiring, last a long time, and are cheap to run. Solar post caps for decks are a nifty invention that offers soft lighting to outdoor decks without the hassle of hooking up wiring or using electricity.
How Do Solar Post Caps Work?
Solar light works by converting sunlight into a form of electricity and storing it in a battery. After the sun sets, the lights turn on and emit a nice glow to the surrounding area. Of course, with solar caps, you can't expect these alone to completely illuminate your deck as if it were daytime, but they do give off enough light to hang out, grill, or even take your dog out at night.
Every solar post cap light is different, but in general, after a day of fun in the sun, a solar cap can stay illuminated for 8-12 hours. Based on the type of bulb, solar post caps can emit yellow, white, or even blue toned lights.
What Styles Of Solar Post Caps Do You Offer?
While "solar energy" may seem like a modern concept, we offer solar deck lighting in a variety of styles from traditional to contemporary. They can also range from lamp style, where they look like traditional lamps perched atop your deck posts to downward style, where the post does not even look like a light post until the bulbs illuminate at night. There are all sorts of styles in between, so be sure to take a look at our collection of solar post caps to get a good idea of the variety we offer here at Deck Expressions.
Will They Be Too Bright?
Since solar deck post lights generally do not have an on/off switch, you may be concerned about light pollution at night. If this is the case, we offer "downward style" post cap lights. These are discrete solar lights that go practically unnoticed during the day, and cast light downward at night, casting most of its light to the ground. For examples of downward style solar post lights, check out these Majestic Solar Post Caps by Classy Caps or these handmade cedar post caps from Nantucket.
Are Solar Post Caps Expensive?
If you're thinking that something this high-tech must cost an arm and a leg, we're happy to inform you that that's not true. When it comes to the price of solar post caps, the price is often dependant on the materials and how the product was made. For example, these 6x6 post caps from Deckorators cost nearly $80 each, but they are handcrafted and have real, frosted glass as opposed to many solar post caps that use plastic - not to mention they are some of the most gorgeous wood post caps we've ever seen. However, we also have a huge variety of more affordable post caps that still work great and look beautiful.
Deck Lighting Is Easy With Solar Post Caps
With these modern deck lighting options, you won't even have to think about illuminating your deck. The sun does the work for you, and the lights come on automatically at night. These lights will last for a long time with little-to-no maintenance other than an occasional wipedown. Check out all of the modern, traditional, and classic solar post caps Deck Expressions offers! And with free shipping to the lower 48 on orders over $49.99, solar post caps save you money on more than just your electric bill.