Posted by Deck Expressions on Jun 01, 2018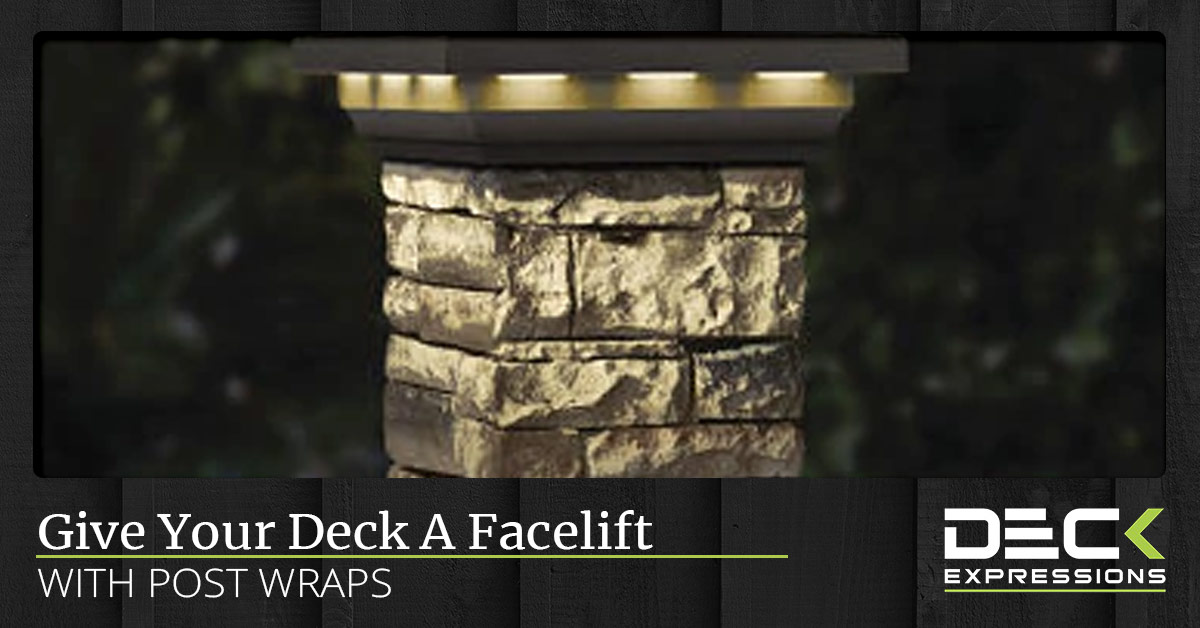 Have you ever seen a beautiful deck with high quality finishes that is supported by boring, unfinished, lanky wooden posts? In many cases, support posts on decks look like an afterthought, even though they play a crucial role in keeping a deck safe. If you're in this situation or you simply feel like your deck could use a bit of a facelift, keep reading! In today's blog, the deck building experts at Deck Expressions are offering up a few tidbits on how to choose the best post wraps for your deck in order to give it an inexpensive upgrade. \
Before you get started, make sure your structural posts are made of treated lumber and have your deck inspected regularly to ensure the structural posts are safe and sturdy. While post covers can be a beautiful addition to any deck, they can also hide wood rot on the posts they wrap around.
Stone Post Covers
Stone deck post covers are a great way to take a boring deck and turn it into the centerpiece of the yard. Because these post wraps are purely decorative in nature, they are less expensive than creating real stone pillars and no one will know the difference. These can be used to wrap around structural posts or corner posts, and can even be stacked to add decoration and substance to decks that are ten or more feet off the ground.
These post wraps don't have to be strictly used for decks, either. You can use them to add beauty to structural posts that support your front porch or take these stone post wraps inside and use them to create two beautiful stone to flank your fireplace.
Vinyl And Composite Post Sleeves
For a more affordable option that still creates a beautiful, polished look, consider composite or vinyl post sleeves for your deck. We composite and vinyl sleeves from a number of reputable brands so you can ensure long-lasting products that match your current deck railing perfectly. These non-metal sleeves are perfect for anyone looking for a low-maintenance deck option that will last for decades without fading, warping, or cracking.
Choosing The Right Post Caps
Of course, if you choose to wrap your posts, you'll also want to top off any railing posts with a post cap. Otherwise, guests will be able to see the structural post inside of the wrap. Deck Expressions has a huge selection of post caps online to match any style of deck. In fact, most of our post sleeves have corresponding post caps that take the guesswork out of choosing the right cap. However, mixing and matching sleeves and caps gives you the option to create a truly unique deck.
If you need soft deck lighting and don't want to deal with any wiring, pop on a solar post cap for lighting that charges during the day and automatically turns on at night. We also offer low-voltage battery-powered post light caps for those living in areas that don't receive enough sunlight to power a solar cap.
However, if you do not need lighted post caps, we have a wide variety of styles and materials to top off your posts. We offer metal post caps that add a little bit of shine and elegance to a traditional deck, as well as simple vinyl caps and wood post caps that add a classic, finished look to your deck.
Need Help Choosing The Right Options?
As you can see, adding a beautiful post wrap or topping off posts with light-up post caps is an easy and affordable way to give your deck a major upgrade, ensuring that every support post looks perfectly at home.
We don't just sell deck building materials online. We have been working with the products we sell for decades and would love to help you choose the pieces that are going to work for your deck. If you are unsure which post wraps or caps to choose or have any questions, get in touch! We want to empower homeowners by offering high-quality deck materials that they can install themselves. Shop our collection today or get in touch to learn more about purchasing wraps for your home, or buying in bulk if you are a contractor!