Posted by Deck Expressions on Feb 17, 2019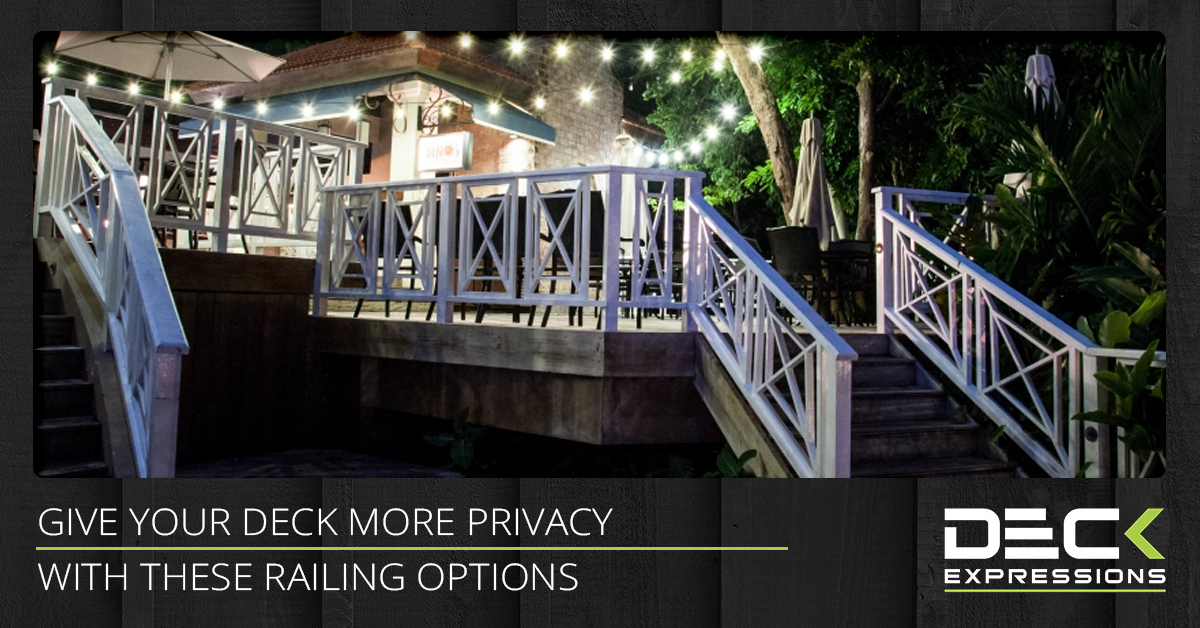 Does your deck or patio ever feel a little too exposed? Many homes, especially newer ones, are built closely together with little-to-no privacy. Some backyards don't have so much as a chicken wire fence, let alone a 6-foot-tall wooden fence. Because many cities across America are facing housing booms where builders try to fit as many homes as they can in the least amount of space, homeowners are left without established trees to keep their backyard feeling enclosed.
Deck Expressions, your source for deck building materials online, has a solution. We offer a number of privacy railing kits from RDI Railing to make your backyard space feel a little more secluded. Whether you have a hot tub that you don't want the neighbors to see you in or you simply want to close off your deck a little more, we have what you need.
Privacy railing for decks is a great option to keep your deck or patio feel more comfortable without completely enclosing it. After all, you still want it to be an outdoor space.
Check out some of our favorite deck privacy kits below and make sure to order yours now so you have it all set up by springtime!
Privacy Deck Railing Online
Outdoor Shower Kit
If you have a pool that you like to keep clean, having an outdoor shower is a great way for you and your guests to rinse off before entering the pool. You can also rinse off any chlorinated water after you're done swimming. This allows you to shower, dry off, and change clothes without dripping water through the house.
We offer a beautiful white outdoor shower kit from RDI. These vinyl outdoor shower walls are incredibly durable and won't warp or rot due to frequent water exposure. RDI offers a few ways to customize your outdoor shower. You can simply have two side walls to offer a little more coverage when rinsing off, or you can add a gate so the shower can act as a full changing room. There is even an option to add a fourth wall if your shower will not be directly against the home.
RDI HideAway Privacy Rail
One of the easiest privacy deck rails to install, the HideAway Privacy Rail from RDI comes in multiple color combinations. You can choose either black or white powder-coated aluminum rails with six panel color options (white, earth, dune, birchwood, redwood, and saddlewood). These rails are available in heights of 36 inches, 42 inches, or 72 inches so you can choose the height that works best for your needs, and they offer complete privacy.
RDI Decorative Skirting For Privacy
RDI has a brilliant concept of creating a privacy shield with their decorative skirting offerings. This means you can ensure that your privacy fence matches the overall aesthetics of your home. This is a great option for homeowners who want something a little more decorative than a solid paneled wall or who want added privacy without completely blocking the view.
RDI offers several decorative lattice options that can be stacked into a frame kit up to 72 inches high. The lattice options we have here at Deck Expressions include Celtic, Sprig, Fretwork, Morse, Boardwalk, and Bungalow so you can choose the one that speaks to you.
Create More Privacy Today
In our modern world, privacy is sometimes hard to find. When you are enjoying time on your deck or backyard patio, you want to make sure you feel comfortable. Our RDI privacy rails offer a few ways you can create a more secluded hangout spot.
Shop all of our privacy deck railing kits as well as other deck building materials from RDI Railing and other trusted brands.