Posted by Contact Sales on Nov 26, 2017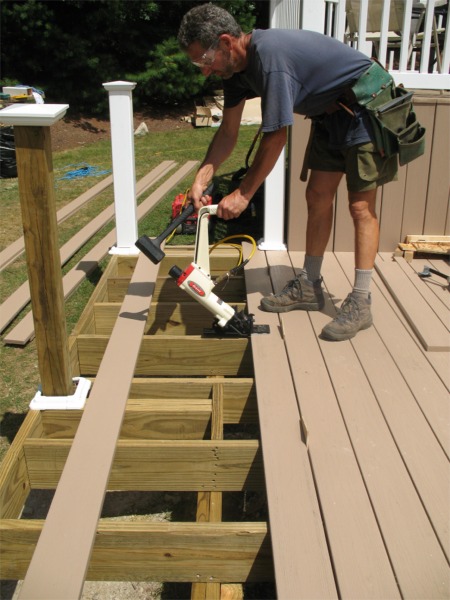 Decking is essentially flooring so why not install it using a pneumatic flooring nailer? You can now with the HIDfast decking tool and fasteners. It's faster than any of the other hidden deck fastening systems I've used; It can lay 100 sq ft of 5/4 x 6 decking in 10 min. to 15 min. The fasteners hold deck boards securely by diagonally nailing through one edge of the board in the same way a flooring nailer does, and pinning the edge of the oncoming board. And the fasteners are inconspicuous between the boards.
The HIDfast tool is $469.99, which may dissuade some users; but many building material dealers are loaning the tool (or renting for a nominal fee) when you buy fasteners and decking from them. The fasteners run about $1.10 to $1.25 per square foot when laying 6 inch decking on joists set at 16 on center. This is comparable to other hidden fasteners on cost, but when the labor savings is factored in, the system is much less expensive in my estimation.
HIDfast seems to be reaching critical mass having recently partnered with Azek. Now when you click on the Azek Deck installation link, you land on a series of HIDfast videos. And after building a couple of Azek decks, I found them a perfect match. The HIDfast system is also reaching building material dealers through Azek's distribution channels. So even if you haven't seen the HIDfast system available locally yet, you probably will in the near future.
So how fast is it really? That depends on how complicated the deck is. On a rectangular deck with boards perpendicular to the joists and no butt joints, you can probably lay 100 sq feet in less than 10 minutes after a little practice. On a recent deck with jogs, diagonal corners and a butt joint in every course, it took about 15 to 20 minutes per 100 square feet – still a respectable pace.
Fasteners
The HIDfast stainless steel fasteners have a unique design. The primary shank drives diagonally through the board and into the deck joist much the same way a flooring cleat goes through T&G flooring. At the head there's a drop leg that automatically spaces boards 1/8 in. or ¼ in. depending on model. A spur sticks straight out from the drop leg to engage the oncoming deck board. After driving fasteners through the decking into each joist, you can use the dead-blow mallet (included) or a deck board tool to push or pull the next decking board onto the spurs. I've had best luck with the TigerJaw from TigerClaw mainly because both allow you to operate from a standing position. Some people who haven't used the HIDfast system express concern about how securely the cleats hold deck boards down. I recently had to remove a board during installation that was upside down; my 16 inch flat bar didn't have enough leverage to lift the deck board off the 11 joists it was nailed down to. Many other hidden fastener systems would have snapped right up.