Posted by Deck Expressions on Mar 18, 2019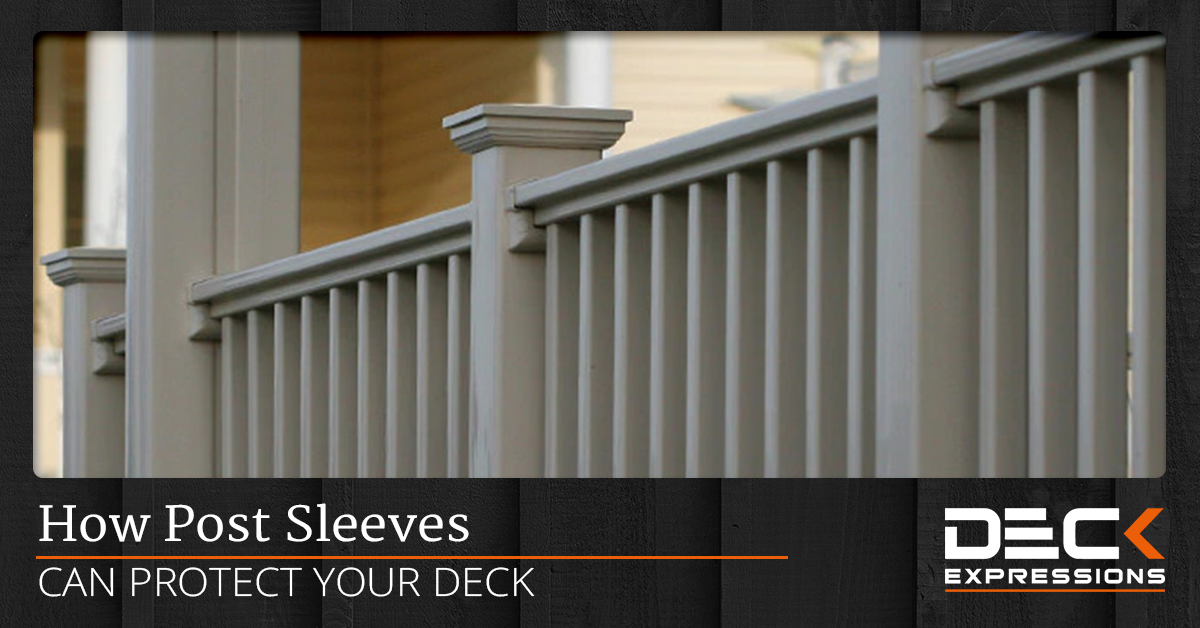 Post covers, post sleeves, and post wraps provide a barrier between some of the wooden aspects of your deck and elements like rain, sun, and wind. The wooden elements of decks require regular maintenance to continue to look and function their best. This is especially true of structural posts. Replacing your deck railing or boards is one thing. Replacing any structural beams often results in replacing the entire deck, hiking up the cost of repairs drastically.
For that reason, utilizing post sleeves to protect your deck posts can extend the life of your deck and ensure that supportive posts, whether beneath the deck or those which support the deck railing, can go the distance.
What Weather Does To Wood
We all know that wood can become weathered, but what exactly does this look like? Wood is very absorbent and will soak up snow and rainwater as well as moisture in the air. This all causes the wood to expand. As the wood expands and contracts with water absorption and loss, it can crack and split. Wind and sun can also harm wooden decks, deteriorating the structure of the wood.
If you happen to live near salt water, you are looking at even more corrosive elements. None of these weather elements will ruin your deck overnight, but over the course of a few years, you might be looking at some serious structural damage.
Our Deck Post Sleeves
Regardless of your budget for deck improvement, there is a post sleeve or post wrap that will work for you. From a simple vinyl sleeve that slips over a wooden post to an artistic stone post cover that creates the illusion of expert masonry and everything in between, Deck Expressions has you covered. Check out some of our popular products below!
Stone Post Covers
We offer several stone post covers which can be used for structural posts or for deck railing posts. These gorgeous stone covers are easy to install and instantly transform the look of your deck. The decorative stone post covers by Deckorators is one of our most popular deck post wraps and is available in three styles (field stone, beige, and cobblestone). If you have existing brick or stonework on your home, this would be a great way to complement it.
We also offer a stone post cover from Nextstone. This product is available in eight colors so if you cannot find a Deckorators post cover to match the existing stonework on your home, the Nextstone covers would be a great option.
Whichever you choose, just be sure to purchase matching post caps to complete the look!
Vinyl Post Sleeves
If you are looking for something a little more simple, consider vinyl post sleeves or wraps. The most simple option is a vinyl post sleeve that slips over the wooden post. This provides adequate weather protection, is easy to install, and is the most affordable type of post cover.
The next step up from a vinyl slip-on post sleeve is a CXT Composite Post Sleeve from Deckorators. These have thicker corners which help increase the longevity of the product, as the corners are often the first part of the sleeve to experience wear and tear. These also offer a slight design benefit, as the corners have grooves which make them look like they are made of carved wood.
Finally, for the most transformation, you can choose a 4-piece post wrap from RDI. This vinyl post cover features four interlocking pieces that go around the existing post to create a sturdy, simple, and attractive solution.
Protect Your Deck Today
Decks are a big investment. If you have a deck with exposed wood, not only will it be a big monetary investment, you are also looking at a time investment for the maintenance required to regularly reseal the wood and replace weathered posts. While adding deck posts might detract from some of the exposed wood elements, in the long run, you will be left with a sturdy and safe deck that can outlast an unprotected deck. Make sure to shop all of our deck post sleeves, wraps, and covers today!
If you have any questions about how post covers can help protect your structural beams from aging prematurely, just give us a call! We'd love to talk about your post cover needs, budget, and style.