Posted by Deck Expressions on Mar 11, 2019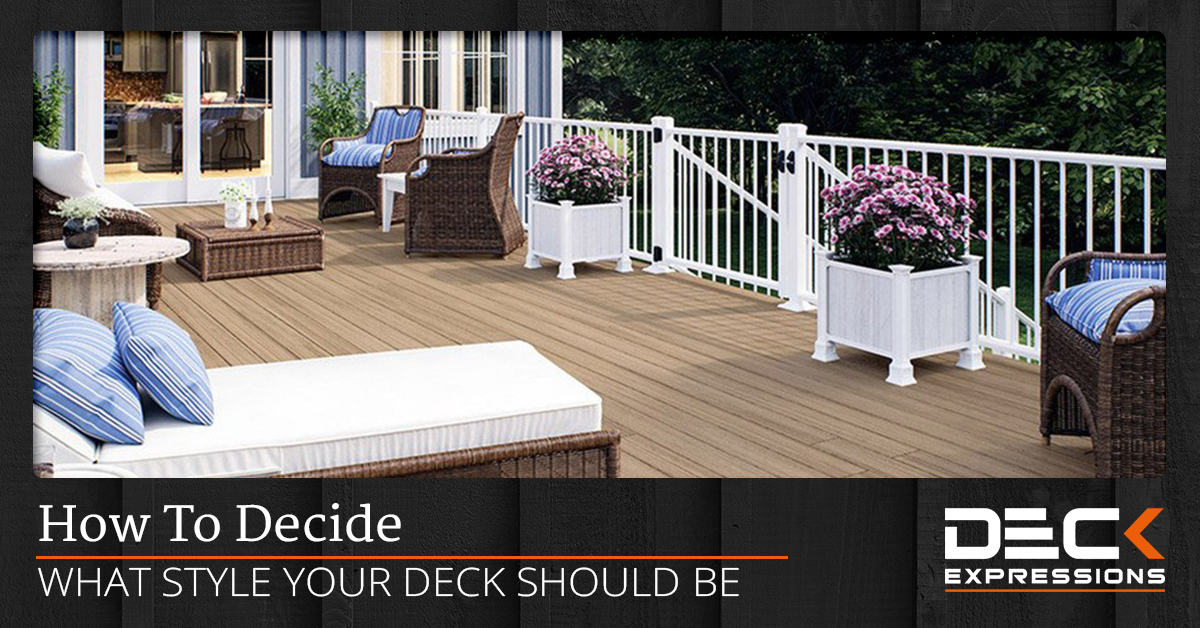 When it comes to the style and overall look of your deck, you have a lot of options. Here at Deck Expressions, we offer all of the deck building materials you need to create a completely unique deck that looks and functions exactly how you want it to.
Decks can range from traditional to minimalist to elegant to medieval and everything in between. Deciding what style you should make your deck will depend on a lot of factors including your personal preferences, your location, and the existing style of your home. Thankfully, if you feel like your deck isn't reaching it's full aesthetic potential, you can easily change the look with just a few small upgrades which we will discuss later in this blog.
Deck Styles And How To Achieve Them
Decks, in general, are all fairly similar in their basic design and function. They include some sort of platform, usually raised off of the ground and occasionally with multiple levels. If a deck is higher than about a foot off the ground, it will most likely have a railing system to keep it safe to use and avoid injuries. These platforms are most often made with a wood frame and topped with wood or vinyl planks.
To really change the style of the deck, you will want to focus mostly on the railing, as that is where you can make drastic changes for not a whole lot of money. Below, check out a few common deck styles and how you can achieve them with deck railing sold online at Deck Expressions.
Sleek and Modern
A modern deck looks great next to a modern home. If your home has modern features such as large windows and a streamlined design, consider echoing that theme with a modern deck.
Modern decks are typically minimalist in design and utilize industrial materials like cabling rather than traditional balusters. And while cables can be installed vertically like balusters, they look much more clean when they are installed horizontally between deck posts. We offer several cable deck railing systems so you can tailor-create your deck to your exact desired look.
Cozy and Traditional
To make a deck feel cozy and traditional, use a deck railing system that resembles wood. RDI Transform Railing accomplishes this task while still keeping your deck railing practically maintenance free. This type of deck railing looks great with a traditional craftsman style home or homes that utilize stonework.
To make this style of deck extra spectacular, consider wrapping some of the structural posts with stone post wraps to make the deck look like it features elegant masonry work.
No-Nonsense
For a rail that is nothing more than just that, consider choosing a preassembled deck railing kit like the ALX Classic Railing by Deckorators. This deck railing system is so easy to install that most handy homeowners can do it themselves if they have a few spare hours. Each preassembled deck rail panel features a top and bottom rail with connected balusters. While other deck railing options allow you to mix and match your rails and your balusters to create your preferred look, this simple and straightforward deck rail takes that decision out of the factor so you can create sturdy deck rails without the fuss. This type of deck railing system looks great on any style of home.
Private Deck
If one of your aesthetic goals is to create a deck that looks and feels private and tucked away, we offer several deck privacy railings to make that happen. Privacy deck railing is great for homes with close neighbors and those without privacy fences lining the perimeter of their property. Installing a deck privacy wall can make your deck feel more intimate and secluded, helping you to truly enjoy your time out there.
We currently offer a few types of deck privacy walls and are always growing our inventory with the latest options. If you are looking for a solid wall, check out the RDI privacy panels. If you would prefer an option that allows you to still see your surroundings, make sure to check out RDI's deck privacy lattice.
What Will Your Deck Look Like?
Are you ready to upgrade your deck? Make sure to browse Deck Expressions to find the best deck railing option for your home, budget, and needs.
If you need any help with your decision, feel free to get in touch! We have used many of these products ourselves and can guide you to a deck railing system you'll love.