Posted by Deck Expressions on Feb 17, 2019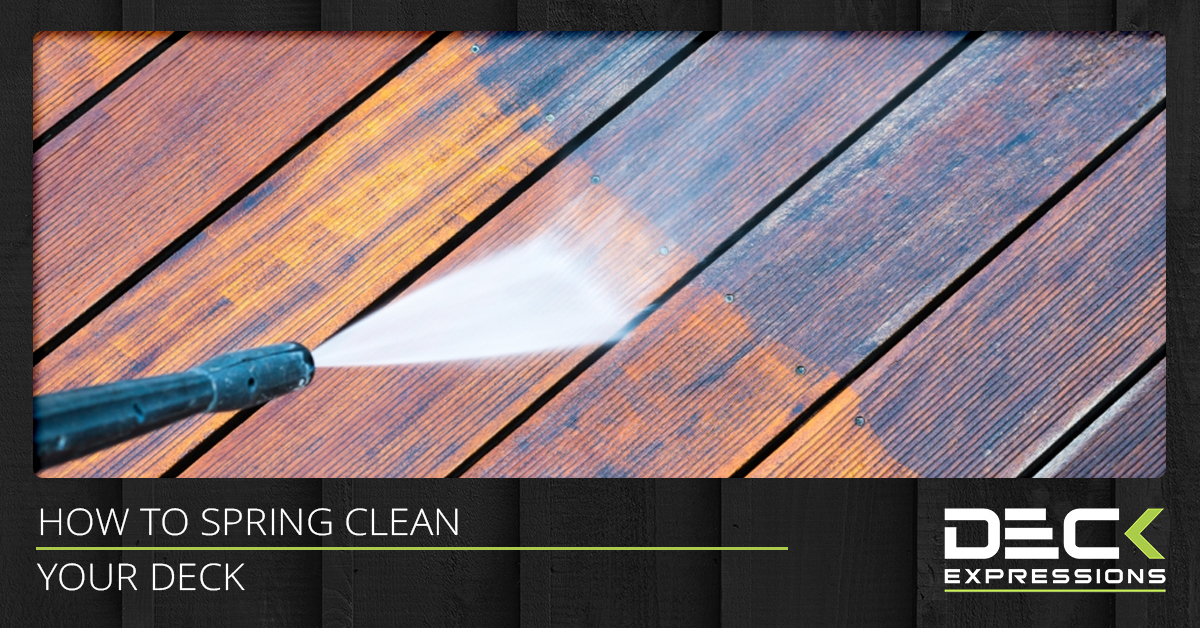 Can you believe that spring is right around the corner? For many people, that means they'll be doing some spring cleaning. While spring cleaning often involves deep-cleaning and decluttering the house, it is also a good idea to start getting your outdoor space ready for use.
Decks can often be neglected during winter, especially if you live in a cold climate region. As the days become longer and the air warms up just a little bit, it is a great time to put on some boots and a t-shirt and get your deck in tip-top shape with the help of Deck Expressions, your source for deck building materials online.
No one is going to want to spend time on a dusty deck, so follow the steps below to make sure it is ready for your family and friends by the time spring is here.
How To Spring Clean Your Deck
Start Fresh
Begin the process by taking everything off of your deck. Any furniture, grills, propane tanks, flower pots, and storage items need to be moved off of the deck. The last thing you want is to clean the deck boards only for them to get dirty again when you shake out that umbrella.
Scrub The Deck
Sweep away any leaves or debris that have piled up on your deck. Then, take a hose with a powerful nozzle setting and spray the deck down completely.
Once wet, use a scrub brush and some deck cleaner to really get the grime off. If you have a grill, there are probably grease stains around it and your flower pots might have left dirt stains. You want your deck looking brand new. Make sure to follow the instructions on whatever deck cleaner you're using and, if needed, thoroughly rinse the deck afterward.
Don't Forget Your Deck Railing
Deck railing should be cleaned thoroughly as well. You don't want to look at a nice clean deck only to put your hand on a dirty rail. Make sure to use the right type of cleaning method for the material of your railing. If you find that your deck rails are in worse shape than you initially thought, then this is a great time to scrap them completely and upgrade to a long-lasting, easy-to-clean composite or vinyl deck railing.
Go Beyond The Deck
Go into your backyard and look at the house. Are there areas of improvement you can make right now? Maybe while you're cleaning your deck, you can clean the entire exterior of your home, re-caulk the windows and sliding glass door, and finally put flowers in those window sill planters. If you have trees hanging over your deck, trim these back now so you don't have to do it later. Pull weeds in your backyard, edge your lawn, replace the mulch, and do other small upgrades that will make the whole place shine.
Clean Your Deck Items
If you keep a grill or patio furniture on your deck, you need to clean these before you put them back on your shiny new deck.
You (hopefully) regularly clean your grill grates, but if not, this is a great time to do it. One area of your grill that you might forget to clean is the exterior. Most metal grill exteriors can be cleaned with a mild dish soap and water solution. Just give everything a good scrub with a soapy sponge or washcloth. Areas with hard-to-remove grease can be spot-cleaned with a degreaser. Make sure to completely remove any soap residue with a clean wet washcloth and dry your grill after to avoid water spots. Make sure to clean the interior of the hood while you're at it!
For patio furniture, remove any cushions or fabric pieces and spray down the furniture frames with a hose. For stubborn dirt or grease, you can use the same dish soap and water solution you used for your grill.
Clean any textiles according to their instructions. This is a great time to have them steam cleaned and sanitized so everyone feels comfortable sitting in them. If you have an umbrella that you use with your patio furniture, give this a good spray with the hose and allow it to air dry in an open position to avoid any mildew forming in the creases.
Add Any Finishing Touches
Is there anything that you feel your deck is missing? Adding any finishing touches before you move all of the furniture back will be easiest. Deck Expressions offers a plethora of deck lighting options that will highlight all of the hard work you've put into your deck as well as make it a safer and more inviting place to be. We offer no-wiring solar post caps that can illuminate your deck as well as add a unique touch. We also offer spotlights for deck so you can add extra light to your grill or table, and numerous other lighting styles to fit your needs and style.
You can also add some decorative panels to your deck to make it feel more secluded and upscale. RDI, for example, offers a great range of deck privacy railing that you can use to create a semi-transparent wall with beautiful cut-out designs. This is a super easy and affordable way to give your deck more privacy and add another unique element.
Put Everything Back
Now is the fun part. After the deck is clean and you have completed any other exterior home improvement tasks, it is time to put the grill, furniture, and other items back on the deck. Take the time to really decide where each piece should go. Maybe it would make more sense to put your grill in a new spot or rearrange the furniture. This is a time to really update your deck and make it look how you want it to.
Need Some Easy Deck Upgrades? Shop Deck Expressions!
Deck Expressions is your source for deck building materials online. We offer everything you need to spruce up your deck and get it ready for springtime. Shop our deck lighting, deck railing, and deck privacy panels today to upgrade your deck while you're spring cleaning.