Posted by Contact Sales on Sep 13, 2015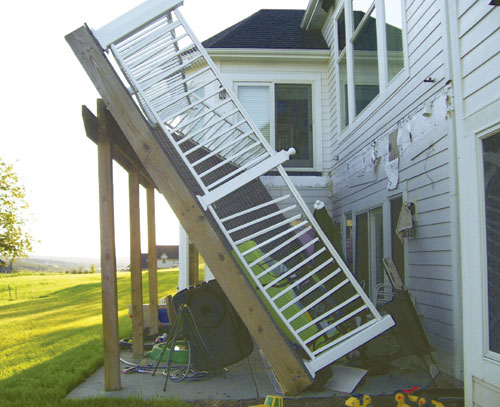 DECK SAFETY
Is your deck safe? As a wooden deck ages, the wood may rot, creating a hazardous situation. But rotting wood shouldn't be your only concern. Your deck could contain loosening screws, faulty electrical or a plethora of other problems.
Decaying wood:
Make sure all the wood on your deck is still in good condition, including support posts, railings, stairs and joists. Pay special attention to any areas of your deck that regularly remain damp. Check the wood for small holes, which may indicate an insect infestation.
Flashing:
Flashing refers to a plastic or metal guard that redirects water from your deck's surface. Usually, flashing sits near where the deck and house meet, keeping away moisture and debris. Confirm the flashing locks firmly in place.
Fasteners:
Check your deck for any loose screws, nails or anchors. If you find any loose ones, tighten them. Also verify that no fasteners seem corroded or rusted. If they do, replace them. Corroded nails can make surrounding wood deteriorate.
Railings and banisters:
Push against your banisters and railings to make sure they don't move.
Verify that they're the correct height. Most codes require a 36 inch to 42 inch tall railing and rails no further apart than 4 inches to ensure children and pets can't squeeze through.
Stairs:
If you don't have backs to your steps, make sure that the opening is no more than 4 inches tall. Make sure to remove any decorations or plants from your stairs, as they can be tripping hazards.
Debris and mildew:
Remove any debris or leaves from the surface of your deck — they are slippery and can allow mildew to grow. If you find mildew on your deck, or your deck's coating wore away, clean and apply a new waterproof coating. This can prevent decaying in wood.
Trees:
Trees hanging over your deck? Verify that no decaying limbs are at risk of falling onto your deck.