Posted by Rick R. on Jan 31, 2022
It may be the dead of winter in many places around the country, but our Deck Of The Month for January shows that it is never too early (or too late) to be working on your dream deck build or renovation.
This month's Deck Of The Month comes from Dennis B. out of Indiana. Dennis had a unique 2-part build for a traditional multi-level deck as well as a stairway leading out to his lake, so he needed materials that were sturdy and weather resistant without sacrificing beauty and safety.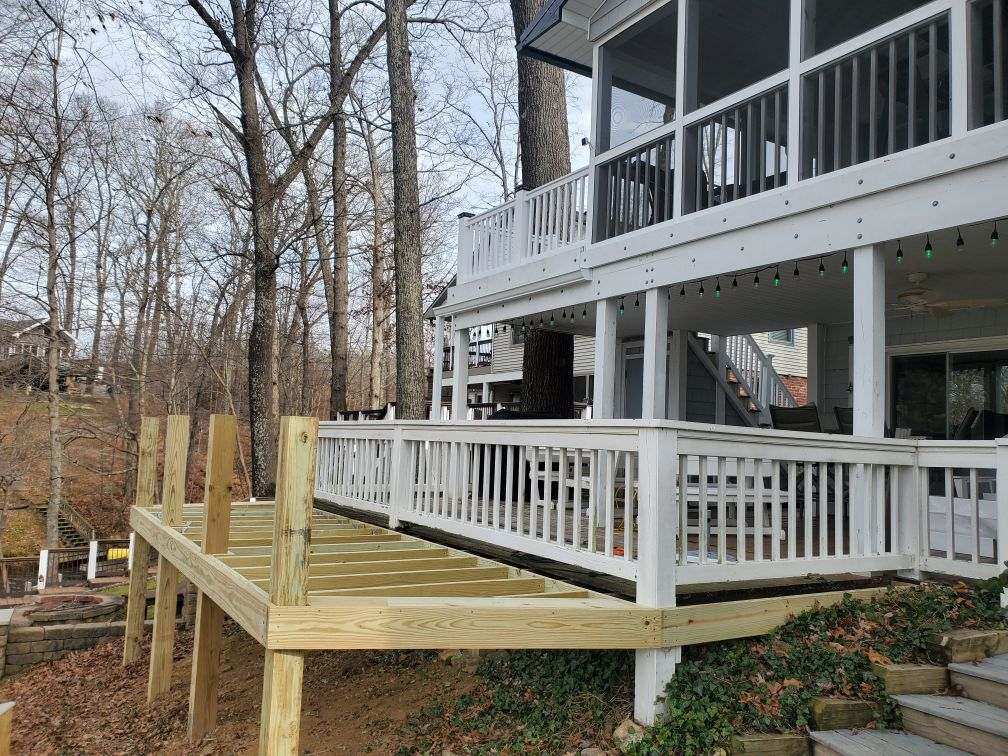 Dennis started with the Finyl Line Vinyl Railing by RDI with 1-1/2" Square Vinyl Balusters. A determining factor for Dennis in choosing the Finyl Line Vinyl Railing was its complete ease of installation. Additionally, the Finyl Line is reinforced with strong aluminum — designed to provide the safety Dennis was seeking.
Dennis complimented his choice of the Finyl Line railing by using the Custom Vinyl Deck Railing Gate, also by RDI. The Custom Vinyl Gate Fits – are compatible with any railing system so this continued to make for an easy experience for Dennis. These gates are extremely low maintenance and are an aluminum reinforced vinyl system. The gate also comes tamper-proof screw head covers and the vinyl-clad aluminum stiffeners provide strength and durability. Additional features and benefits of this great choice include:
-- variety of infills & colors so your gate matches your railing
--hinges and latches (sold separately) ensure your gate stays safe and secure – in black and white.
--Standard gate kit fits 36″ wide opening and is available for 36″ finished rail height, 1 ¼″ square balusters while custom width gates fits opening no greater than 48″, and are available in 36″ & 42″ finished heights and in multiple color and baluster option.
--Choices includea traditional T-Top style or Deck Top profile to add a deck board to and create a flat "cocktail rail."
Next Dennis needed to cover the exposed posts of his deck and went with the 6" x 6" Vinyl Post Sleeves by RDI. Manufactured with SolarGuard technology to help maintain like-new color, these vinyl sleeves are made with rigid PVC (polyvinyl chloride) modified to provide superior strength and ultraviolet resistance. The RDI vinyl sleeves are also impact modified for flexibility and durability. All RDI post sleeves meet or exceed the requirements for long-lasting durability and performance after installation—a perfect choice for Dennis's overall project!
The RDI post sleeve is offered in 3 attractive colors that will match any rail system available.
To cap his posts, Dennis chose two different style post caps—both available here at Deck Expressions!
First, he went with the Elite Post Cap by RDI. RDI railing post caps from the Elite collection gave an elegant and polished finishing touch to Dennis's deck posts. Dennis felt the Elite post caps added a fresh and clean look—and we agree!
These RDI railing post caps are compatible with both 4″ and 6″ post sleeves and come in three colors—white, earth, and Dune. Also eEasy to install and low maintenance, these post caps are compatible for interior and exterior use.
Finally, Dennis wanted to add some natural lighting over the water to present as day turns to night and complimented some of his posts with the Oxford Solar Post Caps for Larger Posts by Classy Caps to accomplish this look and feel. The Oxford solar post cap is manufactured from heavy duty, weather resistant cast aluminum with durable powder coat finish. This alluring low profile 6x6 solar cap features real pebbled glass lens and two high output surface mount LED's that will automatically light up at dusk creating a picturesque landscape—perfect for Dennis's deck overlooking the lake as dusk falls!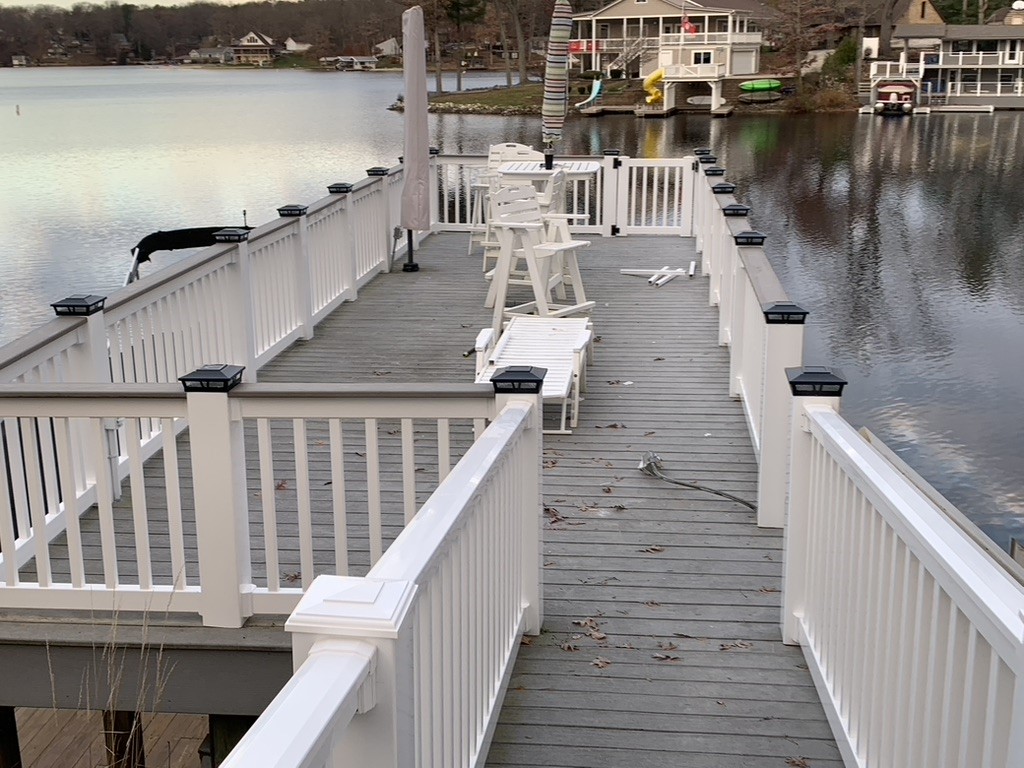 Whether you are starting from scratch or upgrading your existing deck, we have you covered here at Deck Expressions! Contact us today so that we can assist in making your dream a reality!