Posted by Deck Expressions on Aug 31, 2018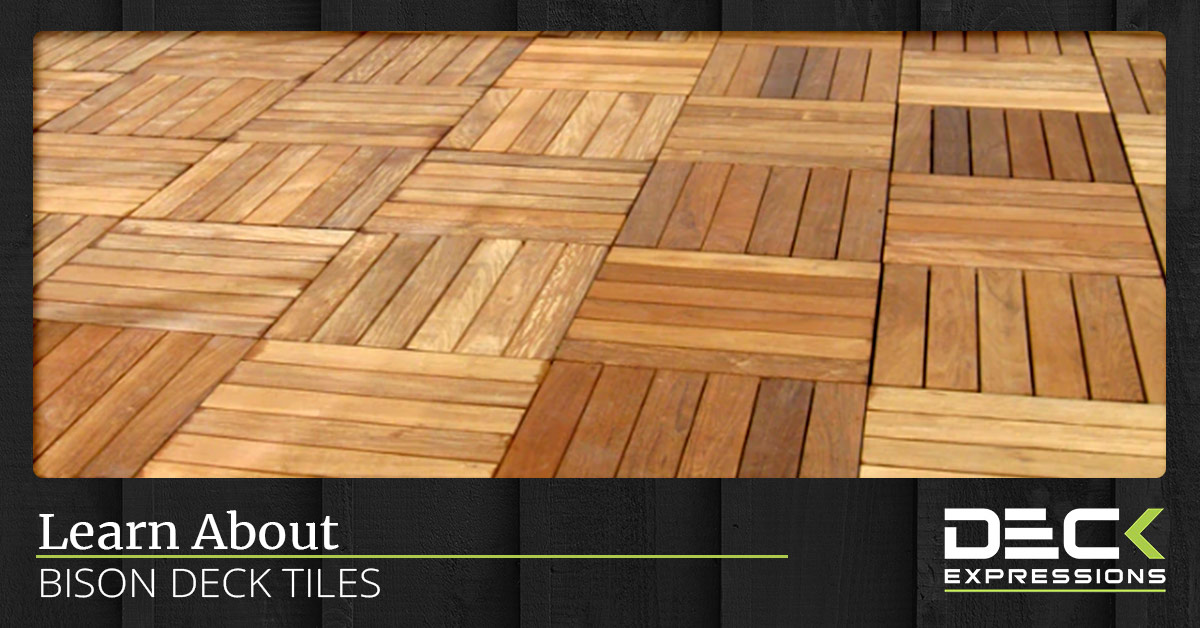 Deck Expressions is your source for deck building materials online. One of the products that we are proud to offer to our customers and contractors are Bison deck tiles. These sturdy and durable wood deck tiles can be used to create a beautiful ground-level or rooftop deck without making any permanent structures or pouring concrete. In today's blog, we are going to talk a little more about this amazing deck tile system!
What Are Bison Deck Tiles?
Bison deck tiles are the easiest way to install your own ground-level deck. These wooden deck tiles come in 2'x2' or 2'x4' sized tiles made up of slats of real wood. These tiles are as beautiful as they are low-maintenance.
Wooden deck tiles are ideal for someone who wants a ground-level or rooftop deck, but doesn't want to hire someone to build it. While installing this type of deck yourself does involve a little bit of elbow grease and the use of a few basic tools, most DIY-savvy homeowners will have no problem installing this.
Installing Wood Deck Tiles
To install the wood tiles, you will want the Bison Level It pedestal foundation system. These small pedestals have a twisting system that allows you to heighten or shorten each individual pedestal to make up for slopes on the ground below. You can put these on any hard surface without needing to drill down into the surface, because after the installation is complete, the deck will stay put thanks to the unique way these tiles fit together.
You can install these tiles over a dated or cracked concrete patio, around a hot tub or pool for a spa-like atmosphere, and even on a rooftop. As long as the ground is hard and reasonably level, you can install a beautiful wooden deck with ease.
Necessary Tools
In addition to the Bison wood tiles and pedestals, you will need a screwdriver, rubber mallet, and a bubble level to ensure you are installing your tiles properly. If you will need to do any cutting of your wood tiles to create a curved edge or cut a piece down in size, you will need a saw. You can view an instructional installation video here to get a better idea of what tools and skills you will need to install these tiles yourself.
The Benefits Of Bison Wood Tiles
Bison wooden deck tiles are a great solution for giving your backyard an upgrade without spending a ton of money. You can install them yourself, cutting down on contractor costs. Or, because these are so easy to install, even hiring a professional handyman to install this system would be cheaper than building a full deck with support posts and a joist system. Because these tiles sit on a pedestal system and have small gaps between the wood slats, water easily drains away and prevents rotting wood. However, because these tiles are real wood, you can either let them naturally weather and patina over time, or you can clean and seal them periodically per manufacturer's instructions.
Get Your Bison Deck Tiles Today
For homeowners looking for a DIY-way to increase the beauty and function of their backyard patio, Bison wood tiles are a great solution. The tiles come in several popular woods, including bamboo, mahogany, ipe, and cumaru. This means whether you are looking for a beautiful light-colored golden brown deck or something dark and rich, we've got it.
Contractors, this is a great deck system to have in your back pocket for clients that are hesitant about the investment of a full deck. We offer great discounts for contractors who are part of our rewards program, as well as access to various training programs and marketing aids.