Posted by Rick R. on Nov 24, 2021
The leaves are falling and the holiday season is here, but that hasn't stopped our customers from submitting so many beautiful images of their deck builds and renovations. With that, our November Deck Of The Month comes from Carol S. of Huntingdon, PA!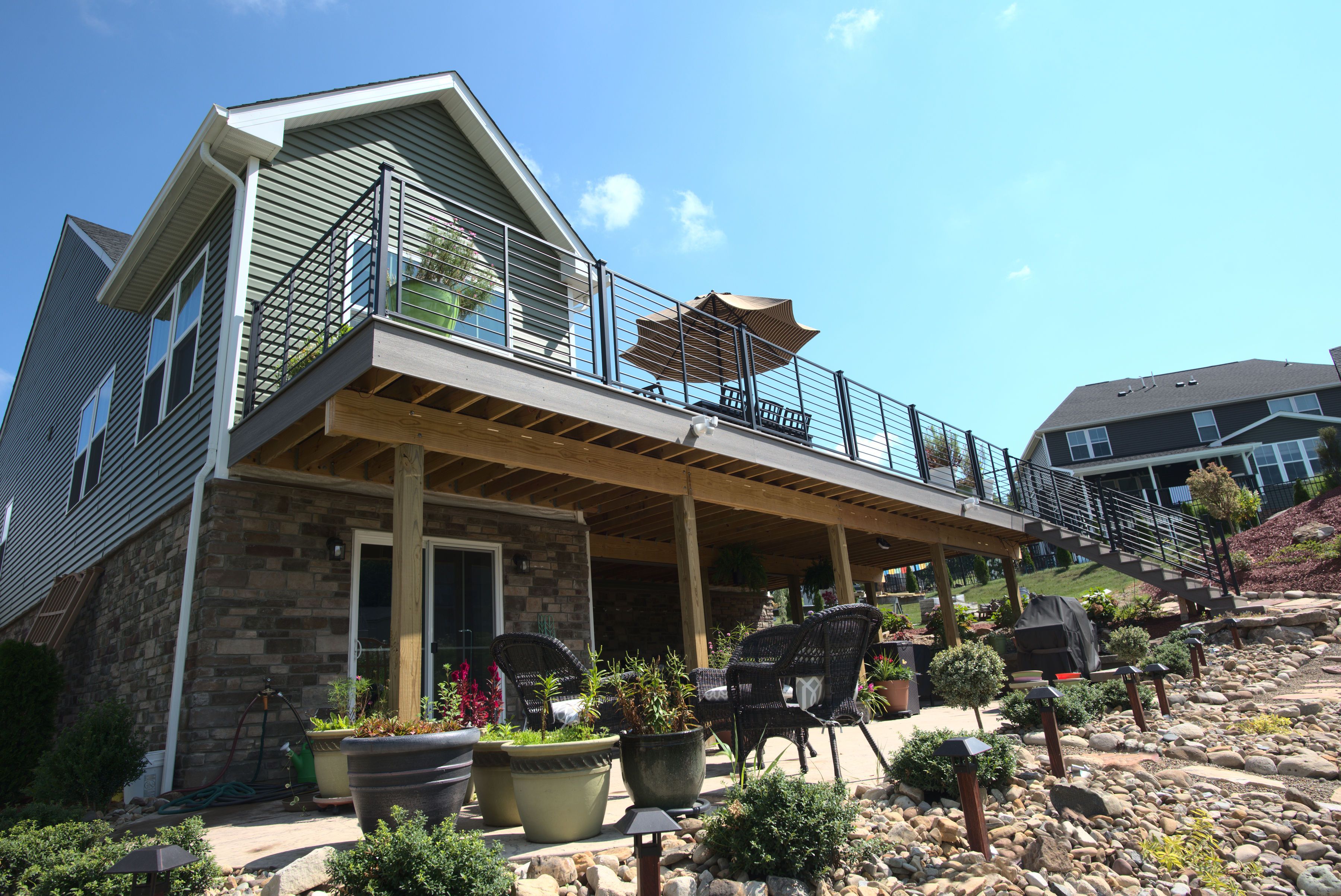 arol's deck was built off of the main level of her home, providing a spacious outdoor living extension to her kitchen and living room. This raised deck leads down a staircase to a spacious yard, perfectly complimenting Carol's generous property.
The deck boards Carol chose were a basic Trex composite to allow for a simple clean look with limited maintenance. Being in the Northeast, Carol needed something that could weather the typical snow and elements that Winter brings while still feeling and looking Natural.
However, the focus of this beautiful deck was always going to be the railings and that's where Deck Expressions was able to help guide Carol to provide the sleek, durable, modern look that she was seeking.
Enter Latitudes Horizontal Railing by RDI! Providing a strength and security in steel railing like no other, the Excalibur posts and brackets features hidden attachments and pre-attached brackets, allowing for ease of installation which was important to Carol. The new Latitudes style provided Carol a sophisticated option with its round, horizontal rod infill. Of course, Carol chose the textured Matte Black finish along with the matching accessories to create a traditional and timeless style.
Ease of installation was important to Carol, and these gorgeous rail panels come pre-assembled making installation a breeze. They can also be cut to fit any application, which allows for a custom-fit panel cut right on the job.
From a style standpoint, the Latitudes railings can't be beat! Horizontal 1/2" round steel rods create a beautiful contemporary look to Carol's deck, providing a custom-type feel and look at a fraction of custom pricing.
The components of the Latitude railing are fully welded prior to immersion in a zinc phosphate bath (yeah sounds intense!). They are then galvanized prior to an electrostatically applied powder-coat finish which is baked for maximum durability. The low gloss Matte Black finish helps hide marring, fingerprints, and dirt—something appealing to Carol and all homeowners! Additionally, the welded center supports, along with secure-fit bushings in the uprights, create a strong and safe railing system that won't rattle or shake.
Finally, Carol chose to compliment her deck with RDI's low voltage post caps for Excalibur, providing just the right touch ambience and lighting after dark. These low voltage post caps add guidance and illumination to Carol's entire outdoor space.
See the images below for the completion of Carol's deck and let us help you create your own dream deck today!