Posted by Deck Expressions on Feb 14, 2019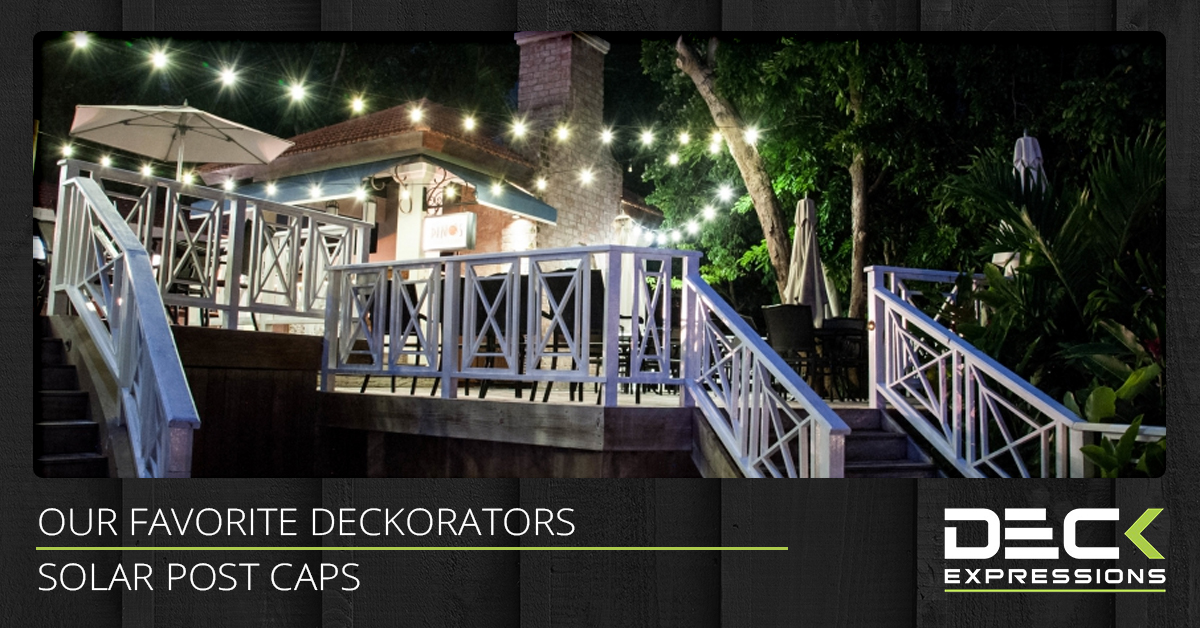 If you're looking for a way to light up your deck this winter, solar post caps from Deck Expressions are the perfect option. While it might seem like winter and a rainy spring aren't the best times to install solar lights for your deck, it is actually an ideal time to install them for a few reasons.
First, contrary to popular belief, solar-powered lights can still function if you happen to live in an area that is prone to dreary, cloudy weather. While they might not receive quite as much solar power, it will still be plenty to illuminate your deck.
Secondly, having deck lighting will also make you more likely to use your deck year-round. When the sun has set before you even get home from work, you can forget your deck even exists. However, having a deck with solar lights that turn on automatically as the sun goes down will make the deck seem much more inviting, encouraging you to fire up the grill and spend time with your family on the deck, even if it's dark out there.
Finally, installing your deck lighting now ensures that your deck is ready to go by the time summer is here. Deck weather will be here before you know it — if you don't already live in a place with year-round deck weather, that is. That means if you're proactive about getting your deck lighting set up now, you can start entertaining guests on your deck as soon as summer rolls around.
Now, the question isn't whether or not you should install solar post caps on your deck, but which ones should you install. Keep reading to get a few ideas as we list some of our favorite Deckorators solar post caps!
Our Favorite Deckorators Solar Post Caps
This post cap from Deckorators is handcrafted and made from real stained glass with a metal chevron inlay. Don't confuse glass with fragility. These classic glass light post caps are made to withstand the elements.
While the previous post cap would look great on some traditional cedar decking, this solar deck lighting is ultra modern and designed to be used with the ALX Deckorators aluminum railing system. This post cap is composed of a white cube which illuminates using solar power.
If you have a wooden deck, this wood solar post cap light is a great option for a simple and subtle deck lighting system. If you are more concerned about function than flair, then choose this 4x4 post cap light made of either pine or cedar to match your deck.
If you prefer deck post lights that connect to the side of the post rather than post cap that sits on top, this is a simple and economical choice. These no-fuss solar deck post lights create ambiance lighting on any deck without messing with wires or cables. You can even use these on your stairs to make your deck a safer place to be.
These baluster lights illuminate (pun intended) what is so great about Deckorators. They truly have something to fit every style. If you have round ¾" balusters, consider getting these baluster attachments to light up the deck. They are the perfect cross between post caps and post lights and they can make your deck look more decorative and unique. Best of all, you can add as many as you want to your deck. Whether you choose to place one on the middle baluster between posts or put one on every baluster to really light the space up, you have no limitations with this Deckorators solar baluster light.
If you already have the ALX Contemporary railing from Deckorators, light it up with these matching post caps. Easy to install and use, these solar post caps create a soft light around your deck, and the low-maintenance aluminum means you hardly have to touch them once they are installed.
This is a great option if you are looking to mix and match materials on your deck for a modern look. These black solar post caps are made of high-quality powder-coated metal and look great when they are adjacent to non-lighted caps of the same style.
Check Out All Of Our Solar Post Caps
The above are just a few options for solar post caps that Deckorators offers. We also offer numerous other post cap options from other manufacturers here at Deck Expressions. Whichever you go with, you can rest easy knowing you are receiving a high-quality product that will illuminate your deck and make it safer and more enjoyable to spend time on the deck at night.