Posted by Rick R. on May 04, 2021
Maybe it's for young children or a pet that likes to wander. Or maybe you just desire the complete look of an enclosed deck. Either way—whether you are looking to add an extra level of safety to your deck, to complete the overall look of your deck or both—we've got you covered at Deck Expressions . Browse our selection of deck gates to find the perfect fit for your home.
VINYL GATES
RDI Standard Vinyl Deck Gate
The RDI Standard Vinyl Deck fits Titan, Finyl Line and the Endurance Railing Select Series and is also compatible with any other railing system. RDI brings a low maintenance aluminum reinforced vinyl system that is also easy to install. This gate arrives as a full panel. No detail is too small and RDI considered them all, down to the tamper-proof screw head covers. The vinyl-clad aluminum stiffeners provide strength and durability while giving an edge on safety as well!
https://www.deckexpressions.com/standard-vinyl-deck-railing-gate-by-rdi/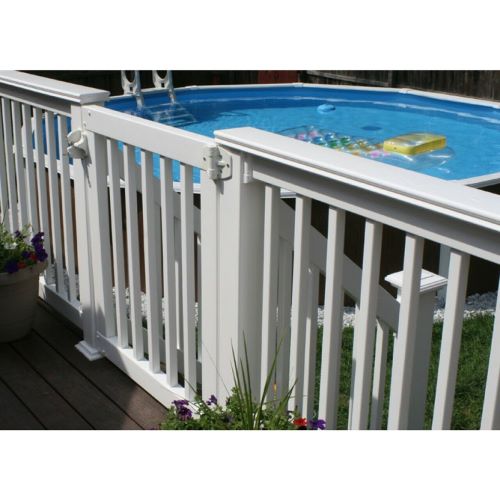 Custom Vinyl Deck Railing Gate by RDI
RDI Custom Vinyl Gate also fits the Titan, Finyl Line and Select Series Endurance Original while also being compatible with any railing system. Easy to install, the vinyl-clad aluminum stiffeners provide strength and durability. Multiple baluster styles available. Custom width vinyl deck rail gates are available in 36" and 42" finished heights with multiple color and baluster options. Custom width gates cannot exceed 48" in width. Gate hardware is sold separately. This custom gate works beautifully with your Trex composite style deck or with natural wood.
https://www.deckexpressions.com/custom-vinyl-deck-rail-gate-kit-by-rdi/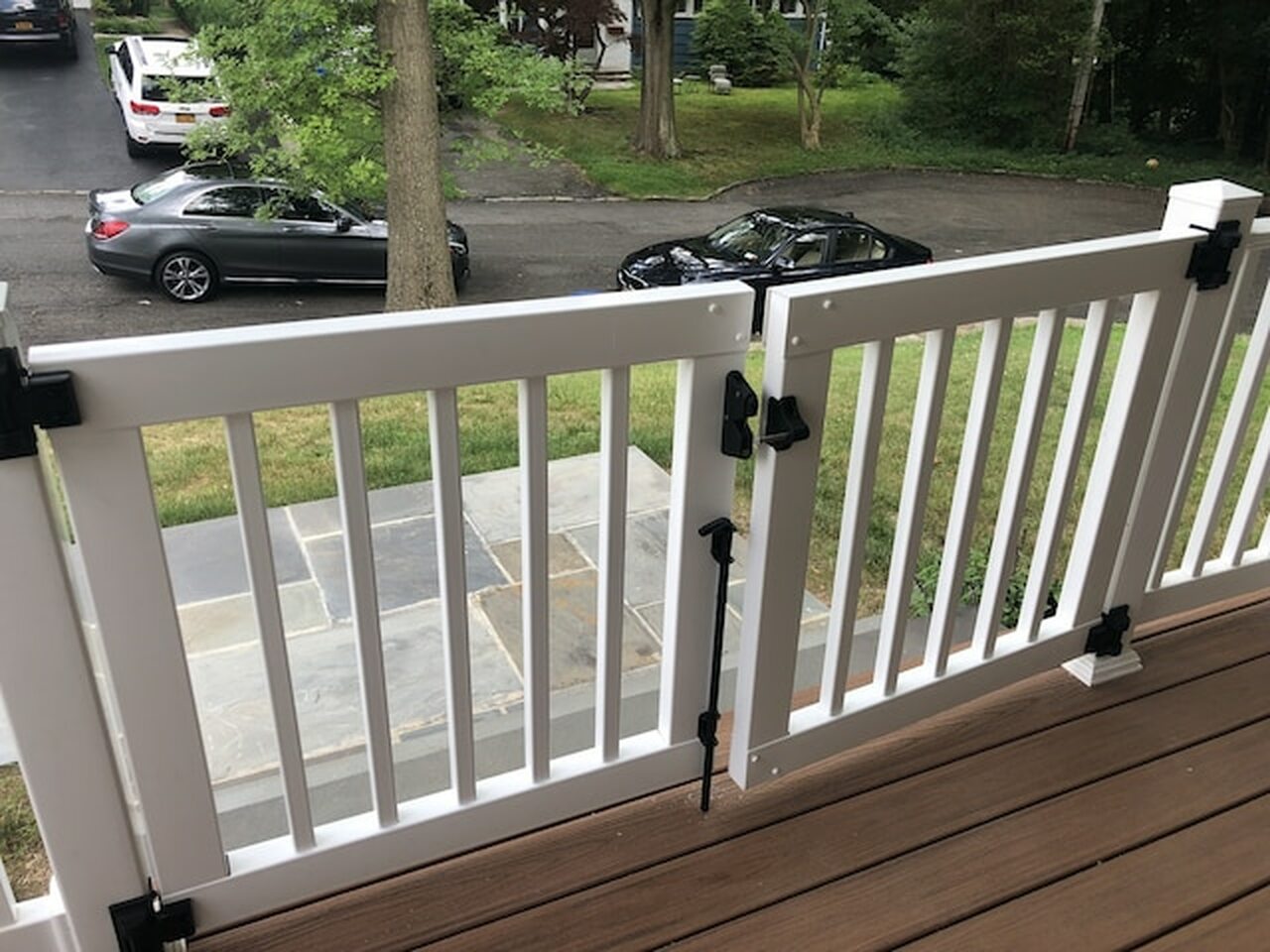 ALUMINUM GATES
Adjustable Aluminum Gate Assembly ~ All Hardware Included by Deckorators
Add an attractive, safe and convenient entrance and exit point anywhere along your deck's railing system with Deckorators aluminum deck gates. Perfect for families with children or pets, keeping them safe and contained at all times. This 36" x 45.5" gate may be cut to size and features durable, welded hinges. All hardware comes included, making for a true all in one system. This gate assembly will work with any aluminum railing system. Made of heavy-gauge aluminum with welded hinges, the new Deckorators Aluminum Deck Gate offers style and safety for an outdoor living space. The customizable 36" tall by 45" wide gate is covered by the 25-year Deckorators removal-and-replacement warranty. A beautiful and safe addition to your Trex style composite or natural wood deck!
https://www.deckexpressions.com/aluminum-adjustable-gate-by-deckorators/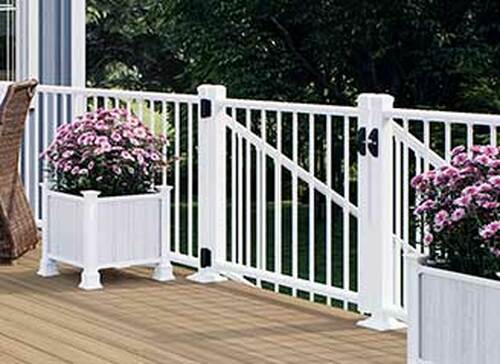 ALX Contemporary Deck Gates by Deckorators
Complete your deck with the ALX Contemporary Gate or Gate Jamb Kit from Deckorators!. Easy to install and use, this must-have feature will match your ALX Contemporary Railing to a tee. Keep your loved ones safe while enjoying your composite style Trex or natural wood deck. These gates are pre-assembled 48" wide gate for 36" rail height and may be cut and re-sized to fit 36" to 48" wide openings. It also includes all gate hardware, hinges and latches and the gate is available in Textured Black and Textured White—both beautiful options!
The Gate Jamb Kit is available for 36" and 42" rail heights allowing for customized gate sizes! It is available in Textured Black, Textured White, Weathered Brown and Bronze and is made of powder-coated aluminum.
https://www.deckexpressions.com/alx-contemporary-deck-gate/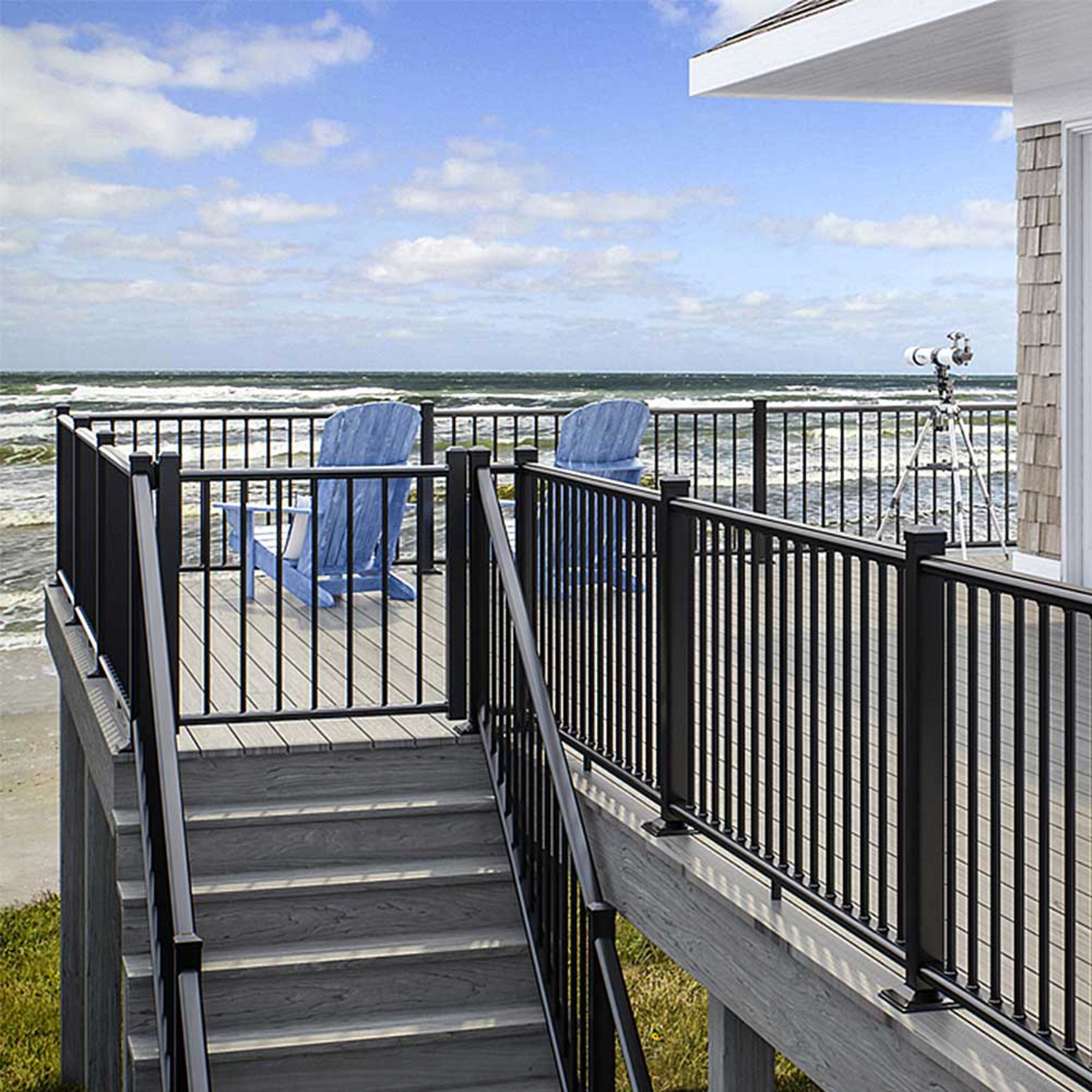 HINGES
RDI Single Gate Wrap Hinge Hardware Kit for Vinyl Railing Gate by Boerboel
Boerboel Gate Solutions offers a wide variety of hardware for most weights. Whether you need hardware for wood, vinyl, steel or aluminum gates, Deck Expressions has you covered. All Boerboel Gate Solutions products are backed by a limited lifetime warranty.
https://www.deckexpressions.com/vinyl-gate-hinge-kit-by-boerboel/
Boerboel GardDogTM Locking Latch Two Sided
The Boerboel GuardDog Locking Latch is designed for RDI vinyl gate applications. The complete kit includes one gate latch, 1 striker, 7 1" self-drilling Phillips screws, 1 push button, 1 push rod, and 2 keys. Easy installation on posts with 1" or larger post dimension and gates with 1" or larger gate upright. This sturdy system is made out of nylon and STAINLESS STEEL, ASTM B117 Salt-Spray tested and passed and provides unmatched protection for unmatched gate hardware, with the warranty coverage to prove it. Covered by RDI's Limited Lifetime Warranty, you can rest assured that your investment is well protected!
https://www.deckexpressions.com/locking-latch-two-sided-vinyl-gate-lock/