Posted by Deck Expressions on Aug 15, 2018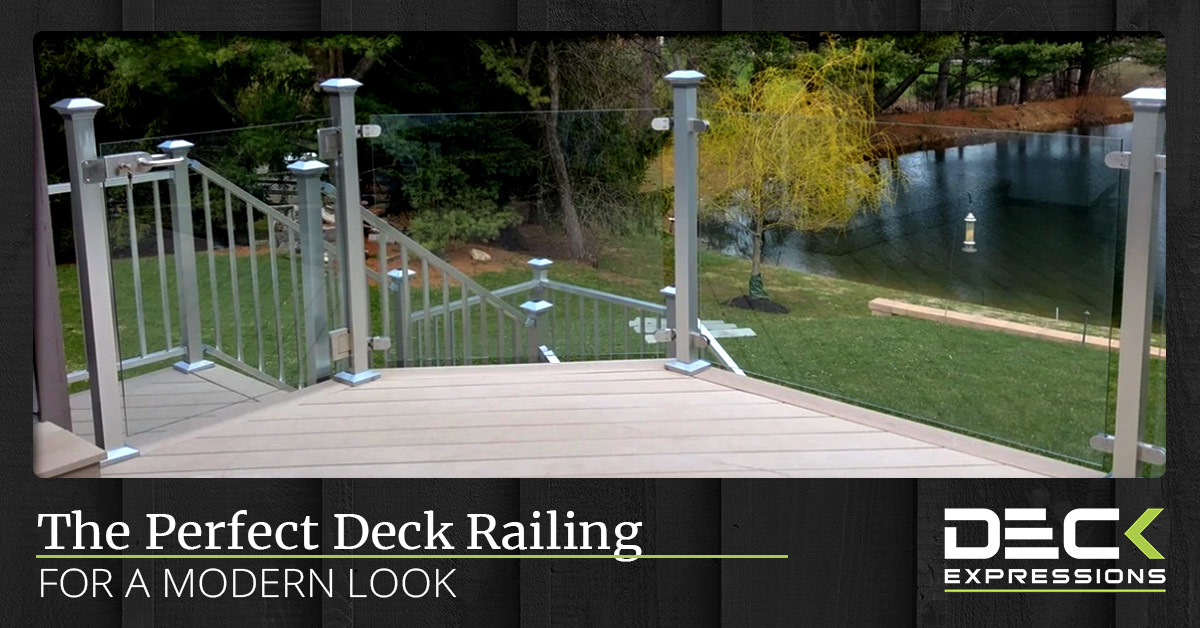 Many homeowners embarking on a new deck build attempt to match the style of their deck to the existing style of their home. Because homes come in many different styles, from Victorian to craftsman to Cape Cod and more, deck materials also come in different styles. For example, a traditional ranch-style home might look best with an equally traditional wooden deck, while a wrought-iron deck rail might complement a Victorian home.
In today's blog, though, we are going to be foregoing traditional deck styles and discuss instead how to create a modern deck at home. And of course, make sure you use Deck Expressions for all of your deck railing and supplies. We ship our products straight to your home so you can DIY your deck with ease!
Elements Of A Contemporary Home
Contemporary and modern homes are becoming more and more popular, especially when homeowners are building a home from the ground up. Modern and contemporary homes often have a boxy and streamlined exterior, with sharp angles, unexpected surfaces, and flat rooflines. The goal of many modern homes is to invite as much natural light as possible, meaning it is not uncommon to see a contemporary home with an entire wall or two of glass windows. Inside the house, many people choose open floor plans and simple yet sophisticated design elements.
Matching A Deck To The Home
There are a couple of ways to create an ultra-modern deck for your home, and it all comes down to the combination of railing and flooring you choose for your deck. Below, we've offered some advice on choosing a contemporary deck boarding and railing system for your deck.
The Flooring
Many people who are creating a contemporary deck choose to use a hardwood or composite decking board. For colors, you can choose an unfinished wood look that pulls in a little bit of nature, or go for a nice dark red stain to keep it looking unique and modern. For a more contemporary look, choose skinnier deck boards rather than thicker boards.
The Railing
While the deck boarding you choose is important, the deck railing is what really takes a deck from ordinary to extraordinary. There are a few different ways to achieve a modern deck look. Which you choose will depend on your desired finished look, how much installation work you want to put in, and what kind of deck lighting option you want.
Cable deck railing typically consists of metal cables arranged horizontally spanning some distance and connecting to vertical deck posts. Because most balusters are vertical, horizontal cables are incredibly unique and unexpected, adding to the modern vibe of the deck. However, you can also install your cables vertical if desired. Either way, our cable railing for decks helps to offer unobstructed views and a sleek, modern, and industrial appearance. Cable railing also makes an excellent choice for stair and balcony railing inside of the home.
If cable railing isn't for you, you can also make your deck modern with glass deck balusters and glass railing. Here at Deck Expressions, we offer both glass panels and glass balusters. Glass panels offer a more modern look, as the glass spans the entire length between posts. Glass balusters look a tad more traditional, yet still have that contemporary flair you're looking for. The glass railing systems we offer here are made of tempered glass, the same type of glass used for car windows. This glass is incredibly durable and hard to break, yet if it does happen to break, it will shatter into small pieces rather than dangerous shards, making it a relatively safe option, even for those with children.
We'll Help You Create A Modern Deck
Browse our website to find the perfect glass or cable railing for your new modern deck, as well as any other deck building supplies you will need to put it together. If you have any questions, feel free to get in touch and we'd be more than happy to answer them!
If you are a contractor who builds modern decks for your clients, be sure to check out our contractor rewards program! You'll earn rewards points and get discounts on all of your Deck Expressions purchases!