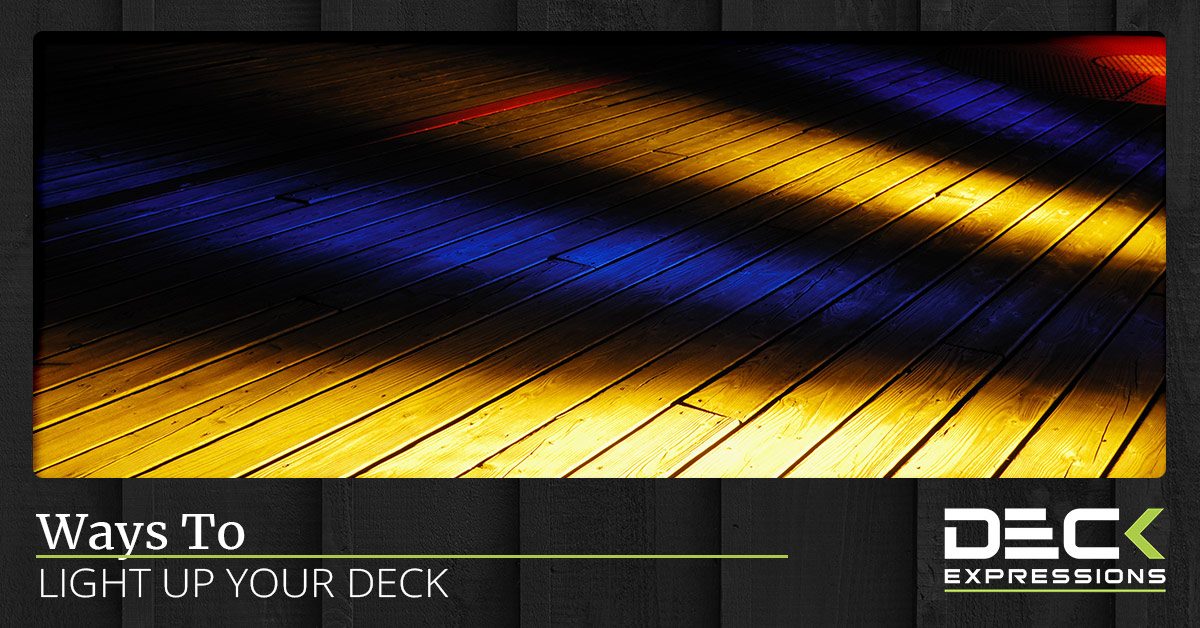 We've discussed before how important deck lighting is not only for safety, but also for just general deck enjoyment. When you have a deck that's left in the dark, it can also be left unused when the sun sets — and where's the fun in that? At Deck Expressions, we are your source for deck supplies online, and that includes deck lighting. In today's blog, we are going to discuss a handful of different types of deck lighting you can choose, as well as what each can do for your deck. Keep reading to learn about some popular lighting options!
Strung Lights
If you don't want a permanent lighting solution for your deck or want a more economical option, opt for stringing lights across the top of the deck. Some people go for the look of classic white twinkle lights, while others choose to hang full-sized light bulbs for a more modern and hip look. Just make sure the lights you choose are designed to be outside 24/7 to avoid any electrical issues if the lights are left out in the rain.
Solar Post Caps
Solar post caps are one of the more cost-effective choices, as they run off of the sun and do not require additional wiring. Simply pop them on top of the posts and let them shine! In general, a solar cap exposed to four hours of sunlight should be able to run for about twelve hours. To make this light even less maintenance, they automatically turn on when the sun sets so you don't have to worry about flipping any switches.
Low-Voltage Post Caps
If you live in an area without much sunlight or heavily shaded by foliage, then low-voltage post caps might be a more reliable option. These deck lights come a number of styles so you have plenty of options to choose from that will match your existing deck. For example, the LED Plateau Post Cap by Deckorators is practically undetectable until it turns on and casts a soft downward glow. On the other hand, the LED Orion Post Cap by Aurora is much more ornate with its ribbed glass window panes.
Post Lights
While post cap lights top off the posts, post lights for decks go on the face of the post itself. These are great options for casting light downward onto stairs. At Deck Expressions, we offer solar post lights that attach to your posts and turn on when dusk rolls around. We even offer motion-sensor solar post lights that will stay on a low setting at night until motion is detected, then they will glow brightly for extra visibility. This makes the perfect option for practical deck lighting!
Baluster Lights
If you have glass balusters, you likely do not have traditional posts to put caps on, nor do you want to ruin the illusion of your glass balusters by sticking a light to the face of it. So, what are your options? A really neat way to light up a deck with glass balusters is with a glass baluster lighting kit. With this system, the lights hide inside of a connector that holds your baluster firmly in place while casting light down through the baluster and creating a lovely glow on your deck.
Recessed Lighting
If you want to put a little more work into illuminating your deck, you can choose to add recessed lighting in either the deck flooring itself or in the ceiling if your deck is covered. If you choose this route, you will likely need the help of an electrician or general contractor as wiring under a deck or through a ceiling can be a little tricky.
Choose The Right Lighting For Your Deck
If you have any questions about what type of deck lighting will work best for your current deck and style of deck, we'd love to help answer them! Feel free to give us a call or send us a message if you have any questions. Otherwise, head on over to our deck lighting collection and find the lighting solution you're looking for! Whether you're looking for solar deck lights, low voltage lights, or lighting for glass balusters, we've got you covered!