Posted by Deck Expressions on Nov 05, 2018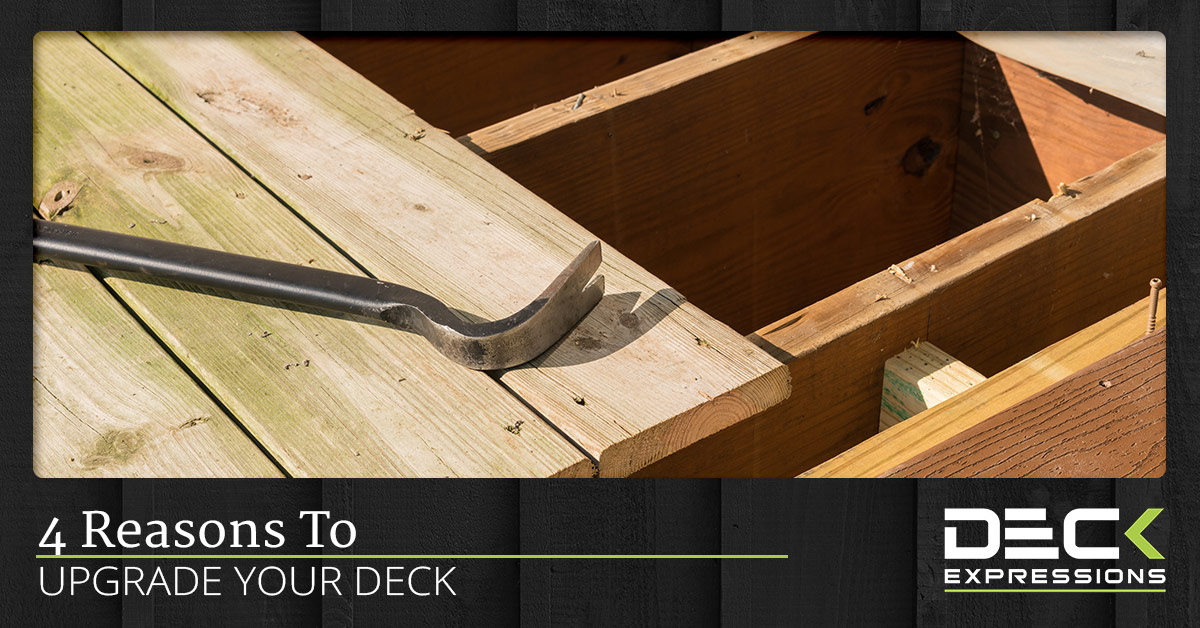 Some people who find our online deck supplies store are planning on building a brand new deck addition to their home. Others are looking for ways to upgrade their existing deck, and a few are looking for reasons to upgrade their existing deck. Thankfully, whichever group you fall into, you have come to the right place.
Here at Deck Expressions, our goal is to provide homeowners and contractors alike with affordable deck railing and deck building materials from the brands you know and trust like RDI and Deckorators. Not only do we like to provide materials, but we also like to provide inspiration. In today's blog, we'll be offering up five good reasons to finally take the leap and upgrade your deck, as well as give you some ways to do that. Keep reading to learn more!
Reasons To Upgrade Your Deck Soon
A good deck can increase the value of your home.
We discussed in a previous blog how a gorgeous deck can increase the value of your home. This is good enough of a reason for homeowners to upgrade their deck. Whether you are planning on selling soon and know a buyer will pay more for a brand new deck or you want to get the most out of your deck while you live in the home, Deck Expressions has what you need to give your deck a facelift.
You really liked the deck when moved in.
When you bought your home, perhaps you imagined grilling on the deck every Saturday and hosting parties where your friends mingle on the deck and overlook the backyard. Now that some time has passed, maybe your deck has lost its magic. Perhaps all it needs to refuel your love of grilling and dinner parties is a new stain and some sturdy deck railing.
Your deck keeps injuring you or your family.
From splintering handrails to tripping over furniture because you don't have any deck lighting, bad decks can be dangerous. Good decks typically are safe. Make sure your deck is not only structurally sound but that any splintering boards are promptly fixed, you have adequate deck lighting, and your rails are up to the newest safety standards.
You can buy deck supplies online and have them shipped right to your door.
Maybe you've been putting off upgrading your deck because you don't want to make a trip to the hardware store. Lucky for you, Deck Expressions has all of the deck building materials you could need in our online store and we offer free shipping on orders over $99.
Easy Ways To Upgrade Your Deck
Install Deck Lighting
These days, you have a ton of options for deck lighting that don't require an electrician to install. You can even install solar post caps that are powered by the sun, turn on automatically at night, and don't have additional wiring or batteries to deal with.
Add Post Wraps
Deck post wraps and sleeves are an easy way to instantly make your deck look nicer. You can add decorative stone post covers to support posts to make them look like they are made out of stone or you can wrap plain wood posts with vinyl sleeves to make them look brand new and protect them from the elements.
Add Safety Features
Adding an ADA-compliant handrail to your deck, installing a deck gate above the stairs, and ensuring your deck balusters are spaced less than four inches apart at the widest section can help ensure your deck is safe for children and older guests.
Upgrade The Railing
If your deck is structurally sound but just looks a little dated or boring, you can easily upgrade it by added new deck railing. At Deck Expressions, we offer easy-to-install deck railing in a variety of styles ranging from traditional to ultra modern. Take a look around our online deck supplies store to find a style that complements your home and personal taste.
We Have Your Deck Supplies Online
When it comes to deck building materials, you can count on Deck Expressions to have what you're looking for. As deck builders ourselves, we are always happy to hop on the phone and answer any questions you might have about our products. Shop our deck supplies online today and enjoy free shipping on orders over $99!