Posted by Rick R. on Aug 03, 2022
Sometimes when we think of our outdoor living space, we consider full teardowns, do-overs and decks from scratch. Often however, some simple changes, additions and enhancements can make an existing structure feel brand new--and that's exactly what Tom M. of Cannon Falls, Minnesota was able to accomplish making his porch our Deck Of The Month for July (or Porch Of The Month)!
Tom's goal was to refresh his outdoor porch leading into his backyard to create a more modern, updated aesthetic. First a before look at Tom's porch: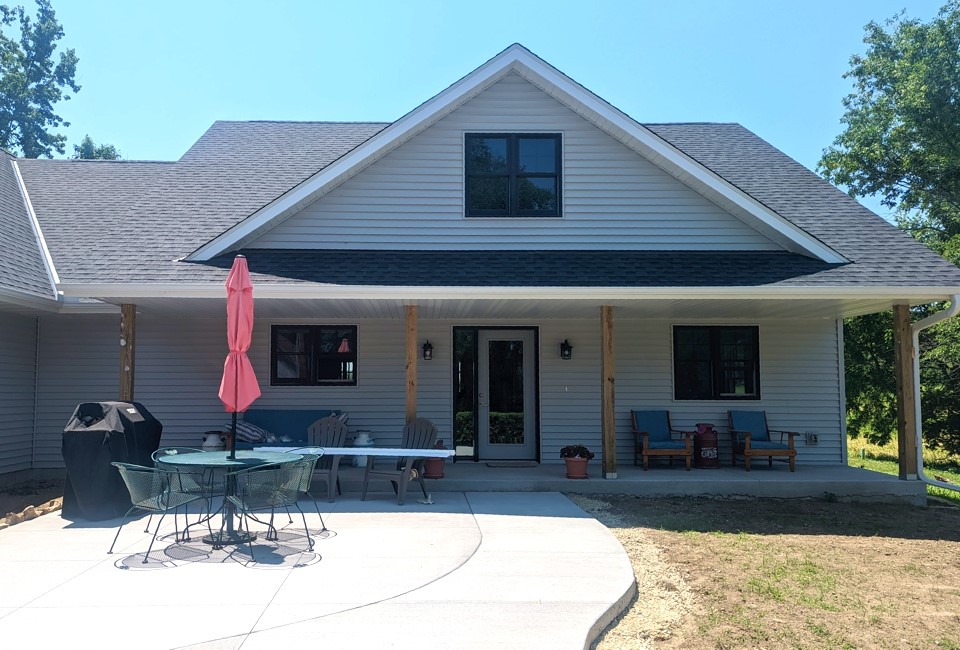 Tom's porch was wide open, with unfinished posts. He was hoping to add some railings and enclosure without losing the open feel the space had.
The Endurance Railing With Black Round Aluminum Balusters was the perfect solution! Endurance Endurance Vinyl rail is composed of aluminum in both the top and bottom rails. An economical choice, the aluminum allows for easy cutting and installation, saving Tom both time and hassle. As one of the best vinyl rail systems on the market, the Endurance kit leaves no worry about corrosion or stains, not to mention the maintenance that accompanies traditional wood railings.
Tom's posts were unfinished but attached to the structure of the house, so a simple solution was the 4-piece vinyl post wraps by RDI. Tom was not not in a position to install new posts for his railing system or to slide a post sleeve over an existing post, so the RDI vinyl post wrap offered him a simple and attractive solution. This four-piece vinyl post wrap comes in three neutral colors ~ White, Khaki, and Sand . Another benefit of RDI vinyl post wrap for Tom was the cost efficiency in wrapping the existing posts rather than having them removed or replaced altogether.
Tom finished off his posts with the Adjustable 4-piece post trim by RDI to complete the look and feel of the posts and perfectly compliment his new railing system.
The results speak for themself! A once incomplete and stale looking porch is now refreshed and updated with just a few enhancements. Let us do the same for you! Contact us today at Deck Expressions and ask us about RDI's Extended Summer Sale!