Posted by Rick R. on Aug 16, 2021
Welcome to our newest monthly blog--Deck of The Month! Each month we will highlight a deck from one of our customers utilizing various deck materials that we carry right here at Deck Expressions! Send photos of your deck to us at contact@deckexpressions.com and maybe your deck will be the next Deck Of The Month!
Our Deck Of The Month for August 2021 comes from Michael C. out of Apex, North Carolina!
Michael envisioned his deck as an extension to his home where family and friends could gather and enjoy the outdoor space whether it be warm Summer days or cool Fall nights. Important to Michael was a clean and classic look, safety and a build that allowed for a clear vision into the yard where his young children often play from morning until night.
With that, Michael along with the help of Deck Expressions made a few great choices.
First, Michael fell in love with RDI's Transform Resalite post sleeves . RDI's resin based, state of the art Resalite core contains no wood yet provides the look and feel of a wood railing- without the hassles of wood. This was appealing to Michael, as he desired the look of real wood but not the maintenance and hassles that can come with it. Resalite doesn't absorb water so it resists rot, weathering, discoloration, and sagging.
https://www.deckexpressions.com/transform-post-sleeve-by-rdi/
Michael then went with Transform Aspire Top Rail to help create a seamless and complete look.
https://www.deckexpressions.com/transform-upper-handrail-by-rdi/
From here, Michael incorporated the white Avalon Beam Kit with Glass Balusters. The Avalon glass railing system by RDI gave Michael's deck the durability he was seeking along with the beauty of a powder coated aluminum railing and tempered glass balusters. This system created a non-obstructed view so Michael and his wife could easily keep their eyes on the kids while also providing a classic look that requires zero maintenance.
https://www.deckexpressions.com/avalon-railing-for-glass-balusters-by-rdi/
To finish things off Michael went with low voltage RDI Light Strips under the top rail so when powered up, the light cascades down the glass giving the impressions that the balusters are lit up while also providing an added element of safety at night (as well as that view into the yard where the kids play well into the dark night).
https://www.deckexpressions.com/strip-led-low-voltage-lighting-by-rdi/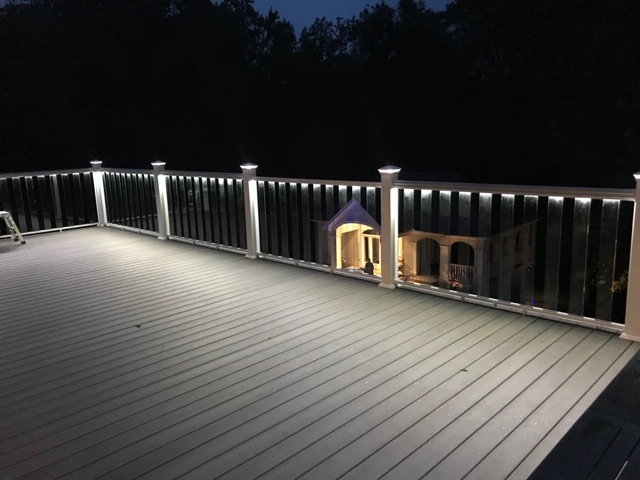 All in all, Michael's deck build is a perfect example of the many wonderful options available when envisioning your outdoor deck. Mixing and matching various styles and products to create an outdoor living space that lives up to YOUR vision is exactly what can be accomplished with a little research, creativity and guidance! We are here to provide that guidance right along with these and many other wonderful products to help you complete your vision the way Michael did!