Posted by Deck Expressions on Dec 30, 2018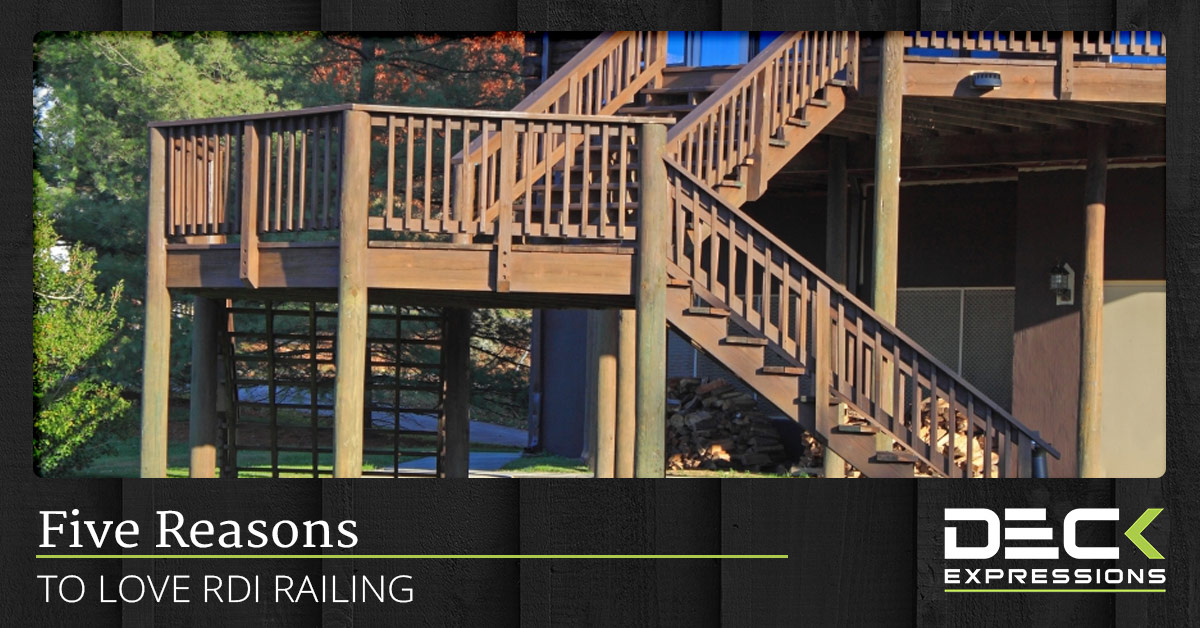 RDI is a leading manufacturer of high-quality, low-cost deck railing systems and a favorite of homeowners and contractors everywhere. There's a lot to love about RDI deck railing and the best way to fall in love with RDI railing is to experience it on your own deck. However, if you're on the fence (or, should we say on the rail?), don't worry! Today's blog is dedicated to reasons to love RDI deck railing. Keep reading to learn more!
Easy Installation
RDI makes deck rails that are easy enough to install that the average homeowner with a free weekend can install the railing themselves. From the very beginning, RDI has provided deck railing kits with easy-to-follow instructions that leave homeowners with a safe and secure deck rail. RDI rail systems either come in preassembled panels or with snap-in-place balusters so there is no need to measure and drill baluster spacing.
Low Maintenance
RDI railing systems are incredibly low maintenance no matter which system or material you choose. Almost all of their systems can be upkept with a simple hose-down every six months or so and occasional spot-cleaning if needed. When you compare this to wood deck materials that need yearly sanding and staining, that's pretty impressive!
Amazing Warranty
This is the part most homeowners get excited about. After all, what good is a low-maintenance deck railing system if you're going to have to replace it in five years? Most RDI railing products that we offer here at Deck Expressions come with a 20-year warranty with the exception of the Excalibur railing system which has a 15-year limited warranty, and the Transform railing system which has an incredible lifetime warranty.
Safe Deck Railing
All RDI rail systems meet or exceed safety regulations and deck railing codes. As long as you follow the installation instructions, you can rest assured knowing you have a sturdy rail with safely-spaced balusters.
Plenty Of Styles
Finally, when you choose an RDI railing system, you have a lot of style options to match your personal taste as well as the style of your home. For example, if you want a traditional wood-like deck railing, then Transform is perfect. If you want to take that look and make it more industrial, you can opt for the Transform cable railing set. With the Endurance vinyl deck rail system alone, you can choose square balusters, turned balusters, round balusters, or glass balusters. The options are endless, so be sure to browse our site to find the perfect style for your deck!
Experience RDI Railing Today!
Want to experience the benefits of low-maintenance, durable deck railing for yourself? Check out all of RDI's products on our site and find a rail that fits your needs. Whether you want a modern or traditional rail, something metal or something vinyl, we've got it. If you have any questions about RDI deck railing, feel free to get in touch with Deck Expressions. As deck builders ourselves, we are very familiar with RDI products and can point you in the right direction.