Posted by Deck Expressions on Jan 24, 2019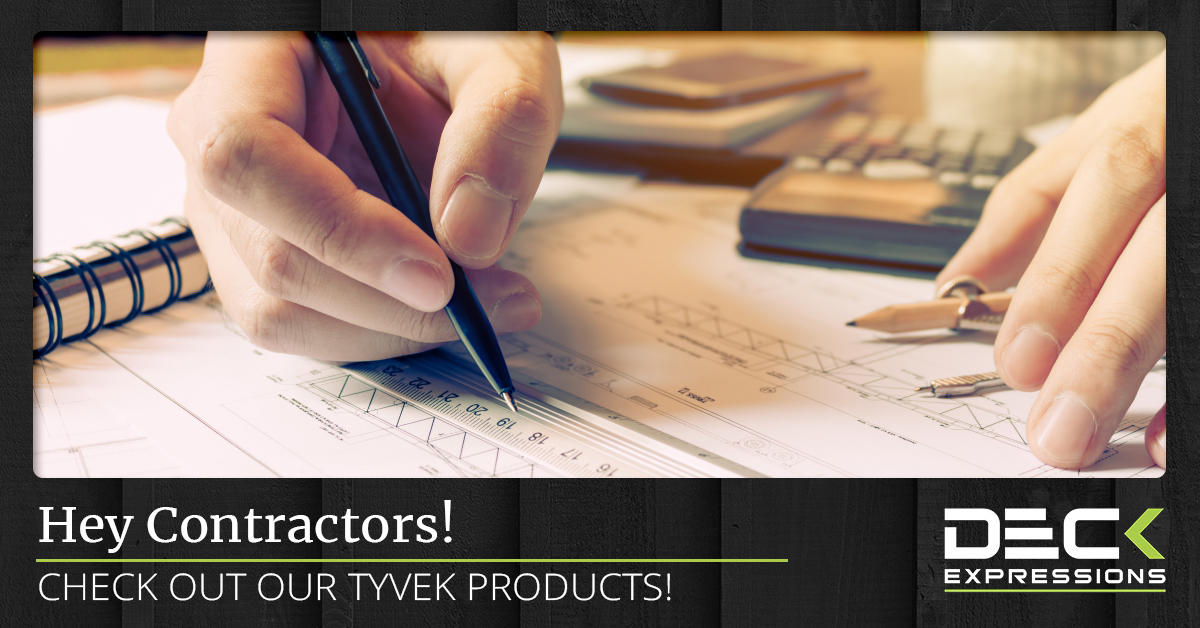 We have a lot of contractors all over the country who benefit from our contractor rewards program. However, we sell products not only to professional contractors, but also to eager homeowners looking to DIY their next project.
As you can tell by our name, Deck Expressions, we mainly are known for providing easy-to-install deck building materials from brands you love. Many of these can be installed by the average homeowner who has a few tools and a free afternoon.
Where the line between professional contractor and handy homeowner blurs, though, is with Tyvek wraps and products. These air- and watertight envelopes seal the outside out while keeping the inside in and require great skill, attention to detail, and knowledge to install. It is also rare for a homeowner, especially one without a background in construction, to install a Tyvek wrap themselves, as they would likely be ripping off their current siding, installing a layer of Tyvek, and installing new siding over it — something that would take a little more than a few tools and a free afternoon for sure!
Contractors, especially those who specialize in new building construction or home exteriors, might work with Tyvek products on a weekly or even daily basis. When that is the case, you need to find a supplier who gives you a little more bang for your buck.
Sure, there are other home and building wrap products out there, but Tyvek has remained one of the top brands, if not the top brand, for decades.
Deck Expressions knows that many contractors rely on Tyvek to provide their clients with high-quality house wrap that will last for the life of the siding, if not longer. For that reason, we offer a contractor rewards program that allows contractors to get instant rebates on purchases, free shipping, discounts on all purchases, free samples, marketing materials to grow your business, and so much more.
(Our contractor rewards program applies to all products purchased from Deck Expressions, not just Tyvek products. So, whether you are building decks or apartment buildings, or anything in between, we've got you covered.)
Tyvek Products Contractors Rely On
Most Tyvek home wraps will come with a 10-year warranty that you can pass on directly to your clients. This will give them the peace of mind they need to know that the products you install are designed to last. Using the right Tyvek wrap for the right projects is key to creating the best results on your projects. Below are just a few of the Tyvek products we offer here at Deck Expressions.
Tyvek Home Wrap
Tyvek Home Wrap is a non-woven material that creates an airtight and watertight barrier around your home when properly installed. While many home wraps claim to do this, Tyvek goes a step further by also allowing vapor to permeate through the material. This ensures that while bulk water like rain is kept out, moisture can be released to prevent rotting and mold growth within the walls. This product protects your home against the elements while allowing it to "breathe." In short, it creates the perfect balance of performance properties to give your house the ultimate protection.
Tyvek Stucco Wrap
While a stucco exterior can last upwards of 80 years with some maintenance, it is also susceptible to water damage. This includes becoming waterlogged and blistering, creating pockets of water between the stucco and the home. DuPont has tackled this problem with their Tyvek stucco wrap. StuccoWrap features all of the great benefits you'll find in the Home Wrap but also has vertical grooves that encourages water to drain behind the stucco and away from the building.
Tyvek Commercial Wrap
Like the Home Wrap, Tyvek Commercial Wrap provides a superior balance of defense against water and air penetration while allowing moisture to evaporate out of the building. However, Tyvek Commercial Wrap is designed to withstand the rigors of a commercial job site with a high tear-strength, extra UV protection, and increased durability. We offer both Tyvek Commercial Wrap and Tyvek Commercial Wrap D.
Other Tyvek Products
The above are just three main branches of the Tyvek brand's exterior wrap systems. We also offer other solutions from Tyvek made for specific purposes including Tyvek DrainWrap, Tyvek ThermaWrap, and multiple Tyvek tapes, flashing, fasteners, and more.
Shop Deck Expressions For All Tyvek Tapes, Wraps, and More
If you're a contractor who regularly uses Tyvek products or an ambitious homeowner tackling a new project, Deck Expressions has the Tyvek tape, wrap, and fasteners you need to complete your building envelope start to finish.
When a built-to-last product is what you need for your building envelope, you can count on Tyvek to provide the high-quality products while Deck Expressions provides low prices and top-notch customer service.
Shop our Tyvek products today or get in touch with our knowledgeable team to learn more.