Posted by Deck Expressions on Feb 07, 2018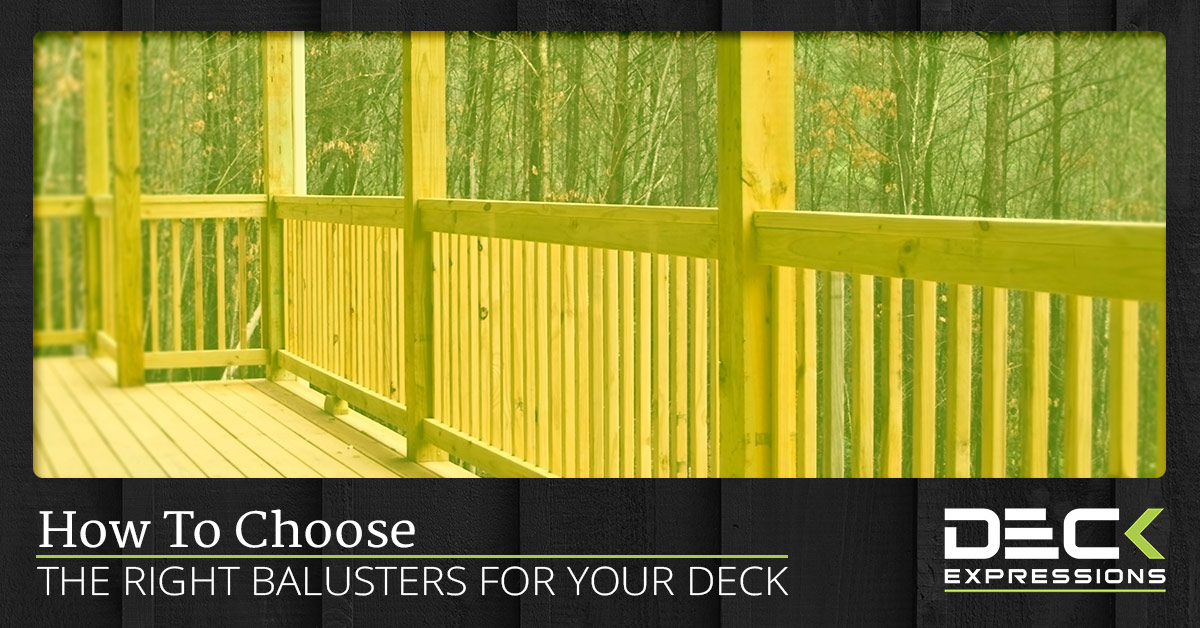 Here at Deck Expressions, we offer deck building supplies in every color, size, style, and price range. It's no surprise with so much selection that many people are wondering how to choose something as simple as a deck baluster to complete their deck. Today, we'd like to offer a few things to consider when you're scrolling through pages of deck balusters online.
Keep The Budget In Mind
Choosing which balusters you want might seem like an easy job if you know exactly what your style is, but don't forget about the budget. When you consider that most deck building codes require balusters to be no more than 4-inches apart, an eight-by-eight-foot deck will need around 70 balusters, and possibly more if you have a drop on four sides. Suddenly your 12-dollars-a-pop balusters might look a little out of reach if you're working with a tight budget. Thankfully, we offer balusters in a wide range of materials, styles, and prices to ensure you can find what you're looking for.
Consider The Style Of Your Home
We love tempered glass balusters as much as the next person, but a glass-baluster deck off the back of a Tudor-style home might clash a bit. In the same way, a set of basket steel balusters might not look great on a super modern home. Try to look at the style of your home and choose balusters that will "go" with it. For example, that Tudor house would look great with some aluminum face-mount balusters in a Baroque style like these ones.
Take In The View
How's your view? If your deck overlooks a forest and the real spectacle are the lush treetops above, then you might not be very concerned about a few balusters blocking the view. However, if you own beachfront property and the shoreline is in your backyard, then you'll probably be more inclined to some tempered glass balusters that will give you unobstructed views of the water.
Follow The Rules
Make sure you are aware of the building codes in your area. These can vary from place to place, but in general, a deck needs a railing if it is more than 30-inches off the ground. Any railing on a residential or commercial deck, even if the deck is less than 30-inches off of the ground, should still meet all the codes. Deck railing has height requirements that change based on whether it is a residential deck or commercial deck, so if you're DIY-ing your deck, make sure you familiarize yourself with the local laws and be sure to get a building permit if you need one.
Know Your Skill Level
Speaking of DIY-ing, if you're building your own deck, make sure you have the skills and tools to install all of the parts. The easiest balusters to install are face-mounted balusters, as they simply screw into the sides of the top and bottom rails, and most people can handle this task if they want to. However, in-line balusters generally require a little more expertise and patience to install. And of course, there's nothing wrong with having a local contractor install your deck balusters.
Deck Expressions Has The Balusters You Want
From aluminum balusters in bulk to modern glass balusters, our huge selection of balusters is sure to have what you're looking for. Not to mention, we offer free ground shipping to the lower 48 states for orders over $49.99 and can give you a shipping quote for orders to Canada, Alaska, and Hawaii if you need it. Whether you're building a deck from scratch or giving new life to an old, outdated deck, we want to help. Check out our full selection of high-quality deck balusters today!