Posted by Contact Sales on Dec 20, 2021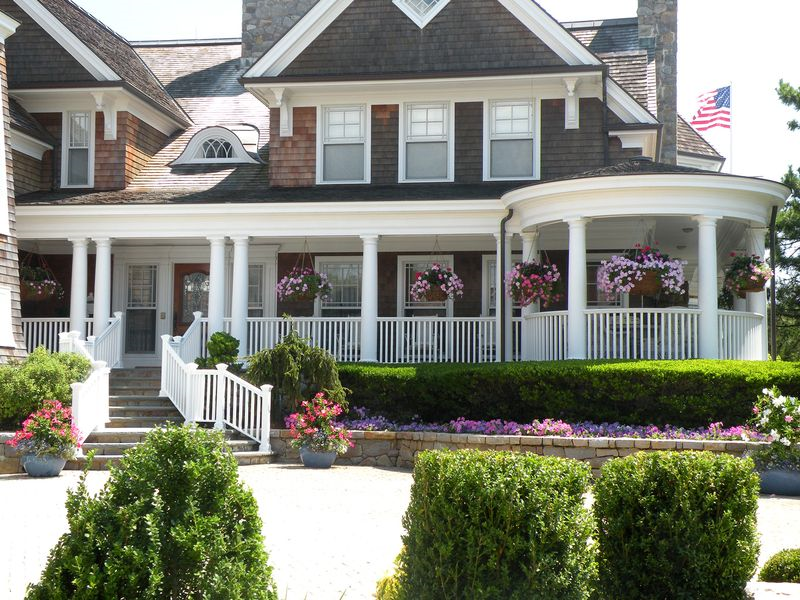 How to Design your Dream Porch
Sitting outside on your deck after a long day at work, sipping your favorite beverage as you watch the sun go down with some of your friends is many people's idea of a perfect evening. Time slows down, and you have a chance to just enjoy the last rays of the sun before they take their much-needed rest. And as the stars come out one by one and you begin to count them until you can't anymore, you realize just how blessed you truly are.
Perhaps, however, you are still dreaming about the deck you envision for your home. Porches add character to your home as well as value. They are an extension of your home, so you want it to be perfect.
Deck Expressions offers every deck-building material you could need, from porch post wraps and posts to porch post brackets and post sleeves. Below, we'll explain how to design and build the porch of your dreams. Visit us online today!
A PORCH IS A PORCH, OF COURSE, OF COURSE?
Many people get confused with what exactly is a porch and, instead, they call a patio or a deck a porch when they are completely different things. Before we dive into how to design your dream porch, let's briefly touch on the differences between a porch, a deck, and a patio.
What Is a Deck?
What distinguishes a deck from a patio or a porch is the fact that it is often made of wood and are usually raised from the ground. Decks can be attached to your home or detached. Decks usually have railings with the idea to enclose outdoor space.
What Is a Patio?
A patio is either attached or detached from your home. It may have a roof or pergola (open lattice set on cross beams of a roof) overhead. Patios are usually much larger than porches and are often used for cooking outdoors.
What Is a Porch?
A porch is differentiated from a patio and a deck by having a roof that is usually an extension of your home's roof with sides that are open. It usually covers the front entrance to your home and serves as a place of relaxation or entertainment.
Deck Expressions points out that constructing a porch is a completely different process than building a deck or a patio, and it requires different building materials. For porches, you will use structural porch posts made out of a variety of materials, from cedar to aluminum. For the porch floor, we offer Deckorators porch flooring with lightweight material that is similar to wood, but is low maintenance. Made in a variety of colors, this porch flooring won't splinter, sage, chalk, or crack. And let's not forget our porch lighting options as well. Browse our porch offerings today!
Now that we understand the difference between a deck, a patio, and a porch, you'll need to decide what type of porch you want. Because, as we've seen, a porch is not necessarily a porch, of course!
DIFFERENT TYPES OF PORCHES
Open Porch
Open porches are open on all sides except where it is attached to your home. When you think of front porches, this is the most common type and probably what first comes to your mind.
Wraparound Porch
Wraparound porches wrap around some portion of your home that is more than one side of the house. Most wraparound porches have a front porch that then wraps around one side of their home or both.
Screened Porch
Screened porches are an open or wraparound porch that has been screened in. These porches are popular because they keep the bugs (especially mosquitoes) at bay, so you can sit outside and enjoy the mornings and evenings with no worries.
Covered Porch
A covered porch is a porch that is fully enclosed with windows that open and shut. These rooms are similar to sunrooms with the difference being the windows. Covered porches are popular because they stay warmer in the winter time, which extends the amount of time you will spend on your porch.
Deck Expressions notes that these are the overarching types of porches. However, there are different styles of porches that have become popular over the years that you might want to consider when building your dream porch.
● Farmhouse Porch. These porches are usually just a step or two above the ground. These are classic wraparound porches that usually use columns and traditional decorative elements. They are open, inviting, comfortable, and practical. Because they are low to the ground, these are favored by seniors who may not be able to navigate stairs very well.
● Queen Anne Porch. Using Victorian columns as well, the Queen Anne porch is much more ornate in its styling, using bold colors, elaborate design elements, and decorative lattice. From the brackets to the railing and posts, every detail is fine-tuned. This style of porch was popular during the 1880 and 1890s when — surprise — the Queen Anne style home was in vogue.
● Colonial Porch. Colonial porches are characterized by balance and symmetry. Drawing from more classic architecture, Colonial porches use Greco-Roman pillars and more muted tones for color, such as gray, blue, white, and cream. Chandeliers and porch lights are the lighting of choice in keeping with the theme.
● Bungalow Porch. Bungalow porches are characterized by low-hanging porch roofs that open up to the front yard. Most are made of wood, brick, or stone. Meant to be inviting, they are comfortable with warm colors. Sometimes the roof of bungalow porches are tucked underneath your existing roof, giving you the feel that it's part of the home. You may have solid enclosures and balustrades that come in a wide variety of styles.
As you can see, there is a lot to deciding on the porch of your dreams. Deck Expressions offers everything you need to build one, however, from porch wraps to aluminum porch columns. The hard part is deciding what type of porch you want. After that, the design elements will naturally fall into place.
HOW TO DECIDE THE TYPE OF PORCH FOR YOU
Deck Expressions recommends that you sit down and decide which style of porch you like and what you intend to use it for. If you are looking for an inviting porch you can entertain on, a bungalow porch or a farmhouse porch may fit what you are looking for. If you are looking for a more sophisticated, formal air, a Queen Anne porch or Colonial porch may fit you better.
On a personal level, ask yourself which type of porch would you be most likely to use. After all, spending all of this time designing a porch you won't use doesn't make a whole lot of sense. If you are the type that hates bug spray and you live in a mosquito haven during the summers, then a screened or covered porch would make sense. However, if you don't like having to look through screens or windows and love the feel of the open air, an open porch would be more for you.
You'll also want to consider the style of home you have now. You not only want a porch you will use, but you want a porch that will add value to your home and fit in architecturally with your home. If you have a smaller home, a huge, wraparound porch with ornate columns may overwhelm your home. Similarly, if you have an older style Victorian home, a bungalow porch would probably not be your best bet.
The good news is that Deck Expressions is here to help. We offer Decorative Stone Post Covers by Deckorators and NextStone post covers. Or, choose a more Traditional Cedar Porch Post by Mr. Spindle. We understand that the selection of porch materials can be overwhelming, so give us a call. We're more than happy to help.
YOUR PORCH ROOF
What makes a porch different from a deck or a patio is its roof. A porch has a roof that is meant to completely shelter you from the elements, so when a spring rain decides to fall, you can still sit outside and enjoy the refreshing scents and cool air rain brings. The porch roof you decide is somewhat based on the style of porch you've decided upon. However, roofs can be the distinguishing feature, can make your porch unique, and can change the whole feel of your porch. Below, are some popular roof designs that Deck Expressions sees.
Gabled Roof
Classic to the hilt, a gabled roof is what most people think of when they think of a roof. They work well with porches because the design is simplistic, and they fit almost any type of porch you choose. Gabled roofs are characterized by two sloping sides that come together at a ridge, or a point. Think of a triangle, and that's a gabled roof. On porches, they are typically wider than they are tall, and gabled roofs can cover a huge space, making your porch immense. These roofs tend to invite people in. Colonial porches frequently have gabled roofs.
Shed Roof
Shed roofs are the roofs you see on sheds and barns. They are the simplest (and most affordable) roofs because they are held up by a small section of the house wall and then simple posts. They are only one side with one slope (in essence, half of a gabled roof). If you are a minimalist, new to DIY, or on an extremely tight budget, shed roofs are the way to go, and they look great!
Flat Roof
Another extremely simple roof to build and style, flat roofed porches look great when your house has a flat front. This prevents your porch from overshadowing your home. However, the disadvantage of flat roofs is that they have a very poor drainage system, due to the fact that they do not have gravity helping them. Thus, if you get a lot of snow in the winter, Deck Expressions does not recommend a flat roof for your porch because of the risk of collapse.
Hip Roof
Hip roofs will make your porch much more elaborate and look great on homes with a Victorian feel. Thus, hip roofs are usually added to Queen Anne porches and Colonial porches. Hip roofs mirror a pyramid, with many different slopes forking off into many different angles. There are no gables and no vertical sides. Because the hip roof of your porch extends far beyond your home, you will need multiple porch posts, such as those offered by Deck Expressions, for support. Hip roofs are complicated, and Deck Expressions recommends that if you are considering a hip roof for your porch to consult an architect for help with design.
Deck Expressions offers a lot of deck structural porch posts, from structural porch posts to posts for railings. We also offer internal structural posts and mounting kits that contain porch brackets for your convenience. Our post trim options can complement the look of your porch perfectly and are simple or more ornate. When it comes to creating the porch of your dreams, we offer every tool and style you could possibly need. Browse our porch wraps and posts today!
YOUR PORCH DESIGN
By now you should have a fairly good idea of what your style and type of porch you want, as well as what type of roof you are thinking about. Now it's time to put your thoughts down on paper and actually draw it out. Now, you may start with a simple sketch, but in order to get the most accurate cost of your dream porch, you will need dimensions. Deck Expressions recommends that when you are measuring the area of your porch to enlist the support of your friends in order to help holding the tape measure, ladder, and such. This will make your measurements easier to obtain.
Once you have the dimensions of your dream porch, it's time to draw up a design. Here, you'll want to include as much detail as possible, adding in the porch columns, steps, enclosing, aluminum balusters, porch railings, and the roof of your choice. This is your chance to make sure you don't miss out on anything as well. Some things you might overlook are electrical outlets and lighting details. You also may want to envision what type of porch furniture you want in order to help finish off any design details you may have forgotten. By drawing out your dream porch design, you will have the chance to gather your thoughts and make them cohesive.
Structural Design
There are overarching structural designs to consider as well. One is the foundation of your porch. Usually, porches are raised with steps leading up to them. The space around the porch should have some type of enclosure (known as skirting), which prevents critters from making a home underneath the dry space you've created for them. The main construction material should be predetermined as well. Will you be building primarily a wooden porch, or will you be using synthetic materials?
Lastly, consider hiring a professional architect firm to finish out your design. Many people are jack-of-all-trades and can create a porch in no time to perfection. However, others have no experience in the building trades or just don't have the time. Thus, Deck Expressions recommends that you consult an architect to put the final touches on your dream porch.
Deck Expressions offers every item you need in order to build the porch of your dreams, from porch balustrades to porch gates, hinges, and brackets. Our porch railings come in every material you might need or want, from our Vinyl Balusters by RDI to aluminum handrails and Deck Skirting & Lattice by RDI. Browse our porch building materials selections today!
BUILDING YOUR DREAM PORCH
Truly, the hard part is over. Now that you have a roadmap in mind for your dream porch, it's just a matter of building it. As we mentioned earlier, you can either do this yourself, or you can hire a porch construction contractor to help you. No matter which way you decide, Deck Expressions is here for all of your porch material needs.
If you are DIY-ing your dream porch, we recommend ordering all of the parts that you will need ahead of time. There is nothing more frustrating than beginning a build and then you realize that you are missing a crucial part. This usually halts all construction progress until the part you order is in, which could be a week or more. This is where all of the work you just put in comes in handy.
HOW DECK EXPRESSIONS CAN HELP YOU WITH YOUR DREAM PORCH
Deck Expressions believes in helping you obtain the highest-quality products at the best price for your deck and porch. Decks and porches can play a very important role in our lives. They offer us comfort when we need it. A place to relax when the going gets tough. A place to gather with friends. A place to celebrate life's achievements. And even a place to mourn when times are tough. Thus, you want to create a porch you can use all year long and use when you need it the most.
Deck Expressions offers the best in deck and porch parts. We have every construction material and all of the fixings (down to the nails) so you can truly make your porch beautiful. From Black Eclipse LED Outdoor Mini Pendants to create atmosphere with lighting to high-performance deck and porch railing systems to keep your children safe when they are playing on the porch. We offer every type of deck and trim screws for all of your fastening needs, as well as Protect Roof Underlayment by Tyvek when you are constructing your porch roof. Our selection is vast, but finding what you need is made simple with our incredible navigation tools.
Deck Expressions wants to help you create the porch of your dreams by providing you with all the essential tools and decking materials you need to construct a space you can enjoy being in. Porches and decks are wonderful spaces to make precious memories with your family, have your friends over for a BBQ, and just ponder the universe beneath the stars. Visit us online today!