Posted by Rick Rosenberg on Apr 05, 2021
Spring has finally sprung! Flowers are blooming and warm winds are breezing. Your spring clean-up is on schedule, and your outdoor deck is becoming more enticing and inviting by the day. But what about the night? Why end the fun and relaxation that your outdoor living space provides simply because darkness is falling? We are here to help at Deck Expressions with some ideas and accessories that will ensure your deck remains a place of enjoyment long after dusk!
The outdoor deck lighting ideas below provide some excellent options to add beauty and safety, to your deck while also extending the enjoyment of your outdoor living space!
Stair Lights
Adding lights on deck stairs and stair treads is an obvious way to provide safety while also providing illumination that will add a touch of class and beauty as light becomes darkness. Add brightness to heavily used areas such as staircases and pathways with stair Lighting and step Lighting fixtures. Low voltage LED stair and step lighting can add extra safety and beauty to your entire backyard. Perfect for natural or Trex-like decks!
https://www.deckexpressions.com/Aurora-Phoenix-Series-Recessed-LED-Kit.html
String Lights
Christmas lights are not just for the holiday season anymore! Hanging string lights are available in a variety of colors and can help create a fun, festive and enjoyable ambiance on your deck throughout the evening ..
Easy to install and stylish as well, most string lights simply need an electrical outlet making it the perfect lighting option for the DIY/weekend warrior.
https://www.deckexpressions.com/alx-post-extension-by-deckorators/
Recessed Deck Lighting
If your deck has an overhang, recessed deck lighting works well because the lights are protected from the outdoor elements and will not require much maintenance. Recessed Lights attach into the risers to mix perfectly into your deck and provide a nighttime glow and beauty. Recessed lights mount straight into your deck boards and really emphasize the size of your space and accent the best parts of your outdoor deck whether using natural wood or a Trex-like composite.
https://www.deckexpressions.com/outdoor-led-recessed-light-kit-by-dekor/
Post Cap Lights
Deck post cap lights are a popular and simple option for lighting up your outdoor deck space at night. Available in both LED and solar-powered options, illuminated post caps come in a variety of sizes and styles. Low Voltage Post Caps accent and illumination your entire outdoor space while Solar Post Cap Lighting also helps increase the security and beauty of your deck at night without any electricity or additional costs. Keep energy costs and maintenance minimal while providing brightness and beauty at night! Post cap lighting is one of the most simple and popular ways to light up your deck whether it be a composite such as Trex or a true wood material.
https://www.deckexpressions.com/low-voltage-post-caps/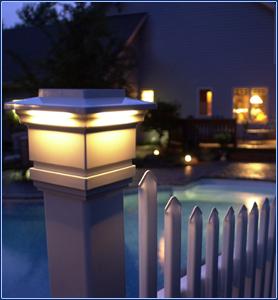 In-Floor Lighting
There are a variety of low-voltage options when it comes to lighting your deck floor. Place lights in deck corners or near steps and seating for the perfect decking lights combination. Adding brightness and illumination under your stair or rail can help guide the way after dark, as well as accentuate the features of your deck that might go unnoticed.
https://www.deckexpressions.com/dock-dot-recessed-led-dock-light-kit-by-dekor/
Under Rail Deck Lighting
Solar and LED-powered lights for under your rail can help provide a nice glow and aesthetic touch. Even after sunset, lighting under your rails can provide a simple but effective brightness that adds safety and enjoyment..
https://www.deckexpressions.com/strip-led-low-voltage-lighting-by-rdi/
.
No matter what your deck lighting needs are, at Deck Expressions we're here to guide you through the various options and make sure that your deck stays usable and safe when night falls.