Posted by Deck Expressions on Oct 12, 2018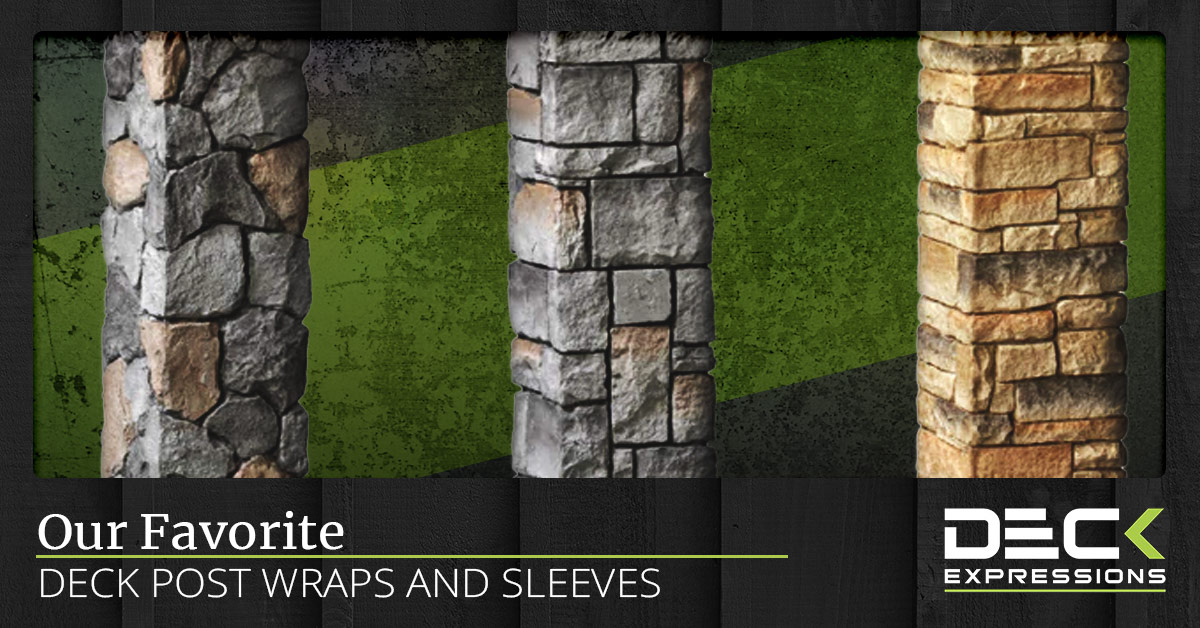 Whether you call them post wraps, post sleeves, or deck post covers, the three are practically one in the same and the terms are used interchangeably. The main technical difference is whether the cover will snap around the post or slide down over the top. Deck post covers are not structural in nature, but wrap around structural posts that might be unsightly, boring, or weathered deck posts to give them an instant upgrade.
At Deck Expressions, we aim to provide you with the best deck building materials online for the best price, and our deck post wraps and sleeves are no exception! In today's blog, we'll be highlighting a few of our very favorite products that you can use to easily improve the appearance of your deck.
These post sleeves are very simple yet add durability and newness to any deck. These vinyl sleeves come in 5 available lengths ranging from 39" to 108". If you need custom sizing and will need to cut your own, the longer lengths will typically work better — for example, you can cut three 36" post sleeves out of the 108" piece. One of our most popular products, customers consistently rave about these simple post sleeves. Check out a few of our reviews on this product:
"Same product that the big box stores carry but for a much better price. Quick delivery. And they do return phone calls." - Ron M.
"Great price. Perfect pre-cut height to go with 36" railings. Saved a lot of extra work versus cutting longer sleeves to size." - Doug
These beautiful stone post covers add charm and elegance to any deck. The two pieces seamlessly snap together to make it look like real masonry work, while actually consisting of incredibly durable glass-fiber reinforced concrete. These post covers are hand-painted in three different earth-tone stone options to match your existing style. They make a great accent to pair with vinyl or wood decks and come with a 15 year warranty. We'd like to highlight one particular review that we think showcase what we're all about here at Deck Expressions:
"Hi Danny, Received the items I ordered… I'm happy with the look! Got them all in one piece too! Nothing broken during delivery. Wanted to shout out to you for helping me out with the order, (explanation, being helpful). Thanks again." - Frank L.
We are not just selling deck building materials. We have the industry experience and expertise to help you out with your project. Just give us a call if you have any questions!
These gorgeous vinyl post wraps come in two sizes: 4x4 and 6x6 to fit snugly around your existing deck posts. Each deck post cover consists of four interlocking pieces that are as secure as they are beautiful, giving your deck the facelift it needs with just a few snaps. Check out a couple reviews about these RDI post covers:
"I really was hoping to eliminate painting, these wraps solved that. First one took a half hour or so to figure out, ten to fifteen minutes after that. My only disappointment is that I didn't order the bases. I may solve that problem today. Great product, wish I had them 20 years ago!" - KB
"This product is very easy to install and looks fantastic. It totally changed the appearance of our wooden post, and now they are protected from the elements. I would highly recommend this product to everyone." Bill S.
Pretty much anyone who gets these posts loves them. They truly take an outdated deck to a modern, high-quality deck that you'll love to spend time on. While bases aren't necessary for these post covers, as KB mentioned, you might change your mind and decide that the extra look of class will complete your look. If you want the bases to go with these wraps, we have the matching 4x4 post bases and the 6x6 post bases for sale. If you order them at the same time as your post wraps, you'll most likely qualify for our free shipping over $99!
See Our Collection Of Deck Post Sleeves And Wraps
Deck Expressions offers deck post covers from the brands you know and trust for low prices. We ship right to your door and offer free shipping on all orders over $99. Shop our collection of post sleeves and wraps as well as other finishing touches like post caps and lighting systems today!