Posted by Deck Expressions on Feb 05, 2019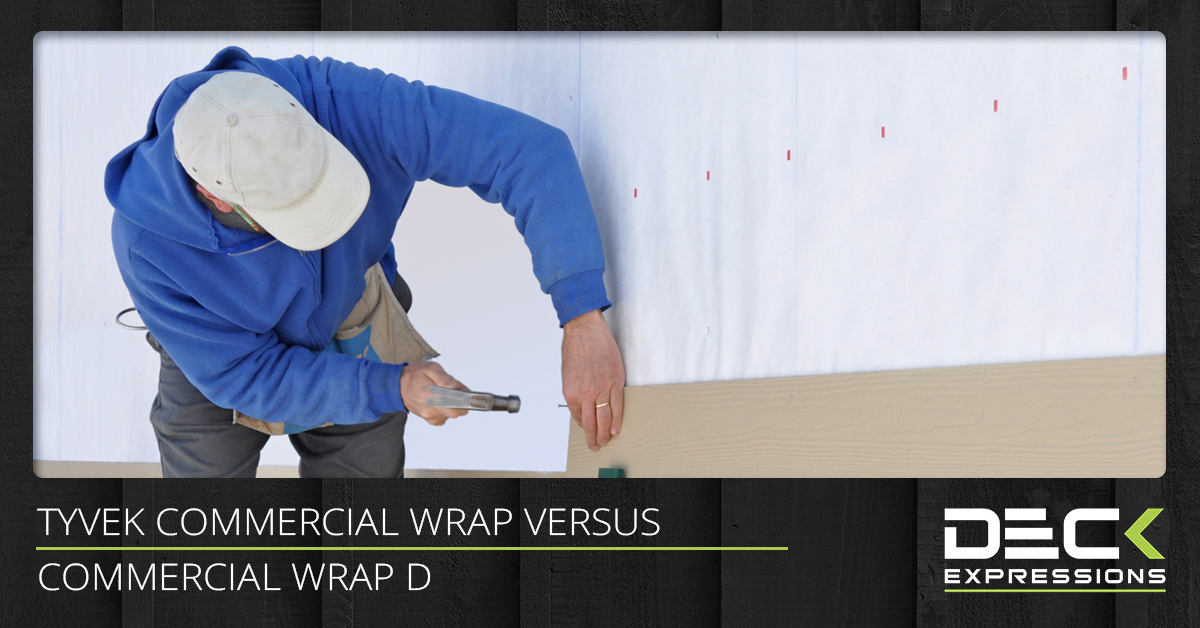 When working on a commercial building project, you have two main options for your building envelope if you want a product that is going to perform better than others: Tyvek® CommercialWrap® and Tyvek® CommercialWrap® D from the DuPont™ brand. DuPont is known for the quality of their building wraps and have designed different wraps to meet different needs. Their commercial building wrap is perfect for large projects, and you can get it (with free shipping, to boot) right here at Deck Expressions!
So, what difference does that one letter make? Keep reading to find out!
D Is For Drainage
While both building wraps function to keep water out of the walls, Commercial Wrap D is engineered for superior drainage function in addition to its other weather barrier qualities.
Tyvek Commercial Wrap D is a great option for buildings in wet and windy climates, as it is particularly adept at water management for wind-driven rain. For example, areas in the Pacific Northwest and the southeastern United States receive a lot of rainfall, while the northeastern regions can experience heavy, wet snow. All of these areas can benefit from Commercial Wrap D.
How It Works
Tyvek Commercial Wrap D features a grooved surface that channels water down and away from the walls to prevent bulk water from pooling behind the wall. The DuPont website says about Commercial Wrap, "Utilizing a specially engineered, "creped" surface texture, Tyvek® CommercialWrap® D is designed with an enhanced drainage plane to help meet the challenges of heavy rainfall, windblown water, snow and humidity, and provide effective drainage. By combining superior air infiltration and exfiltration control, bulk water holdout, and vapor permeability, Tyvek® CommercialWrap® D helps prevent water intrusion and accumulation in the wall, which can lead to mold and water damage."
In testing, Tyvek Commercial Wrap D showed greater than 98 percent drainage efficiency when tested in accordance with American Society for Testing and Materials (ASTM) E2273, a standard method of testing to determine the drainage abilities of exterior products and insulation.
Other Benefits Of Tyvek Commercial Wrap
However, it's not just the drainage that makes Tyvek Commercial Wrap D special. Like regular Tyvek Commercial Wrap, it is sturdily engineered to withstand the rigors of a commercial building site. Rather than being woven, Tyvek wraps are composed of tiny Olefin fibers that are bonded together into a sheet with extreme heat and pressure. This creates a tear-resistant product. Even if the wrap gets a small nick in it, it will not continue to rip in that area thanks to this bonded design.
The non-woven design also allows for small water vapor molecules to permeate the material without allowing bulk water or air to flow through. This helps to create an airtight, energy-efficient seal around the building while also preventing the growth of mold and mildew due to trapped moisture. Having this barrier can significantly reduce energy and maintenance costs associated with air leaks or water penetration.
Experience Tyvek Commercial Wrap For Yourself
When it comes to creating a weather-resistant building envelope, Tyvek Commercial Wrap is the best in the industry. It combines four key elements that a building envelope needs: water resistance, vapor permeability, air resistance, and durability. All four key elements are strong and well-balanced to create a superior, well-rounded product. If you are building in an area prone to heavy rain or snowfall, consider upgrading to Tyvek Commercial Wrap D, which has those same four elements plus better drainage.
Both Commercial Wrap and Commercial Wrap D can be installed with any type of wall, including stucco, stone, brick, and other wall substrates.
Contractors, We've Got Your Back
We know contractors go through rolls and rolls of Tyvek wraps. If you're a contractor, sign up for our contractor rewards program. Not only will you get access to instant savings and rebates on all of our normal deck building materials, but you will also get to save money on all Tyvek products you purchase from us in addition to all of the other perks of the program. You can pass these savings on to your clients in order to keep your prices competitive.
Sign up for our rewards program today and make sure to order enough Tyvek Commercial Wrap or Commercial Wrap D for your next big project!