Posted by Deck Expressions on Dec 15, 2018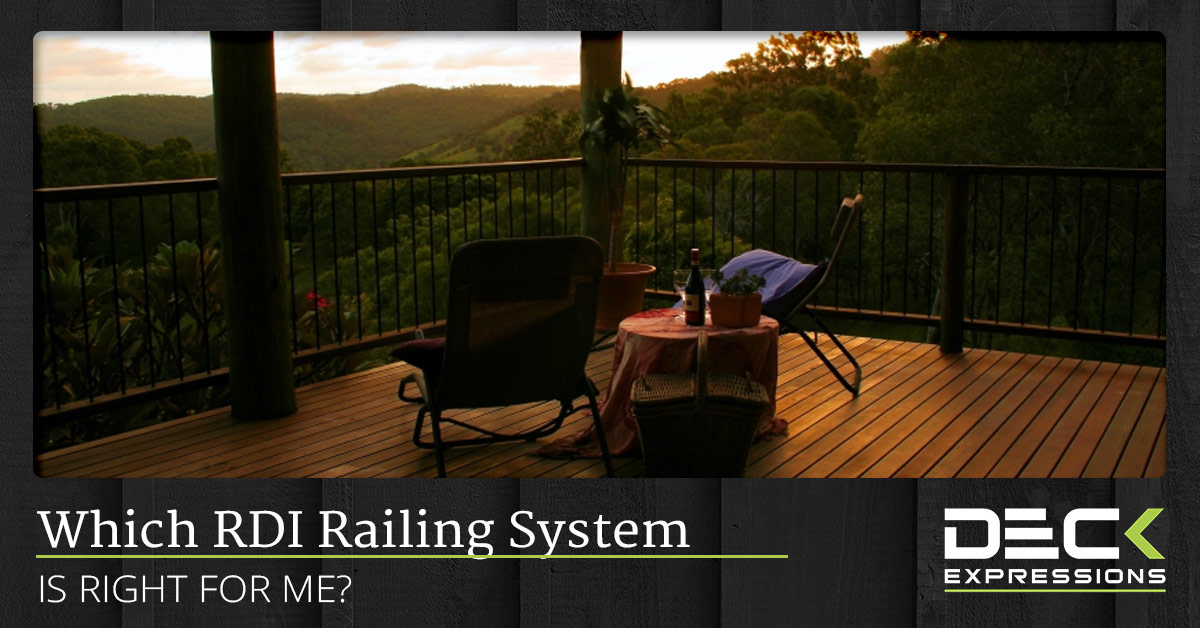 RDI is one of the best names in deck railing. Not only are RDI products incredibly durable (many have a twenty-year warranty!), but they also are easy to install. This gives handy homeowners the ability to install their own deck railing without the added expense of hiring a contractor if they are simply replacing the railing on an already-standing deck.
RDI has several deck railing systems to fit the style and needs of any deck. When you install an RDI deck railing system correctly, you can rest easy knowing that your railing is code compliant and safe for your entire family.
Here at Deck Expressions, we are thrilled to offer homeowners and contractors alike superior RDI railing systems at affordable prices. We offer fast, free shipping on orders over $99 so you can get started replacing your deck railing in no time. Many deck DIY-ers find themselves browsing our website wondering which RDI railing system is right for them. To make the choice a little easier, we are going to be spending today's blog getting in-depth with each RDI system so you can make an informed decision.
As always, if you have any questions, just give us a call! As deck builders ourselves, we know, use, and trust the products below and can answer any questions you might have.
The Avalon railing is made of durable powder-coated aluminum and comes in pre-assembled rail panels so installation is a breeze. A patented Securatec technology locks the balusters into place so there's no need for additional spacers or screws and the balusters won't rattle. You also have the choice of top rail with this RDI rail system so you can choose the exact style you want. This system comes with a 20-year warranty and thanks to the powder-coated aluminum, rust will never be an issue with this aluminum railing system.
While the original Avalon railing system features traditional square balusters, RDI also offers a modern glass baluster system that allows glass balusters to slide snugly into place without any extra connectors!
The Excalibur rail series is part of the RDI Metal Works line and offers easy installation with sturdy metal-to-metal connectors that offer unbeatable strength. RDI says about this product, "We've taken elements you've loved from our other systems – Endurance-like hidden attachments, Titan-like easy installation with pre-attached brackets – and created a railing line that is sturdy and tough, yet easy to install." Basically, the Excalibur steel railing combines the best of all worlds into a clean and classy design. Excalibur comes with a 15-year limited warranty.
Endurance is the cornerstone of RDI deck railing. It is their most complete railing system and is made of aluminum-reinforced vinyl for maximum strength and durability while remaining maintenance-free. While some cheap vinyl railing will yellow over time, RDI uses a vinyl that has UV inhibitors, preventing ultraviolet yellowing and degradation. Endurance comes with a 20-year warranty.
Like Endurance, the Titan Pro rail is a vinyl deck railing system that is designed to withstand the elements. It is RDI's most popular vinyl rail system and for good reason! It is reinforced with galvanized metal-to-metal connectors to ensure a safe installation process and is easier to install than Endurance. This makes it a great option for first-time DIY-ers who want to ensure their rail is safe but aren't entirely confident in their rail installation skills.
The Transform railing system is truly innovative when it comes to deck railing. Transform is made from a state-of-the-art resin formula called Resalite™. Resalite comes with a limited lifetime warranty and has the look and feel of real wood railing, even though it contains no wood fibers. That means you can have your "wood" deck without worrying about rotting, warping, splintering, or maintenance. This faux-wood deck railing is truly an ideal option for anyone who wants a classic look without any maintenance or upkeep.
Which RDI Deck Railing Is Right For You?
At the end of the day, RDI is the gold standard in deck railing and you truly cannot go wrong with any of their products. When you buy RDI products from Deck Expressions, not only will you get them at an affordable price with free shipping (for orders over $99, which is easy to achieve when replacing your entire deck railing system), but you also still get their amazing warranties.
If you are looking for the easiest installation, then Avalon railing might be the best option because it comes in pre-assembled panels. However, if longevity is your goal or you are looking for an option that looks like real wood, then Transform is the rail for you! If strength is your biggest concern (even though all RDI rails meet or exceed safety codes and regulations), then a rail from the RDI Metal Works line might be the best option.
If you have any questions about choosing the best deck railing for your deck, feel free to get in touch! We'd love to hop on the phone and help you find the perfect rail you can enjoy for the next twenty or more years!
P.S., if you are looking for RDI railing parts to fix or upgrade your deck rails, we've got those too! Also, if you are a contractor, your clients are likely looking for the best deck railing options for their new decks! Be sure to check out our contractor rewards program so you can provide your clients with safe and reliable deck rails while also benefiting yourself.