Endurance Original Railing by RDI with Square Balusters
ENDURANCE ORIGINAL RAIL is our fully kitted vinyl railing system – with everything you need to build out your railing in one box. Simple form and dependable function unite this railing design to maintain safety without sacrificing the elegant presentation of your home or commercial space.
DETAILS:
Original Rail is simply elegant; all fasteners are concealed and hidden from view.

Our Endurance® Original Rail™ is low-maintenance AND safe; our vinyl railings are reinforced with strong, durable aluminum.

Exceeds U.S. Building Code r

equirements

Baluster style - Square 1-1/4"
EASY-INSTALL INNOVATIVE BRACKET SYSTEM:
The Endurance Original Rail systems feature a 2-piece top and a 3-piece bottom level brackets for quick and easy installation.
SECURE INTERLOCKING BRACKET COMPONENTS:

Endurance Original brackets install simply by attaching the body of the bracket to the mounting surface and then snapping the bracket covers into place over the fasteners. Snap-fit design ensures a secure fit and clean appearance.
LESS PARTS TO INSTALL:
Just the brackets and supplied hardware are all you need for quick and easy installation.
WHAT'S INCLUDED:
Top and bottom vinyl extruded rails

1-1/4" Spindles (3 - 9/16" spacing between balusters)

Mounting brackets with integral locking screw caps

Stainless steel mounting screws
ACTUAL MEASUREMENTS:
4' - 47-3/4" x 36" or 42"

6' - 71-3/4" x 36" or 42"

8' - 95-3/4" x 36" or 42"

10' - 119-3/4" x 36" or 42"
TOP HANDRAIL PROFILE / All RAIL KITS INCLUDE BRACKETS: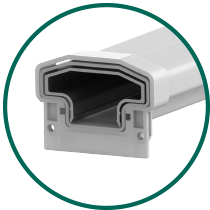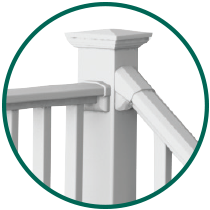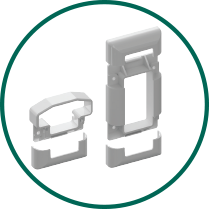 COLORS:

Click HERE for Installation Instructions:
Click HERE for Warranty:
Click HERE for Code Documentation:
Click HERE for CAD drawings:
TIP: If using a power saw, a carbide tip blade of at least 60 teeth is recommended.